The Film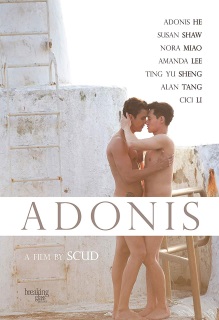 Born fifty days after his father's early death, Yang Ke (Adonis He) is feared by his guardian Sister Yin (Susan Shaw) to have possibly inherited his father's bad karma even though she tells Ke's fragile mother that he will live a long life. It should come as no surprise to him then that the local Peking Opera goes bankrupt shortly after he finishes his extensive training and the only work he can seem to find with his narrow qualifications are nude modeling jobs. When he does an outdoor shoot and is abandoned by the photographers who take his wallet and clothing, he is rescued by Vendetta (Eric East) who gets him into a series of artistic homoerotic shoots supposedly meant for the Venice Film Festival but he later discovers circulating on the mainland as a bestselling porn DVD. Ke gets his revenge on Vendetta with the help of Wang Qiang (Justin Lim), an actual talent agent who promises to get him legitimate work. The closest they get to Venice, however, is the Venetian Macao, and Yang Ke is tempted to take a job as a sex worker when Wang Qiang introduces him to Abe (Alan Tang) who works at a high class male brothel in which the prostitutes are all of an artistic nature; however, he balks at the tastes of some clients for bondage and sadomasochism. For a short time, he is the kept boy of a wealthy but impotent man who shows him off and immortalizes him in a series of commissioned paintings and sculptures before becoming too ill to take care of himself and Ke finds himself cast out again. With a guilt-stricken Wang Qiang waiting in the wings, Ke reluctantly takes another pornographic shoot where he runs into his brother – actually Sister Yin's son Xu Jin (Katashi) – who is beaten when he refuses to take part in the shoot which turns out to be a crucifixion and gang rape by thirty models. The brutality of the shoot even disgusts the other performers who leave Ke their fees of a thousand dollars each; whereupon, Ke buys a bistro hoping to make life better for himself, Wang Qiang, Xu Jin, Sister Yin and her daughter. The last thing he expects is to fall in love. Like the fallen women of so many melodramas of old, he may be sealing his fate – although in this case, it may be a fate that was decided for him before his birth – when he takes one last irresistible job with the best of intentions.

A provocative force in Asian LGBTQ cinema, mononymous auteur Scud creatively deployed the outlandish melodramatic elements to his previous film Utopians, an accomplished work that introduced actor Adonis He and was dedicated to Yukio Mishima, Derek Jarman, and Rainer Werner Fassbinder. Adonis – also known under the more fitting title 30 Years of Adonis – seems ripe for a reflexive take with its familiar scenario of a naοve model taken advantage of and brought down low before a tragic ending; however, this non-linear and episodic tale plays for much of its running time like a motion portfolio celebrating Ke's looks and body while demonstrating the relative newcomer's range, with archival video of his Peking Opera performing and using clips from Utopians as the porn DVD-within-a-film. There is more to it than that, as we see Ke tugged back and forth between Yin's Buddhist teachings about reincarnation and his fear of Hell learned about in Sunday School ("Life can be like Hell," Yin tells him); suggesting that he is not entirely as gullible as he seems so much as somewhere between being grateful for seeming kindnesses given his "cursed" karmic existence and taking what opportunities he can in the belief that life is short (and even possibly meaningless if ones fate is decided based on prior existences). Scud even posits that some of the acts done in this life – whether from desperation or diversion – that might be judged as sinful in Christianity are of little karmic import (and may even be merits), and that the good done in other past existences may balance out the bad; indeed, the question as to whether or not Ke is gay is not raised until roughly an hour into the film (as posed by his "sister" and singer Amanda Lee as herself during Ke's brief stint as a cab driver). On the other hand, this bit of philosophical stimulation does not really seem to reward the viewer upon second viewing wherein they are experiencing Ke's existence as a past life knowing his fate and the choice he is given (of reincarnation or incarnation into the Rainbow body) other than seeing the wheels set into motion that lead to his corporeal death. Nudity (male) is copious and there are a couple brief hardcore shots but such titillation may be insufficient when the main character and his adventures are not particularly compelling.

Video


Photographed on HD video, Adonis has a slick overall appearance with a striking color palette while one sequence bathed in red light seems deliberately noisy and grainy in this mid-range bitrate progressive, anamorphic 2.35:1 widescreen encoded.

Audio


The sole audio option is Dolby Digital 5.1 with a mix that is generally front-oriented with a lot of intimate dialogue scenes while the surrounds are used for atmosphere, the spread of music and some reverberating effects. The English subtitles are hard-coded into the image.

Extras


While a commentary or in-depth interview with Scud might have been welcome, what we get here is "Adonis Interviewing the 30" (4:28) featuring nude "talking heads" with the cast of the faux-porno shoot in which the actors discuss how they anticipate their lives will be at thirty (while the few that are thirty reflect on where they thought they would be). A trio of making-of featurettes for the shoots in "Hong Kong" (10:52), "Taiwan" (7:40), and "Thailand and Batam" (3:00) are assemblages of behind-the-scenes video with off-the-cuff remarks from the Scud and the cast about the shoot and some character interpretation. The disc also includes the trailer (1:45) and some other trailers, including ones for Scud's Utopians and Voyage.

Overall