The Film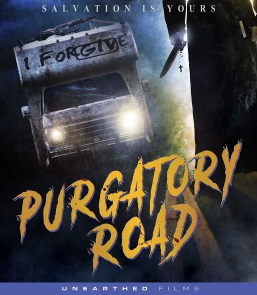 With the help of his younger brother Michael (The Dyatlov Pass Incident's Luke Albright) , Father Vincent (Malignant's Gary Cairns) has been touring a county in the Deep South hearing the sins of penitents in a mobile confessional. He tends to be harder on women, his psyche having been warped by witnessing the murder-suicide of his mother and father (Chace Beck) after he failed to stop a switchblade-wielding female burglar from stealing the family savings. He will absolve bribery, infidelity, incest, and even bestiality; but he'll murder anyone, man or woman, who confesses to stealing, cutting off their hands and feeding the rest of their remains to something in the basement of their family homestead. The brothers are low on the suspect list of the local sheriff (Stressed to Kill's Tom Parnell, who also produced) for the many disappearances (mostly of young women) reported in the area, but his ecclesiastical activities have attracted the attention of Father Joe Taylor (Geoff Falk) who has been tracking hem upon orders of the Catholic Diocese. They have also earned a fan in Mary Francis (Echoes of Fear's Trista Robinson), a sweet-as-saccharine young parishioner who moonlights as a thrill-killing thief who confesses her sins under the pseudonym "Pariah" to a local shock jock (Jerry Lousteau). When Mary Francis saves their necks by gunning down an escaped sinner, Michael is not sure if she can be trusted but he secretly hopes he can hand his brother over to her and settle down with wholesome waitress Ruby (Devil's Due's Sylvia Grace Crim) whose flirtation with his brother incurs his disapproval and jealousy. On more than one occasion, Mary Francis proves how far she is willing to go to help them; but does she embody forbidden temptation or is she just plotting to get her hands on the money Vincent has been saving up to atone for the loss that destroyed his family?

The latest directorial effort of Mark Savage, an Australian filmmaker who attained cult recognition stateside with the DVD release of his 2000 film Sensitive New Age Killer (packaged with his earlier film Marauders and later Defenseless: A Blood Symphony, Purgatory Road is a nice change of pace from other direct-to-video slasher and serial killer fare. There are some gory prosthetics and severed body parts courtesy of Unearthed Films' regular Marcus Koch (We Are Still Here) and Cat Bernier (House of the Witchdoctor) but they, along with the flashier antics of Mary Francis, take a back seat to the co-dependent relationship between the two brothers: Michael protective yet weak-willed, and Vincent repressed and hypocritical despite what Michael and the viewer understand about his childhood trauma. The ending is particularly cruel in trapping the surviving member of the trio in a variation of the same dysfunctional relationship with another character.

Video


Photographed with Canon HD cameras, Purgatory Road looks quite nice on Unearthed Films' single-layer 1080p24 MPEG-4 AVC widescreen Blu-ray. Daytime scenes look clean while dark interiors and night exteriors hold up pretty well thanks to some attentive lighting, exposure, and color correction.

Audio


Audio is LPCM 2.0 stereo with most of the spread given to the scoring and some directional effects while the bulk of the film is dialogue heavy and cleanly rendered. There are no subtitle or caption options.

Extras


Extras start off with an audio commentary by director Mark Savage and producer Tom Parnell in which they recall coming up with the concept after encountering a van similar to the one in the film while driving back from the American Film Market where they were marketing Stressed to Kill, moving the flashback to the beginning from where it was originally in the script so as to better establish the brothers for fear that they would be entirely unsympathetic without the context at the start, and building sets on a former Mississipi sound stage that had been sold to a non-film company because there was not enough production in the area to sustain it. What is most interesting about the track are the parts devoted to their analysis of the story and the dynamics of the characters. "The Grisly Art of Marcus Koch & Cat Bernier Sowell" (5:21) is a slideshow gallery that provides more indulgent views of the film's effects than in the film ifself. "The Actors Speak" (29:15) intercuts interviews actors Cairns, Albright, and Robinson. Cairns recalls meeting Savage on Malignant where he shot the EPK material, reading the script, and that upheavals in his personal life helped his characterization. Albright and Robinson similarly recall reading the script and connecting to their characters. "Tom Parnell: Beyond the Day Job" (8:31) is a featurette in which the producer discusses his day job as a lawyer, writing his own ads, getting into songwriting and moving on to poetry before meeting Savage. The disc also includes a Purgatory Road Q&A (20:19) in which the director, producer, and cast cover some of the same ground.

Overall