The Film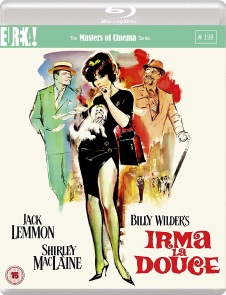 Oscar (Best Music, Scoring of Music, Adaptation or Treatment): André Previn (won), Best Actress in a Leading Role: Shirley MacLaine (nominated), and Best Cinematography, Color: Joseph LaShelle (nominated) - Academy Awards, 1964
Golden Globe (Best Actress - Comedy or Musical): Shirley McLaine (won), Best Motion Picture - Comedy or Musical: Irma La Douce (nominated), and Best Actor - Comedy or Musical: Jack Lemmon (nominated) - Golden Globes, 1964

Transferred from the kiddie park in the Bois de Boulogne to "the stomach of Paris" that is Les Halles and its wholesale food market, naïve young cop Nestor Patou (How to Murder Your Wife's Jack Lemmon) does not even last a day when he conducts a one man raid on the Hotel Casanova, its prostitutes, and its clients, one of whom is the chief inspector (Peter Gunn's Herschel Bernardi) who fires him for accepting bribes. Without a job, Nestor wanders into the Les Halles dive bar Chez Moustache and is informed about the corrupt way in which the world really works by proprietor Moustache (Little Murders' Lou Jacobi). When Nestor gallantly defends prostitute Irma La Douce (Terms of Endearment's Shirley MacLaine) from her pimp Hippolyte (Bruce Yarnell), besting him almost accidentally, Irma moves him into her garret apartment. Nestor is too busy falling in love with her to realize that he has also taken over Hippolyte's position as her pimp. Although he objects to the arrangement, Irma insists that it is her reputation that will be sullied among the other prostitutes and pimps if she were not the one supporting him. As he plays billiards with the other pimps in Chez Moustache, Nestor grows jealous of the thought of Irma with other men. He learns from Irma that the only time that she had the freedom to explore other interests was when she had a standing arrangement with a wealthy client; whereupon he hits upon the idea to assume a second identity with the help of Moustache, becoming English aristocrat Lord X who walks the streets scoffing at the propositions of the other prostitutes before selecting Irma. He avoid intimacy with the excuse of a war injury that has supposedly lead to his wife carrying on with the gardener. While Irma now has free time to spend with Nestor, all of his time is taken up working odd jobs around Les Halles to continue paying Irma. Suspecting that Nestor is having affairs with the other prostitutes, Irma decides to push the recently-divorced Lord X to take her back to England with him. Murderously jealous of a man who does not exist, Nestor decides to do away with Lord X, but his confrontation with himself down by the Seine is overheard by Hippolyte who was following Lord X to rob him and squeals on Nestor to the police. Although Nestor finds himself under arrest for a nonexistent murder, Moustache convinces him that no one will ever believe it and the truth might hurt Irma more. When he discovers that Irma is pregnant, Nestor must find a way to escape and exonerate himself of the murder of Lord X during the madcap finale.

Adapting the French stage musical – text by Alexandre Breffort and music by Marguerite Monnot – director Billy Wilder (One, Two, Three) and screenwriter I.A.L. Dimaond (The Private Life of Sherlock Holmes) dropped the songs while reuniting the stars of The Apartment and pushed back against the restrictions of the Production Code which was on its way out. Although tame by modern standards, Irma La Douce is surprisingly frank even as it couches its attacks on sexual hypocrisy in comedic terms. The same scenario might have informed a Wilder film noir what with a proud male made dependent on a female and growing psychotically jealous of the invented identity that is privy to another side of the woman he loves; but such a story might have had even more trouble with the code. The film presents Les Halles as an inverted world where the men while their days away in the bar playing games and gossiping while their women work the streets and bring home the paycheck. Although Nestor represents moral authority, the raid and his defending Irma against Hippolyte are respectively acts of duty and gallantry. Once he is kicked off the force, he attempts to fit into the world of Les Halles and his resentment of the relationship that casts him as pimp has less to do with that inversion but his singular desire for Irma. Although other later films show prostitutes dealing with pregnancy in other ways, this world presents marriage of a pimp to a prostitute pregnant with what may not be his child as the church-sanctioned norm. That Nestor and Irma "settle down" at the end may represent Nestor's own world righting itself while the status quo of Les Halles remains the same, with some loose threads remaining like the truth of Nestor's deception and another appearance by Lord X; but, as Moustache says throughout, "that's another story…" An uncredited Louis Jourdan (Gigi) provides the opening narration.

Video


Released theatrically in the U.S. and U.K. by United Artists, Irma La Douce was long available only in panned-and-scanned form on VHS from Warner Bros. – as part of Warner's acquisition of Turner's MGM titles – with a letterboxed laserdisc from Image Entertainment in 1990 as one of several MGM classics through a deal with Warner. When Warner merged into Time-Warner in the late nineties, Irma La Douce was one of the Turner titles MGM got back and they put out their own remastered letterboxed disc in 1997. Barebones anamorphic widescreen DVDs followed in the U.S. and U.K. from MGM – along with the Fox's U.K. Billy Wilder Collection: Volume 1 and in the U.S. as part of the nine-disc The Billy Wilder Collection , the mammoth 110-film 90th Anniversary UA Prestige Collection, and a double feature with Avanti from MGM's previous deal with TGG Direct. Derived from a brand new 4K restoration that premiered on Blu-ray in the U.S. from Kino Lorber, Eureka's 1080p24 MPEG-4 AVC 2.35:1 widescreen Blu-ray is heartstoppingly gorgeous. The vivid colors of the production design and costumes pop, skintones are neither too pale or too warm, and the detail and the textures of the Les Halles settings impress the viewer with their meticulousness. Although there are one or two instances of density fluctuation during some second unit shots, what really comes across in this presentation is the impressive choreography of actor and camera in concert that as much complement the dancing talents of McClaine and the prostitute extras as the physical comedy of Lemmon.

Audio


Although it was a large scale, Panavision production, Irma La Douce only audio mix appears to have been the mono one presented here in LPCM 2.0 with the balance of dialogue, effects, and music in keeping with the period while the digital cleanup removes distracting hiss without introducing any obvious artefacts. Optional English HoH subtitles are included.

Extras


Carried over from the Kino Lorber release are a pair of audio commentaries. The audio commentary by film historian Kat Ellinger frames the film within the transgressive and subversive aspects of Wilder's overall filmography, the themes of interrogating social roles and exposing hypocrisy. She discusses how Wilder's thematic interests and economic storytelling style has continued through the different phases of his career from noir to comedy, and in particular his collaborative relationship with screenwriter Diamond. The discussion encompasses filmmakers as varied as Ernst Lubitsch (Trouble in Paradise) and Russ Meyer (Beyond the Valley of the Dolls) whose Faster Pussycat! Kill! Kill! starlet Tura Satana plays one of Irma La Douce's prostitutes. In the audio commentary by film historian Joseph McBride, he describes the whole of former newspaper man Wilder's filmography as "exposés of human nature" while also highlighting the sentimental romantic that ran through his later works, and that his reputation as a "hard-hearted cynic" from his earlier works was more informed by the era in which he was working. Of Irma La Douce, he quotes Wilder's ambition for the film to strike a "happy medium between Tennessee Williams and Walt Disney." He mentions that it took many tries to view the film over the years due to his Catholic upbringing, and he still seems uncomfortable with some aspects even as he praises its sweetness and Wilder's mastery (like Ellinger, he also brings up Lubitsch). Exclusive to the Eureka disc is an interview with film scholar Neil Sinyard (26:53) which understandably overlaps with both tracks when it comes to the production history of the musical, Previn's adaptation of the score, and reuniting Lemmon and MacLaine, but the more concise discussion also brings us quicker to Wilder's reflections on the finished product which apparently left him less satisfied than his earlier productions (with further disappointments to come like the troubled history of the underserved flop that was The Private Life of Sherlock Holmes) despite its financial success. The disc also includes the film's theatrical trailer (3:53) and comes with a collector's booklet featuring a new essay by Richard Combs, alongside a wide selection of rare archival imagery.

Overall


Although tame by modern standards, Irma La Douce is surprisingly frank even as it couches its attacks on sexual hypocrisy in comedic terms.