The Film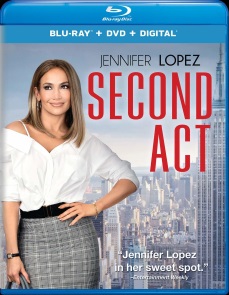 Having devoted thirteen years of her life as a seller and assistant manager at Value Save, Maya Vargas (Angel Eyes' Jennifer Lopez) is hoping to mark her fortieth birthday with a promotion to manager and a proposal from boyfriend Trey (This is Us' Milo Ventimiglia). In spite of an impressive presentation in which she shows off her innovations to sales and customer relations along with the sales data to back it up, executive Mr. Weiskopf (Pretty Woman's Larry Miller) decides instead to promote Arthur (Scandal's Dan Bucatinsky), a less-experienced colleague with an MBA. When Maya makes her case, he reminds her that she lacks the education qualifications for management with only a GED and no college degree. Her birthday party instead becomes a "screw you" pity party with co-worker Joan (The King of Queens' Leah Remini) and her genius son Dilly (The Miseducation of Cameron Post's Dalton Harrod) – who is future-bound for Stanford with a Google scholarship for some of the very interactive sales techniques developed with Maya – trying to cheer her up when she makes her birthday wish about living in a world where "street smarts equal book smarts." Maya stays on as Arthur's second-in-command but rankles along with the rest of the staff under his condescending attempts at team-building, and she is called out by him constantly for setting a bad example followed by the rest of the staff. When she receives a call about an interview with retailer Franklin & Clarke, she is confused until she learns upon being interviewed by CEO Anderson Clarke (Deep Rising's Treat Williams) himself that he was impressed with her Harvard degree, sale experience, and social media presence which makes her attractive for his innovation of hiring someone with sales experience to consult in product development – despite putting off young hotshot executive Zoe (Sping Breakers's Vanessa Hudgens) with her candid assessment of why their organic skin care line underperformed at Value Shop – that is, until she discovers that Dilly used his hacking skills to build up a foolproof new identity for her, including doctored photos of her climbing Mount Kilimanjaro (an ambition of Clarke's). She is reluctant to accept the job when Clarke offers it but finds working under Arthur unbearable. She arrives at work to find that not only does she have her own office, she has her own personal assistant in acrophobic Ariana (This is 40's Charlyne Yi) who is grateful for the position and development executive in Hildy (Masters of Sex's Annaleigh Ashford) who clearly thinks it is beneath her. Although Hildy warns her that the development people are looking for any excuse to tear her apart, she is more apprehensive of Zoe who professional jealousy seems oddly personal while she should be wary of product developer Ron (Pitch Perfect's Freddie Stroma) who starts digging into her past. The thrills and challenges of her new job and the stress of avoiding exposure takes a toll on her relationship with Trey when she wants to put off getting married and having children.

It is a special kind of tone deafness on the part of Hollywood that would cast Jennifer Lopez as a woman in desperate need of a second act in life; however, Second Act is itself described by the performers as "warm and fuzzy" and is best "enjoyed" as a frothy romantic comedy than for whatever overtures of empowerment and sisterhood it so shallowly evokes with what really feels like a retread of the Christina Applegate (Married with Children) star vehicle Don't Tell Mom the Babysitter's Dead minus the dead body. There is really no suspense and the "villains" are too cartoonish that their actions can only be met with the audience equivalent of Lopez's eye-rolling to Arthur's "round table" team building ("I dub thee the Marquis of Meat") while even the more mild chauvinistic dismissiveness aimed at Lopez's character like Weiskopf's "Where did you go to college, dear?" feel too calculated to elicit any genuine sense of offense on behalf of the viewer. A critical plaudit on the posters notes that "Jennifer Lopez is in her sweet spot," and that seems accurate. She is likable in an undemanding role and ably supported by Remini's sitcom-honed obscenity-peppered delivery while Ventimiglia is shirtless man-candy in an obligatory romantic subplot while the film is not challenging enough to determine if former teen star Hudgens is making a serious move away from her Disney roots. The rest of the supporting cast, including Williams, Dave Foley (Newsradio), and Michael Boatman (Spin City) are merely deployed in functional roles. The cookie cutter nature of the filmmaking extends to the women rocking out to Salt-N-Peppa's "Push It" in a kitchen, a jogging montage introducing Lopez and the setting to Ella Fitzgerald's "Something's Got a Hold of Me", and various transitional montages set to other eclectic choices that will nevertheless draw memories of their usage in other (not necessarily better) films. It must be particularly galling that Second Act seems like a comedown for director Peter Segal when even his loftier credits are the likes of Nutty Professor II: The Klumps, Naked Gun 33 1/3: The Final Insult, Anger Management, and 50 First Dates (with the cult hit Tommy Boy seeming like the only career anomaly). On the other hand, Second Act is exactly what one should expect from writers Justin Zackham (The Bucket List) and Elaine Goldsmith-Thomas, producer of Lopez's Maid in Manhattan, The Boy Next Door, and the godawful police procedural Shades of Blue.

Video


Digitally photographed with Arri Alexa cameras, the film's 1080p24 MPEG-4 AVC 2.35:1 imagery is crisp and sharp while the color palette leans towards the grays and blues with the coloring of select clothing and set deocration popping. The fine lines of some distant buildings in the cityscape may momentarily evince compression noise but these are momentary transition shots as derivative as everything else in the film.

Audio


The film can be viewed with either a DTS-HD Master Audio 5.1 track or a descriptive video Dolby Digital 2.0 stereo track. The track is without fault but (like the film) nothing special, generally front-oriented with the surrounds used for ADR crowd noise, traffic, and the sonic reach of the nondescript score and song selections. Optional English SDH and Spanish subtitles are provided.

Extras


Extras are thankfully sparse for someone who feels about the film the way I do, but may disappoint JLo fans. "Connecting with Milo Ventimiglia" (0:55) highlights the actor's EPK remarks about his feelings about the script and working with Lopez, "The Empowering Women of Second Act" (0:55) have Lopez, Hudgens, and Remini throwing out buzzwords like "chemistry" and "empowerment" while being attracted to the script because it has "a lot of heart." "Friendship On and Off Screen" (0:57) and "Working with the Ones You Love" (0:32) are more of the same. Such EPK mashups are okay for the web but shortchange the viewer. The only other extras are the film's trailer (2:35) and start-up trailers.

Overall


It is a special kind of tone deafness on the part of Hollywood that would cast Jennifer Lopez as a woman in desperate need of a Second Act in life, and the results are best "enjoyed" as a derivative romantic comedy rather than a message film.