The Film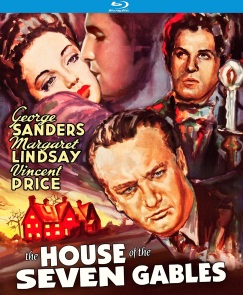 For the last two hundred years, the Pyncheon family have lived under the curse of Matthew Maule, falsely accused of witchcraft by Judge Jaffrey Pyncheon to acquire the land upon which he built his "House of the Seven Gables" (Pyncheon died mysteriously the day the house was finished seemingly fulfilling Maule's dying words "God will give him blood to drink!") The current representatives of an ignominious lineage of the treacherous and the treasonous are elderly Gerald (A Farewell to Arms' Gilbert Emery) and his two sons: sensitive artist Clifford (Dragonwyck's Vincent Price) who is ashamed of their heritage, and lawyer Jaffrey (The Picture of Dorian Gray's George Sanders) who is proud of it. Jaffrey flies into a rage when he is called back from Boston by his father who has agreed with Clifford to sell the house to pay off the creditors – Gerald and Jaffrey having poorly invested the family fortune including Clifford's share without his consent – with Clifford planning on heading to Paris and a promising career as a composer with cousin Hepzibah (Scarlet Street's Margaret Lindsay) as his bride. Although Jaffrey argues against the sale for the sake of the family heritage, Clifford knows that Jaffrey believes the legends of his namesake having hidden a treasure somewhere in the house along with a British-granted deed of several thousand acres of now settled land in Maine that he feels the American government would honor with compensation. Jaffrey strong-arms his father into rescinding his promise to sell, leading to a violent argument between Gerald and Clifford. Gerald gets so worked up that he suffers a heart attack and strikes his head on a desk when he collapses. In front of Hepzibah and the gossipy townspeople drawn to the house by the overheard fight, Jaffrey accuses Clifford of murder. In spite of Hepzibah's testimony and the impassioned defense of family attorney Philip Barton (Hush...Hush, Sweet Charlotte's Cecil Kellaway), the court finds Clifford guilty and sentences him to prison. Seeing only corruption in the workings of the court and Jaffrey's machinations, an embittered Clifford madly curses Jaffrey with Maule's dying words. With Clifford out of the way, Jaffrey immediately starts on renovation plans for the house, including taking it apart piece by piece in search of the treasure only to be shocked when Barton reveals that Gerald took steps to protect the house from creditor by signing it over to Hepzibah. Once forbidden to leave by Jaffrey for fear of how it would look to the locals, Hepzibah now turns Jaffrey out of the house and promises to live in it and prevent him from ever setting foot in it again. Hepzibah closes up the house and it stays so for twenty years until the Pyncheon spinster needs money to pay bills and for Barton's continued petitioning of the court for Clifford's freedom and decides to let rooms for rent. With only one paying guest in photographer Matthew Holgrave (The Mummy's Hand's Dick Foran) – a Maule descendent recently released from a short prison sentence where he met Clifford – Hepzibah decides to create a cent shop in one of the front rooms of the house, much to the consternation of Jaffrey, now an established lawyer who has similarly earned a reputation as a swindler to his clients and laborers. Newly-orphaned niece Phoebe Pyncheon (The Invisible Man Returns' Nan Grey) arrives and is grateful to run the shop in exchange for Hepzibah's care. She witnesses in her aunt an initial iciness and the change that comes over her when Barton brings word of the commuting of Clifford's sentence. Although Hepzibah's fears that Clifford will no longer feel for her as he did when they were young are allayed, she now worries what Clifford will do to Jaffrey to clear his name in order to allow them to marry and leave The House of the Seven Gables.

As well known as, but perhaps less read than The Scarlet Letter, Nathaniel Hawthorne's The House of the Seven Gables has only been adapted a handful of times for film and television. Neither a throwback to Universal's golden age horrors or a precursor to Price's subsequent heritage as a horror icon – while considerably more faithful to the source than Price's subsequent turn on the material in the third installment in Twice-Told Tales which reduces the considerably abridged adaptation to a variation on Roger Corman's Price-vehicle The Fall of the House of Usher with a more overtly supernatural climax – Universal's film adaptation of The House of the Seven Gables is pure melodrama even though the studio seems to have decided at the last minute to market is as more of a genre effort by releasing it as the top half of a double bill with the last and certainly least of the Bela Lugosi/Boris Karloff Universal collaborations Black Friday. Price and Sanders get by on their charisma – the latter only seeming to struggle during his climactic "freak out" – while Foran and Grey fulfill their ingιnue obligations, but it is Lindsay who truly impresses, going from starry-eyed innocent to hateful semi-madwoman to stony spinster whose icy heart thaws before our eyes. The problems arise in the film's cluttered third act which trucks in Matthew's secret abolitionist society and compromised Deacon Foster (Murder, My Sweet's Miles Mander) to effect a climax almost incidentally in spite of all the time devoted to Clifford's and Matthew's plotting against Jaffrey, Hepzibah's urging Clifford to let God punish Jaffrey, and Phoebe mistakenly believing that Matthew is in league with Jaffrey against Clifford. The end result is imperfect but the film's availability finally fills the whole in Price's filmography for fans of him as a horror star while also being one of the few theatrical treatments of Hawthorne's novel. Universal's ubiquitous composer Frank Skinner (Fox Fire) – who scored over two hundred features and whose stock music would accompany about four hundred more – provides an Academy Award-nominated score including a Ralph Freed-penned love song performed onscreen by Price while a film of this pedigree might have been better served by Technicolor photography (although the monochrome work of All About Eve's Milton R. Krasner is of a high standard). The cast of Universal contract players includes Alan Napier
(Batman: The Television Series) and usually uncredited Harry Cording (The Strange Door).

Video


Released in 1940 by Universal and reissued by Realart in 1953, The House of the Seven Gables became harder to see until Universal's 1998 VHS and 2010 Vault Series DVD-R. Kino Lorber's 1080p24 MPEG-4 AVC 1.33:1 pillarboxed fullscren transfer appears to be sourced from the same dated master with windowboxed credits and text inserts (which themselves seem to have been digitally sharpened with faint haloes evident around the edges of the lettering). The image is fairly clean while retaining a lot of its natural grain as well as some heavier grain from underexposure in one night interior shot that looks quite unlike any of the other shadowy interior scenes and may have been inserted from another source.

Audio


The DTS-HD Master Audio 2.0 mono track is in good condition with some faint hiss evident during silences while the dialogue, music, and effects sound crisp and clear. Optional English SDH subtitles are included.

Extras


The sole extra is an audio commentary by film historian Troy Howarth who notes that he usually does commentaries for European horror but is also a devotee of Universal's classic horror films of which House of the Seven Gables straddles the line between literary adaptation and genre piece along with the studio's The Mystery of Edwin Drood and The Tower of London; indeed, he notes that the project came about around the time that Universal relaunched its horror productions on a lower budget after the success of a theatrical recent reissue of Dracula and Frankenstein, and that director Joe May was also assigned The Invisible Man Returns the same year. In discussing the film's "neat and efficient" plotting, Howarth points out a lot of easily observable detail that is representative of it. His behind the scenes discussing – drawing from the writings of Universal horror scholarship regulars like Tom Weaver – is the more interesting aspect of the track, including the leftist additions of future blacklisted screenwriter Lester Cole (Born Free), the friction between Sanders and Price carried over from Green Hell, and Price's years as a contract player at Universal and Fox (and his brief return to Universal after). The disc also includes trailers for the Price starrers Tales of Terror, The Oblong Box, and the aforementioned Twice-Told Tales as well as trailers for the Sanders vehicles The Lodger and Witness to Murders.

Overall


The House of the Seven Gables is imperfect but the film's availability finally fills the whole in Price's filmography for fans of him as a horror star while also being one of the few theatrical treatments of Hawthorne's novel.