The Film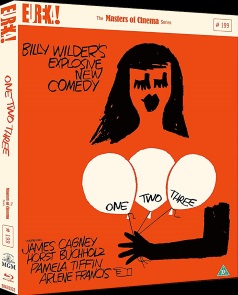 Oscar (Best Cinematography, Black-and-White): Daniel L. Fapp (nominated) - Academy Awards, 1962
Golden Globe (Best Motion Picture - Comedy): One, Two, Three (nominated) and Best Supporting Actress: Pamela Tiffin (nominated) - Golden Globes, 1962

Once exiled to Coca-Cola's South American arm after a riot lead to a burned down plant in the Middle East, executive C.R. MacNamara (Angels with Dirty Faces' James Cagney) is on his way back up the ladder assigned to West Germany and determined to make the most of it, going beyond supplanting Rhine wine and beer with Coca-Cola in the West – while being wary of smuggling into the Communist East and the unlikeliness of getting back the empties – and attempting to beat Pepsi in cracking the Iron Curtain. His meeting with Russian trade ministers lead by Peripetchikoff (Road to Bali's Leon Askin) nearly goes bust when his plan to build six plants in the Soviet Union does not include divulging the secret formula while crowing over reputed attempts by the Russians have tried to duplicate or steal it without success; however, the charms of his secretary/mistress Fraulein Ingeborg (Lafayette's Lisolette Pulver) keep them interested enough to agree with his plans "in principle." MacNamara's plans for a vacation trip to Venice with wife Phyllis (The Thrill of It All's Arlene Francis) and children are promptly scuttled by a call from company president Wendell P. Hazeltine (Born Yesterday's Howard St. John) who has sent his seventeen-year-old daughter Scarlett (No One Will Notice You're Naked's Pamela Tiffin) to Europe to get her away from her latest beau – the fourth of her engagements – and expects MacNamara to look after her when she comes to Berlin. His wife is at first put off by the vacation delay but also thankful for another American face; and Scarlett's two week trip turns into two months with glowing reports getting back to her father about her very uncharacteristic interest in museums and sightseeing rather than boys. MacNamara thinks the VP of Operations position in London is in the bag until he discovers that chauffeur Fritz (The Phony American's Karl Lieffen) has been driving Scarlett to the Brandenburg Gate every night and picking her up in the morning for the last six weeks. When she fails to return one morning, MacNamara panics, and things get worse when she does turn up to announce that she has met a communist boy in East Germany and eloped with him. MacNamara and the boy Otto (The Magnificent Seven's Horst Buchholz) lock horns, with the older man scrambling to arrange an annulment and the younger planning to run off with Scarlett to Moscow. Upon learning that Scarlett's parents are planning to come to Berlin to take Scarlett back home, MacNamara changes tack and sends Scarlett home to pack for her trip up north while organizing a frame up of Otto with the assistance of long-suffering assistant Schlemmer (The Girl from Hong Kong's Hanns Lothar). Arrested under suspicion of being an American spy upon return to East Germany, Otto is interrogated and "tortured" until he will admit to anything. When MacNamara tells Scarlett of Otto's arrest, her fainting spell reveals that she is pregnant; whereupon, MacNamara must not only use every ruse imaginable to get Otto back to the West but also turn him into someone acceptable to Hazeltine who hates communists and believes the Civil War ended in a draw.


Regarded as either one of director Billy Wilder's lesser films or one of his more underrated ones – especially coming off the massive successes of Some Like It Hot and The Apartment – One, Two, Three has all of the right elements: an energetic lead performance from Cagney, amusing supporting turns, some surprising (for the time) sexual frankness, and expertly choreographed comic set-pieces; and yet, it does not entirely come together. The setting of the divided Germany of much of the latter half of the twentieth century is novel not only in its schism of the capitalist West and the communist East and the people from either side, but also as a setting where such Americanisms like jokingly someone with an authoritarian personality der Fuhrer or associating German formality and professional deportment with Nazi military courtesy is as offensive as MacNamara's crass speculations on just what those under him were doing during the war. The typical Wilder satire is biting, but it is perhaps the extreme depictions of the opposed ideologies that seem lacking in the degree of refinement expected of a Wilder/I.A.L. Diamond (Kiss Me, Stupid) script, with the cynicism Wilder of which was so often accused overshadowing any sense of nuance in the characters and making the love story subplot seem all that more an obligatory element. Far from being The Coca-Cola Kid, Cagney's mercenary executive decides the Russian trade ministers are exploitable once Hazeltine makes his comparatively principled anti-Soviet stance known, uses his comely secretary as bait, goes to rescue the man he framed not out of sentimentality when he learns of Scarlett's pregnancy but because it would look even worse to present her to her father as a sullied and abandoned woman than having eloped with someone socially acceptable, and ultimately does not care whether Otto stokes rebellion among the employees of the company so long as he is secure in his own coveted position. Much laughter was presumably supposed to be derived from ideologue Otto's well-intended labeling of others as bourgeois parasites and trying to enlighten others of their own exploitation, but other comic relief derived from his unshakable faith in the state and looking forward to enforced hardship and dispassionate treatment of himself, his wife, and their child wears thin. Francis is at least afforded some sharp wit in throwaway lines but neither Tiffin or Pulver are given opportunity to hold a candle to the women of Wilder's other films; indeed, the film has suffered critically due to the tendency to compare it to the director's other works which some direct visual references and a desire to classify Wilder as auteur invites. Wilder's equal-opportunity satire may be observant, but One, Two, Three lacks characters charismatic or irreverent enough to consistently entertain.

Video


Released theatrically by United Artists and premiering on television a few years later by ABC, One, Two, Three was released on VHS in 1986 and had enough pedigree to merit two separate letterboxed laserdisc editions followed by a 2003 DVD from MGM featuring anamorphic widescreen and fullscreen transfers. While Wilder's earlier hits earned special edition DVD reissues, the same barebones disc of this film was carried over to a couple boxed set editions. It was not until Kino Lorber's 2017 Blu-ray that the film received something like a special edition. Eureka's 1080p24 MPEG-4 AVC 2.35:1 widescreen Blu-ray utilizes the same master which has not undergone anything like the restoration afforded to the likes of Arrow Video's 4K restoration of The Apartment or MGM's own 4K restoration of Irma La Douce that appeared in the United States of which Eureka previously availed itself. The monochrome image sports crisp details and adequate depth but specs pop up intermittently and contrasts can fluctuate minutely (making the use of back projection evident not only in driving scenes but also in a head-on crash that itself looks rather shoddily choreographed for a Wilder film).

Audio


The mono mix is preserved in LPCM 2.0 mono and is more consistently pleasing than the image, with Andrι Previn's adaptations of Aram Khachaturyan's "Sabre Dance" and Richard Wagner's "Ride of the Valkyries" woven throughout the soundtrack with the same clarity as the rapid and rhythmic dialogue while the uses of "Yankee Doodle" and "Itsy Bitsy Teenie Weenie Yellow Polka Dot Bikini" – the latter as a tool of interrogation – are guaranteed to have the same effect on the viewer as they do on the characters within the film. The optional English HoH subtitles annoyingly paraphrase some of Cagney's rapid dialogue while extensively transcribing the film's untranslated German dialogue (although one gets the gist of all of these exchanges).

Extras


Eureka has not carried over the two short extracts from Wilder interviews touching upon the film but they have ported over the audio commentary by film historian Michael Schlesinger who describes the film as Wilder's most topical and timeless, the daring of Cold War satire and how it anticipates Dr. Strangelove or: How I Learned to Stop Worrying and Love the Bomb, background information on the European cast – Wilder cast Pulver because he wanted someone like Marilyn Monroe but never wanted to work with the starlet again – its shout-outs to Cagney, and its references to Wilder's own filmography, specifically Ernst Lubitsch's Ninotchka (which Wilder scripted). Exclusive to the Eureka Blu-ray is an interview with film scholar Neil Sinyard (28:17) who describes the film as Wilder's "testament film" in that it is a sort of greatest hits collection of elements that fascinated Wilder – Nazis, American capitalists, crossdressing, hot blondes, etc – noting that there is little critical consensus about the film while also suggesting that it's lack of success is attributable to the fraternity of new critics (among them Andrew Sarris and Pauline Kael) from the time that savaged the film and Wilder. The film's theatrical trailer (2:11) is also included. Housed with the disc – the first 2,000 copies of which come with an O-card slipcase – is a collector's booklet featuring new essays by film scholar Henry K. Miller, critic Adam Batty, and archival material. Miller looks at the critical reception of the film and looks at the film within the context of Wilder's filmography while Batty's "The Children of Marx and Coca-Cola" – quoting a memorable intertitle from Jean-Luc Godard's Masculin, Fιminin analyzes the story, provides some behind the scenes anecdote – Cagney complaining about being upstaged by Bucholz's "scene-stealing didoes" – and the context of American corporations in post-war Europe and particularly Germany.

Overall