The Film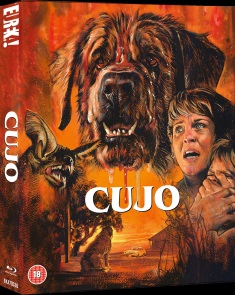 Castle Rock housewife Donna Trenton (The Howling's Dee Wallace) is bored with life. Her husband Vic (Hardcastle and McCormick's Daniel Hugh Kelly) has a fulfilling career as an advertising executive but is always away. Her young son Tad (Who's the Boss?'s Danny Pintauro) lives in fear of the dark and a monster in the closet and only daddy knows the magic words to protect him. Even her affair with the local stud handyman Steve (Love Me Deadly's Christopher Stone, Wallace's husband at the time) feels like a pathetic cliché, and its resolution unfolds just as explosively as expected. When a public relations scandal hits the Sharp Cereal brand and Vic is called away to New York for damage control, leaving things up in the air with Donna, she decides to takes some of Vic's neglected chores into her own hands which includes taking her car up the Cambers farm to mechanic Joe (Death Wish 3's Ed Lauter). Unfortunately, Camber's long-suffering wife Charity (The Fan's Kaiulani Lee) is using her lottery winnings to take son Brett (Superstition's Billy Jacoby) with her to visit her sister in Connecticutt – with the possibility of not coming back – Joe has planned to hit Atlantic City for gambling and prostitutes with buddy Gary (Papillon's Mills Watson), and the lovable family St. Bernard Cujo has become viciously rabid after being bitten by a bat. Trapped in the car for days in the hot summer with no sign of impending rescue, Donna must martial up all of her courage and cunning against the deadly dog before her son succumbs to dehydration and starvation.

One of three Stephen King adaptations to be released in 1983, Cujo along with David Cronenberg's The Dead Zone and John Carpenter's Christine truly kicked off the cycle of King films as a yearly theatrical event (or events with smaller studios competing with the bigger budgeted but not necessarily better Dino De Laurentiis King films of the mid-eighties). Well-mounted with gorgeous photography by The Fourth Man's Jan de Bont – who really should've stuck to cinematography – and scored by Charles Bernstein (just before his iconic A Nightmare on Elm Street venture), the film is nevertheless the least impressive of the three aforementioned King films but certainly not the worst King adaptation to come. Problematic is the degree of fidelity to the novel which overburdens a ninety minute film with too many characters who barely register in spite of some nice character actor casting like Lauter, Airplane II: The Sequel's Sandy Ward as the ill-fated sheriff, and Big Trouble in Little China's Jerry Hardin (along with Deadly Friend's Merritt Olsen as the Sharp Cereal spokesman "The Professor" who exists only on a television screen in a conceit that a director like Cronenberg would have better exploited as a an authority figure deceiving viewers into accepting the façade of family life that is perfect so long as all the constituent elements are in place). The setup manages to feel drawn out in spite of glossing over thematic aspects like the contrasts between the marriages of the Trentons and Cambers and the notions of class resentment and small-town hypocrisy are referenced but largely glossed over by the stripped-down approach of director Lewis Teague (who would subsequently helm the less impressive De Laurentiis/King adaptation Cat's Eye) while the second half of the film is only fitfully intense thanks to the work of Wallace and the composite use of trained dogs, mechanical props, and a man in a dog suit deftly handled by editor Neil Travis (Dances with Wolves). Pintauro's performance is more disturbing with his cries ping-ponging between grueling and annoying, being more admirable not so much for the work than for a child his age being able to seem deeply traumatized while appearing to understand that it is all play. The film's real misstep is not the much-criticized changing of the downbeat ending so much as foregrounding the underlying conceit that Donna is being tested and in need of redemption for straying from her marriage, the classic melodramatic notion of frightening parents with a threat to their child that supposedly puts everything "into perspective." Cujo manages to be neither as nuanced as some of the more character-driven King adaptations or as scrappy as the action-oriented ones its claustrophobic scenario resembles while somehow providing Wallace with the best genre showcase for a tour-de-force performance.

Video


Released theatrically in the United States by Warner Bros. and in the U.K. by Associated British Pathe,Cujo's status as a Taft production meant that its home video history was rather convoluted with the video rights going from Warner to Republic Pictures through Aaron Spelling's acquisition of the WorldVision library which included the Taft film and television productions, with the first DVD release as part of a licensing agreement for the Republic material to Vestron/Live Home Video-successor Artisan Entertainment. That barebones, fullscreen transfer would be upgraded when Lionsgate acquired Artisan and put out a twenty-fifth anniversary Blu-ray and DVD featuring a new high-definition transfer, commentary, and three-part documentary. The subsequent sale of the Taft and Republic library to Paramount lead to a thirtieth-anniversary Blu-ray andDVD from Olive Films who utilized the same transfer opened up to 1.78:1 but only provided a new commentary by Teague. The film makes its UK Blu-ray debut – following only a fullscreen Paramount DVD – courtesy of Eureka Classics, and the 1080p24 MPEG-4 AVC 1.85:1 widescreen utilizes the same master with a higher bitrate and Eureka's typically high mastering standards. While some specks and dings remains at a couple shot changes where there was likely no previous frame to reference for cleanup, the image is free of any video noise while boasting deep blacks and good facial details from Wallace's and Pintauro's agonized expressions to the increasingly puss-dripping and drooling rabid Cujo. A new 2K or 4K scan might have made more of the landscape shots in all their minutiae but the demand for another Cujo special edition may be played out.

Audio


Like the Lionsgate edition, Eureka's audio options include the original mono track – albeit in uncompressed LPCM rather than lossy Dolby Digital – and a DTS-HD Master Audio 5.1 track. The surround track is subject to the limitations of the original mono mix with the sound effects mainly front-oriented and only intermittently given directional steering while the surrounds give breadth to Bernstein's rich score. Optional English HoH subtitles are included.

Extras


Neither of the Teague commentaries have been carried over, but the disc does feature a new audio commentary by film historian Lee Gambin who wrote the film monograph Nope, Nothing Wrong Here: The Making of Cujo. The track could not honestly be called a critical commentary as Gambin admits outright that he thoroughly loves and admires the film in every aspect and tends to overpraise everything including those elements with which others find fault; however, what the track does offer instead is comprehensive production information and anecdotes stemming from his thorough research and interviews, much of the information of which can be heard from their primary sources in three-part documentary "Dog Days: The Making of Cujo" (42:48) carried over from the LionsGate disc and the three plus hours of new video interviews. The documentary includes discussion of the film's conception with producer Daniel H. Blatt (Winter Kills) approaching Teague on the basis of Alligator while the original studio wanted Peter Medak (The Changeling) who was subsequently fired with Teague coming back. Discussion of the adaptation includes King's original script, the changes to the ending, and the back to basics draft Lauren Currier which inferred that Cujo was not simply rabid but possessed by the spirit of The Dead Zone's "Castle Rock Killer" Frank Dodd (Sheriff Bannerman also featured in that novel), and Teague's whittling down the long script with Don Carlos Dunaway (Impulse), the casting, the cold shooting conditions in contrast to the summer setting, the dog training and effects, the scoring, and the film's post-production. Wallace appears in the documentary but also in a new interview (41:34) in which she recalls being a hot property after E.T. and doing the film because of her affection for producer Blatt. She also recalls working with Pintauro and being typecast as an actress who could work with children, as well as Medak's psychosexual approach (as well as unintentionally revealing that Blatt and the other producers apparently neglected to have a production meeting with Medak when he was imposed on the production judging by his puzzled reaction when she told him about Medak's vision of the film), and the general consensus that Teague had a better handle on the material and the production. Composer Charles Bernstein (35:37) reiterates some stories from the documentary about deciding to use French Horn for Cujo's theme, his trepidation from a scoring perspective that there would be nothing to suggest that the film was a horror film until late in the film until the production came up with the title card animation during which Bernstein would introduce the darker motifs of the score before giving way to the more bucolic passages. Stuntman Gary Morgan (26:10) recalls his reputation as an animal suit man around the time of the film's production, the dog suit designed for him and how it was actually quite comfortable for him given the cold shooting conditions, working with Wallace and Pintauro, and how animal trainer Karl Lewis Miller (K-9) not only tried to convince the production to utilize a different breed of dog for the film but also spoke to him like a dog while showing how the dogs were trained and how to work with them. Stuntwoman Jean Coulter (21:09) also recalls working with the animals while doubling for Wallace, how the dogs thought they were just playing since what they were actually trying to get while "attacking" the actors was a toy mouse (Wallace mentioned in the documentary that their tails had to be tied down because they were happily waving while trying to get the toy), and that eventually even playing dogs will get frustrated during the extended filming which lead to Coulter almost losing her nose. Casting director Marcia Ross (20:03) recalls starting under Judith Holstra (48 Hrs.) with Cujo as her first opportunity to take the lead, having worked with Blatt on a number of television projects before, and casting Pintauro for the film when Medak was still with the production. Visual effects artist Kathie Lawrence (13:55) recalls working with husband Robert Clark (Starship Troopers) under Peter Knowlton (Beethoven). She notes that Knowlton wanted credit for the film and that he was the only one on the set but discusses the designs of the suits for Morgan, for a Labrador which she is not sure was actually used, and the various dog heads of different materials. Like Lawrence, Robert Clark (12:50) also notes how their experience on Deadly Eyes with fitting rat suits to dachshunds helped prepare them for Cujo. Miller's daughter dog trainer Teresa Miller (28:14) recalls when her father brought home St. Bernards to train for the film and not thinking twice about how dangerous they could be until seeing the film. The disc also includes the film's theatrical trailer (1:49) and two TV spots (0:30 and 1:29, respectively).


Exclusive to the first pressing of four thousand units is a bonus Blu-ray disc featuring a Q&A with Dee Wallace from Cinemaniacs & Monster Fest 2015 (100:53) moderated by Gambin who interviews her between screenings of The Howling and E.T. as well as clips from The Hills Have Eyes, Cujo, Critters, and The Frighteners. Also included is an interview with critic and author Kim Newman (27:03) who notes both how emblematic of the eighties King film adaptations were but also their conveyor belt nature, how King's later novels became more sprawling and better suited to television with the spate of television miniseries adaptations in the nineties and the move back towards King features (including It going from a nineties TV miniseries to a two-part feature. Also exclusive to the limited edition is a 60-page Collector's booklet featuring film credits, "Don't Blame the Dog: Cujo vs. the Nuclear Family" by Craig Ian Mann, "The Beast Within: Stephen King's Cujo and the Nature of Evil" by Scott Harrison, and "It's Not A Monster, It's Just A Doggy!: The Siege Begins" by Lee Gambin, as well as a poster gallery, viewing notes, and disc production credits.

Overall


Cujo manages to be neither as nuanced as some of the more character-driven King adaptations or as scrappy as the action-oriented ones its claustrophobic scenario resembles while somehow providing Wallace with the best genre showcase for a tour-de-force performance.