The Film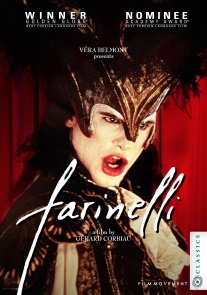 Oscar (Best Foreign Language Film): Belgium (nominated) - Academy Awards, 1995
Golden Globe (Best Foreign Lanugage Film): Beligium (winner) - Golden Globes, 1995
César (Best Production Design): Gianni Quaranta (winner), Best Sound: Jean-Paul Mugel and Dominique Hennequin (winner), and Best Costume Design: Anne de Laugardière and Olga Berluti (nominated) - César Awards, 1995
David (Best Costume Design): Olga Berluti (winner) and Best Production Desig: Gianni Quaranta (nominated) - David di Donatello Awards, 1995

"Your death is in your throat," a castratto warns young choirboy Carlo Bruschi before jumping to his death. Too young to understand what a castratto is but fearing death, Carlo refuses to sing when his budding composer brother Riccardo is set to play a piece for teacher Nicola Porpora (Padre Padrone's Omero Antonutti); whereupon his father (Forbidden Photos of a Lady Above Suspicion's Pier Paolo Capponi) makes him swear to never again refuses his voice to his brother and to never leave him. Young Carlo becomes a castratto through an injury resulting from a fall from a horse ridden in the midst of a feverish delirium following their father's death. Grown Carlo (Sleepless' Stefano Dionisi), now known as "Farinelli," catches the ear of the famous composer Handel (The Fourth Man's Jeroen Krabbé) who wants Carlo to accompany him and perform in his theater in London. Carlo, however, scoffs at the offer when it does not extend to Riccardo (Hannibal's Enrico Lo Verso). A few years pass whereupon Carlo starts to resent his brother whose great masterpiece "Orpheus" begun the day of Carlo's accident remains frustratingly unfinished and Handel has continued to needle him about just what he gave up: singing for the King of England. Things take a turn, however, when beautiful Alexandra (Time Regained's Elsa Zylberstein), confidante to British aristocratic widow Margaret Hunter (This Man Must Die's Caroline Cellier) and governess to Margaret's crippled son Benedict (Renaud du Peloux de Saint Romain), implores them to help Porpora prop up Margaret's Opera of the Nobility which is in competition with Handel's Covent Garden theatre and on the verge of bankruptcy. Handel is soon humiliated as Carlo draws the crowds to Margaret's theatre performing Porpora's and Riccardo's compositions; however, Handel's criticism of flourishes and embellishments in place of genuine emotion in Riccardo's work are not lost on Carlo who he challenges to prove that he is more than a singing machine. Her love for Carlo overshadowing her loyalty to Margaret, Alexandra steals one of Handel's scores for Carlo, setting the stage for a series of betrayals that rend the bonds of brotherhood.

A biographical film about an artist whose reputation as a great singer and lover survive while his instrument is lost to time, Farinelli is first and foremost an awards-bait picture from the period in the nineties when the major studios revitalized their art film branches to compete with Miramax; however, it does intrigue with the relationships it attempts to explore. The "pact" that is the codependent relationship between composer and muse who also happen to be brothers functioning has halves of a whole in more ways than one – while Carlo is capable of bringing women to "musical orgasms," it is Riccardo who takes over after the foreplay – is seen from the outside as one in which the narcissistic Farinelli is the taker with Riccardo withholding "Orpheus" seemingly his only leverage; however, private revelations and the observations of Handel reveals how and why one brother has enabled the behaviors that have shaped that relationship. More intriguing than Carlo's relationship with Alexandra is the love-hate one with Handel who feels he has suffered by having to compose music unworthy of him; seeing the castratto's voice as "an example of nature abused rerouted from its goal, in order to deceive" until he too is moved to emotion. The film does subvert expectations by veering away from tragedy but the ending still feels a bit too feel-good. It should be no surprise that the film's accolades were primarily based on its visual qualities, superficially possessing the qualities to merit a best foreign language film nomination as well. Producer Véra Belmont would follow up the film with her fourth directorial effort Marquise, a more comical French/Italian biographical period piece about a tragic actress. Italian genre director Aldo Lado (Who Saw Her Die?) served as the film's Italian executive producer.

Video


Released theatrically by Sony Pictures Classics and on laserdisc and DVD by Columbia Tri-Star, Farinelli in 2000, Farinelli proved more popular overseas where it hit Blu-ray in France, Germany, Italy, Japan, and South Korea (reportedly a 1080i60 encoding with a poor English subtitles translation) in the last few years. Film Movement's 1080p24 MPEG-4 AVC 1.85:1 is listed as a "new 2K restoration" and is presumably the same master as seen on the European editions. The image is spotless with no issues of jitter, colors are rich but detail seems to have been compromised by some light filtering and edge enhancement that presumably originates with the original master. It looks okay in motion and in the broadstrokes of its imagery (although the photography of Toto the Hero's Walther van den Ende is also brightly and evenly lit, looking quite distinct from the grainy period look of Dangerous Liaisons' Philippe Rousselot). It is definitely an improvement over Sony's twenty-year old transfer.

Audio


A French/Italian/Belgian/British co-production, Farinelli has to primary soundtracks: a mixture of Italian and French which was seen internationally and a full French dub. Film Movement presents the former in a vivid LPCM 2.0 rendering of the early Dolby Digital matrixed stereo surround track (since the French and Italian DVD releases rechanneled the stems to 5.1, that is presumably what is present on the Blu-rays in those countries). Effects have directionality, music has breadth, and the vocals – a studio-engineered compositing of the contributions of soprano Ewa Malas-Godleweska and countertenor Derek Lee Ragin – reverberate as effectively to the listener as they were presumably intended to those in the film. Optional English subtitles are included.

Extras


The two primary extras have been included on various international releases of the film but only one of them in English-friendly form on the Australian DVD edition. "Farinelli: Nostalgia for a Lost Voice" (52:28) is a combined history lesson on castratti and Farinelli in particular and a making-of featurette that looks at the attempts to engineer the voice of Farinelli and the period look of the film in make-up, sets, and costumes. "Farinelli: The Birth of a Voice" (24:20) looks more closely at the conception of the project starting with the collaboration between director Gérard Corbiau (The Music Teacher), his wife Andrée Corbiau (The King is Dancing), and Marcel Beaulieu (The Childhood of Icarus). The disc also includes the film's theatrical trailer (1:57). Most interesting is the short essay booklet by film critic Kenji Fujishima who not only contrasts the film's approach to the period as well as the parallels with Amadeus but also draws comparison between the sibling relationship here with that of the twin protagonists of David Cronenberg's Dead Ringers.

Overall