The Film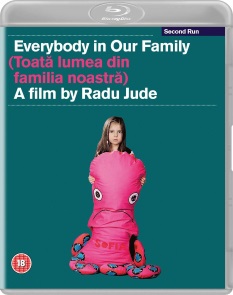 Anonimul Trophy: Radu Jude (won) - Anonimul International Independent Film Festival, 2012
Blue Angel (Best Director): Radu Jude (won), Best Male Performance: Serban Pavlu (won), and Best Film: Radu Jude (nominated) - Art Film Festival, 2012
Gopos Award (Best Directing): Radu Jude (won), Best Actor in a Leading Role: Serban Pavlu (won), Best Feature Film: Ada Solomon (producer) and Radu Jude (won), Best Actress In A Supporting Role: Mihaela Sirbu (won), Best Actor in a Supporting Role: Gabriel Spahiu (won), Best Screenplay: Radu Jude and Corina Sabau (won), Best Actress In A Supporting Role: Tamara Buciuceanu-Botez (nominated), Best Sound: Simone Galavazi and Dana Bunescu (nominated), and Best Costume Design: Augustina Stanciu (nominated) - Gopo Awards, 2013

Dentist Marius (The Japanese Dog's Serban Pavlu) has been looking forward to spending time with his daughter Sofia (Sofia Nicolaescu) on his court-appointed weekend during which he plans to take her on a camping trip. With his own car in the shop, he must borrow his parent's automobile even if he must endure being berated by his father (Alexandru Arsinel) for his various failures including the lopsided custody arrangement as well as enduring the smothering care of his peacekeeper mother (Stela Popescu). Upon arriving at the flat where he used to live with ex-wife Otila (The Other Irene's Mihaela Sirbu), he is welcomed in by her mother Coca (Tamara Buciuceanu-Botez) who tells her that Sofia has been sick. Marius dismisses her concerns and insists that Sofia is okay to travel after waking her up and getting her excited about the trip. When Otila's current boyfriend Aurel (High Tension's Gabriel Spahiu) tries to get him to wait until Otila comes home from her salon appointment, Marius becomes impatient and irritable and a scuffle results in a head injury that Aurel insists was intentional. Otila is more patient with Marius but insists that Sofia is too sick to go with him. At first, Marius is annoyed that she did not bother to contact him ahead of time, but other long-standing resentments come out the more Otila tries to deal with the situation calmly amidst Marius' ranting, Aurel's complaints, and Coca's own attempts to keep the peace. The situation shockingly devolves from accusations of mistreatment to a domestic incident report and a hostage situation.

Although it is the third of director Radu Jude's films to become widely available in English-speaking countries, Everybody in Our Family was made before both the sprawling Tarkovskian Aferim! and the studied and intimate Scarred Hearts, so it is not so much a stripped-down and more disciplined outgrowth as a "write what you know" beginning (the director confirms in an interview that the film was inspired by and embellished upon his own custody issues with the mother of his child). The first third of the film reflects that point-of-view with Marius' father attacking him for not standing up to that "cheating bitch," reticent Coca seeming to favor him, Sofia guilelessly giving Marius emotional ammunition against Otila, and Aurel being home while Otila is out suggesting that he is a deadbeat; however, Jude is fortunately interested in telling a more complex story than one with the usual moral of "the child is the one who actually suffers when parents fight." Marius presents himself as a successful dentist and a dutiful father who gets little time to spend with his daughter, but the progression of the film reveals behind his annoyance with the current situation the emotional immaturity of a manchild who will always paint himself as the victim regardless of whether his insistence on Otila's infidelity is true or not. Otila's initially infuriating coolness soon reveals itself as an exhaustion over dealing with Marius and presumably rehashing the same matters with each visit. Even after he has tied up and gagged Otila and Aurel, Marius continues to rant about how they are trying to ruin his life, and one starts to wonder if spending the weekend with his daughter was ever as important as making sure Otila and Aurel know he still has a place in their lives. While Marius does not arouse pity in the viewer, he also does not become loathsome. When he walks disheveled and bloody into the horizon with the consequences of his actions sure to catch up to him, one wonders whether he has actually learned anything. Although the film's actions seem over-the-top, the manner in which the conflict spirals is entirely believable, making one aware of just how possible it is for real-life conflicts to tip into similarly extreme outcomes.

Video


Unavailable in English until now, Everybody in Our Family comes to Blu-ray in a director-approved transfer given a 1080p24 MPEG-4 AVC 1.85:1 encode. The production was shot on 35mm and the transfer sports naturalistic colors and textures of the urban locations with only one grainy underexposed shot that stands out from the rest of the photography and may have been the result of an improvised camera move past an area of the location that was not adequately lit.

Audio


Audio options include DTS-HD Master Audio 5.1 and LPCM 2.0 stereo tracks, the latter making conservative use of the surrounds for city sounds during the exteriors and outside the windows of the location flat (those sounds receding during moments of high drama). Optional English subtitles are provided.

Extras


Extras start with a 2018 interview with director Radu Jude (25:54) who came from a non-artistic family but fell in love with his grandfather's storytelling, his film school education and his beginnings working in a studio during the time when American productions made use of the country's tax breaks and cheap labor – it is not specified, but he presumably worked some time at Castel Film, the studio that first collaborated with Full Moon Entertainment on their Romanian-lensed productions like the Subspecies and have since provided an economic backlot for the direct to video sequels of theatrical product from larger American studios – as well as the biographic aspect of the feature (which he embellished with research by visiting support groups for divorced men). Also included are two short films, The Tube with a Hat (2006; 23:25) – which is also available on the American Blu-ray of Aferim!, and Alexandra (2007; 25:09) which is somewhat of a precursor to Everybody in Our Family with a similar tale of a man spending the day with his daughter and the tension between him and his ex. The disc also includes the theatrical trailer (0:49). In the case is a 16-page booklet by critic Carmen Gray which looks at the film in the context of the power imbalances and abuses that run through Jude's work as a reaction to the current resurgence of Romanian nationalism.

Overall


Although Everybody in Our Family's actions seem over-the-top, the manner in which the conflict spirals is entirely believable, making one aware of just how possible it is for real-life conflicts to tip into similarly extreme outcomes.