The Film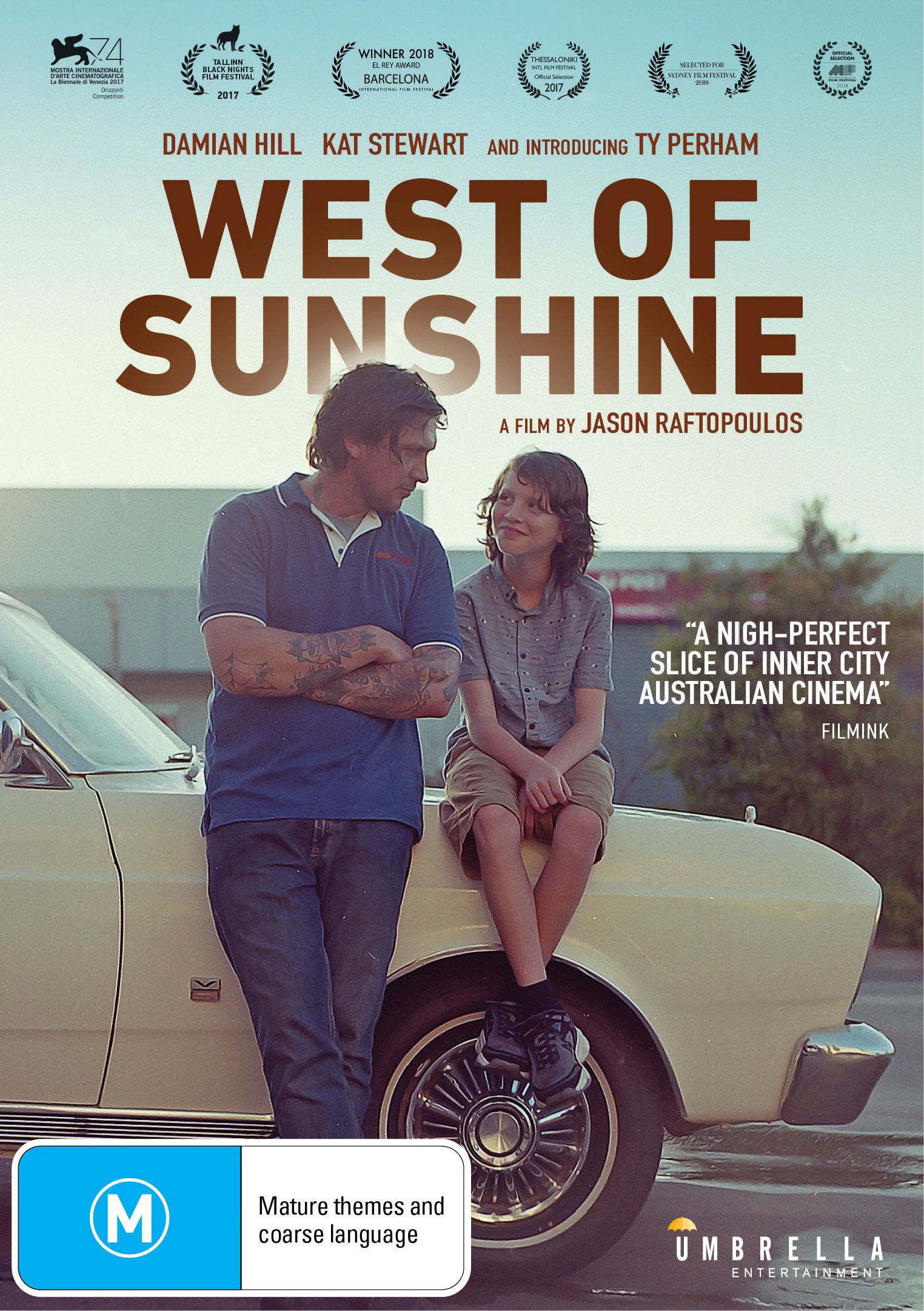 "West of Sunshine" (2017)

Jim (played by Damian Hill) is a courier that is down on his luck both personally and financially. He is struggles with gambling has given him considerable debt and severed his relations with his family. Forgetting that today was a day that he was to take care of his son Alex (played by Ty Perham), his job making deliveries with his classic car becomes a bigger chore than expected. The two are distant with Alex not respecting his father and Jim not being able to communicate with the young boy well. In addition, a loan shark is demanding that Jim make his payment by the day, which puts both Jim and Alex's lives at risk...

Filmmaker Jason Raftopoulos's 2011 short film "Father's Day", which follows a gambling addicted father's journey of taking care of his son for a day was the basis of his feature film debut "West of Sunshine", which takes the same story and extends it further with character and scenario. Financed independently and using both professional and non-professional actors, "West of Sunshine" in tone is very similar to "The Bicycle Thieves" (1949), where a poor father and son's day seems to get deeper into troubled territory as time progresses. And like that film, the bonding between the two over the period of hardship is essentially the core of the piece. While in "The Bicycle Thieves", the father figure of Antonio is down on his luck due to postwar circumstances and his wrong decisions in the story show the consequences of the mistakes, Jim in "West of Sunshine" is further deep in the hole of addiction and depression. Even at a point when he is ready with enough money to pay off the loan shark through the horse race winnings, he is drawn in to playing one more game, one more game, one more game... until all is lost again. Australia has adopted legal gambling for sports for many years though gambling addiction is a serious problem for many, and Jim is not alone. One could say he is not a likable character for putting money and play first before family and friends, his struggle is quite relatable to many.

There are a fair amount of supporting characters within the film, such as Tony Nikolakopoulos as Banos the loan shark who is owed $15,000 by Jim, Arthur Angel as Jim's co-worker and friend Steve, and Eliza D'Souza as Jim's female friend Jenny, and while each have their respective backstories, the 77 minute runtime gives them barely enough time to make a large stamp. Steve and Jenny's stories are fairly well fleshed out, with Steve also having to do well for his family but being more manageable with finance in comparison to Jim, and Jenny wanting a relationship with Jim even though he is not looking for romance with her - but rather a reconnection with his wife instead. Banos on the other hand seems like a threatening character but the audience never feels a large threat from him, rather just a figure. But if the leads do not work, there is no heart and soul to the piece. In reality, Hill and Perham are actually step-father and step-son, giving them a relationship that is both close and distant at the same time and their performance together can produce a few laughs as well as frustration during their time together on screen. From the yellings and cursings to the simple laughs are quite fun to see.

The film held its world premiere at the 74th Venice Film Festival on September 1 2017, followed by festival appearances at Thessaloniki International Film Festival, Bratislava International Film Festival, Tallinn Black Nights Film Festival, Buenos Aires International Festival of Independent Cinema, Cleveland International Film Festival, Sedona International Film Festival, and East End Film Festival before a domestic Australian release on August 23 2018. It won the El Ray Award for direction at the Barcelona International Film Festival and the Jury Grand Prix at the Rencontres Internationales du Cinema des Antipodes along with other nominations elsewhere including the Australian Academy of Cinema and Television Arts Awards. While the film may be lean and short, it's been given a fairly good share in reviews especially with the direction, pace, and the acting leads. A fairly satisfying work of Australian indie cinema.

Note this is a region 0 NTSC DVD

Video


Umbrella Entertainment presents the film in the theatrical 2.35:1 aspect ratio with anamorphic enhancement in the NTSC format. Shot digitally, the film looks very clean and crisp even considering a standard definition source with good color reproduction and detail. Solid colored backgrounds tend to get blocky at times but overall it is not a distraction to viewing.

The film's runtime is 77:42.


Audio


English Dolby Digital 5.1
The 5.1 track is well balanced with dialogue, music, and effects effectively using the soundscape. Dialogue is almost entirely center based, while the atmospheric music by James Orr featuring the ethereal voice of Dead Can Dance's Lisa Gerrard is wonderful. Dialogue is always clear and easy to understand and is never dominated by the music and effects.

There are no subtitles available for the feature.

Extras


Unfortunately there are no extras on the disc itself. The film starts when the disc is inserted and stops when the film ends. The trailer or the short film from 2011 could have been easy additions, but sadly there are not to be found here. A theatrical trailer has been embedded below.



Packaging


The packaging states region 4 but is in fact region 0.

Overall


"West of Sunshine" is a fine father-son indie drama that is not too heavy or too long, giving the bare minimum in storytelling, for a satisfactory ride. Umbrella Entertainment gives the film a fine presentation on DVD though having no extras on disc is disappointing.
| | | | | |
| --- | --- | --- | --- | --- |
| The Film: B | Video: A- | Audio: A- | Extras: F- | Overall: C |