The Film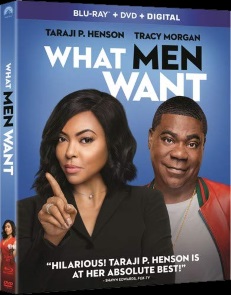 Ali Davis (Person of Interest's Taraji P. Henson) is an aggressive, high-powered Atlanta, Georgia sports agent who feels comfortable in the testosterone-filled working environment of jocks, bros, and locker room talk. With several Olympic athletes under her belt, she is expecting that she will be the agency's newest partner. When the partnership goes instead to "baby manchild" Eddie (Love's Chris Witaske), Ali confronts boss Nick Ivers (Stone Cold's Brian Bosworth) who insists that the business is not a boy's club but a meritocracy, and that the promotion to partner is an anonymous vote of the partners. Although he cannot tell her who voted against her, Nick sums up her problem is that she does not "connect well" with men which is why her clients are female Olympic gold medalists rather than anyone from the MLB, NFL, or NBA. Ali proclaims to the partners – or "backstabbing bitches" as she calls them – that she will be the one to sign NBA flavor of the month Jamal Barry (After's Shane Paul McGhie) whose demanding manager/father known as "Joe Dolla" (30 Rock's Tracy Morgan) has proven difficult to please. Ali drowns her sorrows at a dinner party with her friends Ciarra (Phoebe Robinson), Olivia (Reno 911's Wendi McLendon-Covey), and Mari (Blue Streak's Tamala Jones) who badger her into getting a reading from Facebook psychic/hairdresser Sister (Blues Brothers 2000's Erykah Badu) who not only divines her work problem but also suggests that the love of her life might be one-night-stand single father Will (Straight Outta Compton's Aldis Hodge). Sister convinces her to drink a special Haitian tea that will help her better understand men ("I thought black people stopped drinking tea after Get Out"). The quartet of women take their party to the road and end up in a dance club where an accident involving a giant inflatable penis gives Ali a concussion. When she wakes up in the hospital, she finds that she is able to hear men's thoughts, and they are even more disgusting than what the men around her say aloud to each other ("Goddamn dog. I wish I could shit anywhere"). Her only confidante in gay assistant Brandon (The Belko Experiment's Josh Brener) does not need much convincing to believe her and he is just as worried as she at first; and he is even more worried when Ali decides to use her newfound power to her advantage in both her career and her personal relationships. Crashing the secret partners' poker game, she starts buttering up Joe Dolla but finds that his ambitions conflict with his son's true desires, and she endangers what could be a happy relationship with Will by dragging him and his young son Ben (Auston Jon Moore) into a charade to present herself as a both a businesswoman and a family woman.

A gender-reversed take on the smarmy 2000 romantic comedy What Women Want, What Men Want really has little to say beyond the crude yet blithe observation of singer Badu in the disc extras that men are satisfied with "something to eat, a hole to sleep in, and to be left alone." And indeed, it has very little to say but takes two hours to say it. Even without knowing from the disc extras that the first cut of the film was three hours, the viewer will notice the extreme pacing problems with Ali discovering that she can hear men's thoughts coming at the thirty-minute mark seeming not so much a strict adherence by the writers to the three act structure – the story is credited to This is Us' Jas Waters and Drumline's Tina Gordon while Frasier's Peter Huyck and Veep's Alex Gregory also worked on the script, presumably at different times – as the need to establish multiple played out plot points with a glut of celebrity appearances to make the whole thing seem more novel. Athlete appearances by Falcons running back Devonta Freeman, the L.A. Lakers' Shaquille O'Neal, as well as the Los Angeles Clippers' Grant Hill as well as Dallas Mavericks co-owner Mark Cuban and NBA commissioner Adam Silver all fall flat when it comes to delivering humorous thoughts overheard by Ali while the throwaway casting of Extraction's Kellan Lutz is the hot neighbor Ali has nicknamed "Captain Fucktastic" who has a freaky surprise in store when she reads his mind and takes the initiative to proposition him, The New Girl's Max Greenfield as one of the partners, as well as an uncredited turn by Saturday Night Live's Pete Davidson whose hypercompetitive trash-talking includes yelling "I'll fuck your mom!" to his own brother all detract not only from the established subplot lines of Ali's trio of friends and her relationship with her father (Shaft's Richard Roundtree), but also the entire removal of a character played by Kausar Mohammed whose function in the film was to show how working in a boy's club caused women to behave ruthlessly towards each other, as well as the deletion of an appearance by actress Jami Gertz (The Lost Boys) who appeared in her real-life capacity as co-owner of the NBA team Atlanta Hawks. Henson has the charisma to carry the film but she is ultimately as wasted here as her co-stars on in an expensive two-hour long piece of filler that gives lip service to its themes amidst faux-empowering montages set to cookie cutter soundtrack choices like En Vogue's "Free Your Mind", James Brown's "Super Bad", and Salt-N-Pepa's "Push It".

Video


Bad film, Paramount's 1080p24 MPEG-4 AVC 2.40:1 widescreen encode of this Arri Alexa/Zeiss Master Scope film looks spectacular from the various requisite Atlanta cityscapes to facial features, costumes, and sets with most of the film possessing a neutral color balance while some lower light scenes have a warmer color cast (most noticeable in Sister's introductory scene).

Audio


Audio options include English DTS-HD Master Audio 7.1 and Descriptive Audio Dolby Digital 5.1 as well as Dolby Digital 5.1 dubs in French, German, and Spanish. The 7.1 track is state-of-the-art but not overly ambitious, delivering punch to the musical choices and an impressive sense of space and depth in the larger scale scenes (although presumably not enough to warrant an Atmos mix given the greater amount of more front-oriented intimate dialogue scenes). A region-free disc designed for multiple territories, the disc includes subtitles in English, English HoH, Cantonese, Dutch, French, French (Belgian), German, Hindi, Korean, Malay, Mandarin (Traditional), Romanian, and Spanish. A setup option before the Paramount logo and main menu has options for Bahasa Malaysian, Belgian French, Cantonese, English, French, German, Korean, Mandarin, Romanian, and Spanish that default to the appropriate audio or subtitle option.

Extras


While the film itself leaves a lot to be desired, the extensive extras here actually lend themselves to assessing the filmmakers' intentions as well as where things went wrong. In the audio commentary by director Adam Shankman – a choreographer-turned-producer/director behind the Step Up series along with some less than impressive romantic dramas (A Walk to Remember) and comedies (Bringing Down the House, Cheaper by the Dozen 2, and, uh, The Pacifier) and musicals (the Hairspray remake and the Glee-lite Rock of Ages) – Shankman discusses the source film and its problematic misogyny, how this is addressed in his film's flipping the script, his lack of familiarity with the athlete personalities during casting, the cutting of the film, and his feelings about making Ali's assistant gay and how he as a gay man wanted to make that the least important aspect of the character's personality. The commentary can be viewed with optional English, French, German, Korean, and Spanish subtitles. The deleted & extended scenes (31:08) are not only prefaced with an overall introduction by Shankman but each scene itself comes with prefatory remarks by Shankman about why they were removed or finessed in the editing. Among the scenes are the original opening which featured to-the-camera testimony by more celebrity athletes about Ali's qualities as an agent, bookending scenes with the aforementioned Jenna character played by Kausar Mohammed, more scenes with Ali's friends, a scene of Ali attempting to bond with Will and his son, and the aforementioned scene with actress/team owner Jami Gertz. The gag reel (4:53) is also introduced by Shankman and features the usual flubs as well as a couple literal stumbles. The most informative of a handful of featurettes is "The Dream Team" (15:37) which focuses on the casting and some of the behind the scenes principals. "Flipping the Narrative" (3:32) has some remarks about the patriarchy and the predominance of films focusing on the struggles of male protagonists while "What Do Men Want?" (4:29) has the female cast members musing on the question, "Poker Night" (3:51) looks at that sequence from behind the scenes, and "Ali + Athletes" (2:53) looks at the athlete casting of the film. "Sister Spills the Tea" Infomercial (1:39) is a joke piece with Badu promoting the Haitian tea in light of what it did to Ali. The video extras have optional subtitles in Cantonese, Dutch, English, French, German, Hindi, Korean, Malay, Mandarin (Traditional), Romanian, and Spanish.

Overall


What Men Want really has little to say beyond the shallowest obsevations and it takes two hours to say it.