Isiboshwa
R0 - America - Indiepix
Review written by and copyright: Eric Cotenas (5th May 2019).
The Film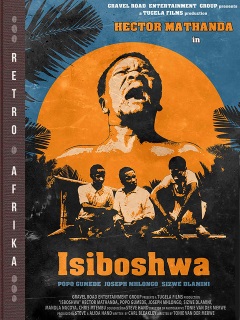 Three teenage boys are going to spend the holidays camping near a lake. Oldest boy Bayade ('s ) teases younger Keeper ('s ) about the site's supposedly haunted reputation involving a hook-handed old man who decapitates children. Sensible Sizwe ('s ) keeps the peace between the two, but even he is incredulous as Bayade when Keeper claims that someone has rifled through their belongings while they were swimming, the whereabouts of Keeper's vanishing shoes, or of a strange incident involving a log that has a life of its own while gathering firewood. When someone steals food and vandalizes their campsite, however, Bayade is the only one who wants to stay and fight whoever is trying to frighten them away. The three set up booby traps and fashion weapons, training as inspired by the "Shaka days." An apartheid-era coming of age story, Isiboshwa's tone shifts might seem disconcerting as the light-hearted venture gets more sinister with some slasher movie-esque POV sequences and a very real sense of threat by the perpetrators (The Comedians' Hector Manthanda and Merwie fixture Popo Gumede later singer " Innocent Gumede ") following a Home Alone-esque bit with a swinging brick to the face. Ultimately, it is a rather straightforward film about social responsibility as the boys do the right thing (with just a side of taunting mischief) rather than taking the windfall. Relatively prolific with fourteen documented features as a director during the last sixteen years of the Apartheid era – when black filmmakers in South Africa made films for black audiences while the white European and émigré faction were making use of tax breaks to attract American, British, and Dutch money with predominantly video-bound action, sci-fi, and horror films where the South African landscape often stood in for more cost-prohibitive locations where any black talent was imported and local extras were usually of paler complexion unless the film was set somewhere else in Africa – director/cinematographer Tonie van der Merwe evinces here a much-improved photographic style over some of his earlier cinematographic efforts while the newer sounding library tracks cement the film in its era. As with some other recently restored examples like Charlie Steel the storytelling is still more tell than show with some unnaturally expository dialogue exchanges, but it kind of plays like one of the American poverty row youth-oriented films of the forties.

Video


One of a library of South African Apartheid-era films restored in high definition by Gravel Road Entertainment, Indiepix's anamorphic 1.33:1 pillarboxed fullscreen presentation looks superficially quite nice thanks to the more proficient photography – the golden reflectors used during the daylight exteriors call attention to themselves but the images are nevertheless pleasing – and the much better condition of the print than the titles from Indiepix's previous round of "Retro Afrika Bioscope" titles. Digital video noise reduction has been applied which seems to have erased any minor damage there might have been; however, it also treats a gently swaying rope in a couple long shots as if it were a scratch so the rope vanishes and pops back into view several times within a couple long takes. The encode is of the "set it and forget it" variety but free of any encoding errors. The disc is a manufactured-on-demand burned DVD-R.

Audio


The sole audio option is a Zulu Dolby Digital 2.0 mono track with burnt-in English subtitles that also transcribe some English dialogue.

Extras


The sole extra is a newly-created trailer (1:23) for the film.

Overall

---
DVD Compare is a participant in the Amazon Services LLC Associates Program and the Amazon Europe S.a.r.l. Associates Programme, an affiliate advertising program designed to provide a means for sites to earn advertising fees by advertising and linking to amazon.co.uk, amazon.com, amazon.ca, amazon.fr, and amazon.de.