Rich Girl
R0 - America - IndiePix
Review written by and copyright: Eric Cotenas (5th May 2019).
The Film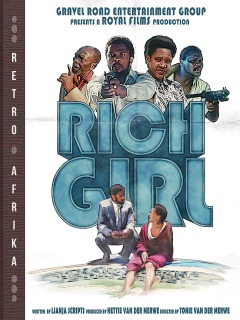 Bodyguard Robert Gambu (Operation Hit Squad's Popo Gumede) is hired by wealthy South African businessman Mr. Dlamini to protect his daughter Charlotte (Lungi Mdlala) when she refuses to leave the country for her safety. Although Robert introduces himself as her new chauffeur, Charlotte is savvy enough to know the real reason her father hired him. They nevertheless strike up a friendship over sports but she feels stifled by his constant alertness and proximity as an extension of the control her father exerted over her even when she was away at school. A patron of local artists, Charlotte buys up an entire collection and wants to buy a building to turn into a gallery space. She slips away from Robert to meet property agent Max (Max Mkhwanzi) but Robert catches up and immediately distrusts Max; and with good reason since it turns out that Max is working with Barack (Hector Methandie) who kidnaps both of them at gunpoint to ransom back to Dlamini. Although it bears a superficial resemblance to the previous year's Charlie Steel about a private detective who infiltrates a gang to rescue a friend's daughter, one cannot help but wonder if the primary inspiration for Rich Girl was the Hall and Oates song with the film's characterization of Charlotte through Robert's eyes as both down-to-Earth in her appreciation of arts and her resentment of her cloistered existence on the one hand, and her resolution that she will eventually settle down with a wealthy man, falling back on class differences when he confesses his love for her. More tensions in the film results from Charlotte not seeming to grasp the gravity of the situation and balking at the conditions of their imprisonment than the guns being pointed at them. Apart from Charlotte, characterization is pretty basic and the narrative moves along at a fair clip until the climax where the filmmakers seem to have discovered pyrotechnics, with the gunfight between Robert and one of the villains causing lots of things to explode in slow motion (even a stone fountain struck by a bullet from a handgun). The end result is really no worse than some of the lower-tier American direct-to-video action flicks of the era, if only seeming stripped down of the genre's usual crowd-pleasing excesses (the film is actually quite chaste) or more charismatic cast members. The film's most entertaining quirk is the credits sequence which unfolds with the cast and crew names banged out on a typewriter with backspaces for letters that were too light the first time around or typing over the wrong letters. The photography of cinematographer/director Tonie van der Merwe is proficient, with the use this time around of fill lights in some exterior scenes delivering a more pleasing image even if we do get hot spots on the foreheads of the actors in some shots.

Video


Indiepix's anamorphic 1.33:1 pillarboxed fullscreen transfer is given a serviceable encode of a clean-looking source. The application of digital video noise reduction has resulted in both a clean and virtually blemish-free image but also the eradication of what must have been heavy natural film grain along with finer detail, but this is the only game in town at the moment. The disc is a manufactured-on-demand DVD-R.

Audio


The sole audio track is a Dolby Digital 2.0 rendering of the Zulu mono track which sports clear production dialogue with little in the way of foley or ambient effects until the shootout. Burnt-in English subtitles also transcribe some English dialogue.

Extras


The sole extra is a newly-created trailer (1:11).

Overall

---
DVD Compare is a participant in the Amazon Services LLC Associates Program and the Amazon Europe S.a.r.l. Associates Programme, an affiliate advertising program designed to provide a means for sites to earn advertising fees by advertising and linking to amazon.co.uk, amazon.com, amazon.ca, amazon.fr, and amazon.de.