Hostage
R0 - America - Indiepix
Review written by and copyright: Eric Cotenas (7th May 2019).
The Film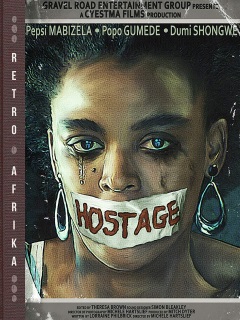 Bra Jack (Rich Girl's Popo Gumede) and his partners Thandi (Sylvia Makhathini) and Jabu (Panga's Dumi Shongwe) have been profiting from a scheme blackmailing businessmen with compromising photos of them in Thandi's intimate company. When Bra Jack decides they should expand into drug dealing, he tasks Jabu with looking for a place to stash the contraband. Jabu decides that an ideal candidate would be import/export owner Ben Jackson (Umbango's Vincent Velekazi). When Ben refuses Bra Jack's vague proposition and Jabu is unable to find any dirt on him, they send Thandi to pose as a journalist who invites him up to a hotel room for an interview. Thandi drugs Ben and Jabu snaps some pictures of them together which Bra Jack then presents to Ben to urge him to cooperate. Thoroughly devoted to his wife Thuli (Zanele Nyidi), Ben shows the photographs to her and convinces her that he has not strayed; however, they are both concerned about his public reputation and appeal to his father figure Michael (The Evil Below's Pepsi Mabizela). Ben and Michael break into Bra Jack's home and find the negatives along with the negatives of other marks they are blackmailing. Thandi happens upon them and they subdue her and tie her up, telling her to warn Bra Jack to stay away and revealing that they will destroy the other negatives. Bra Jack, in turn, abducts Thuli to force Ben to work with them. While Ben and Michael race to rescue Thuli, she plots her own escape to keep her husband from walking into an ambush. An extremely stripped-down thriller in which character nuance is sacrificed for pure exposition, Hostage is pretty chaste as far as sex and violence for the exploitation aspects of the scenario, and the earnestness of the good characters is as pronounced as the vileness of the villains with no gray area in between. Production values are modest and it appears as though the exteriors were shot gureilla-style with no one bothering to stop their car or give a second look to men running around with guns or a woman being chased down on a public beach (although most of this action is not captured via extreme telephoto like the staged kidnapping in Charlie Steel where the camera had to cut away as a man tried to intervene). While Hostage is neither as polished or as tense as similar more mainstream films, it offers easy escapist thrills.

Video


Although light DVNR seems to have been applied to all or most of Gravel Road's HD masters, Indiepix's progressive, anamorphic, pillarboxed fullscreen burned-on-demand DVD-R benefits from what appears to be the best condition elements of their titles thus far reviewed. The image is consistently well-exposed and saturated colors pop while there is no distracting damage.


Audio


The sole audio option is a Zulu Dolby Digital 2.0 stereo track in which the dialogue is always clear although subject to the on-the-set recording conditions while the library music is free of defects. The burnt-in English subtitles are problematic only in interchangiably identifiying Thandi as Thabi (it may be the other way around).

Extras


The sole extra is the film's trailer (1:24) which has been newly-created.

Overall


While Hostage is neither as polished or as tense as similar more mainstream films, it offers easy escapist thrills.

---
DVD Compare is a participant in the Amazon Services LLC Associates Program and the Amazon Europe S.a.r.l. Associates Programme, an affiliate advertising program designed to provide a means for sites to earn advertising fees by advertising and linking to amazon.co.uk, amazon.com, amazon.ca, amazon.fr, and amazon.de.