The Film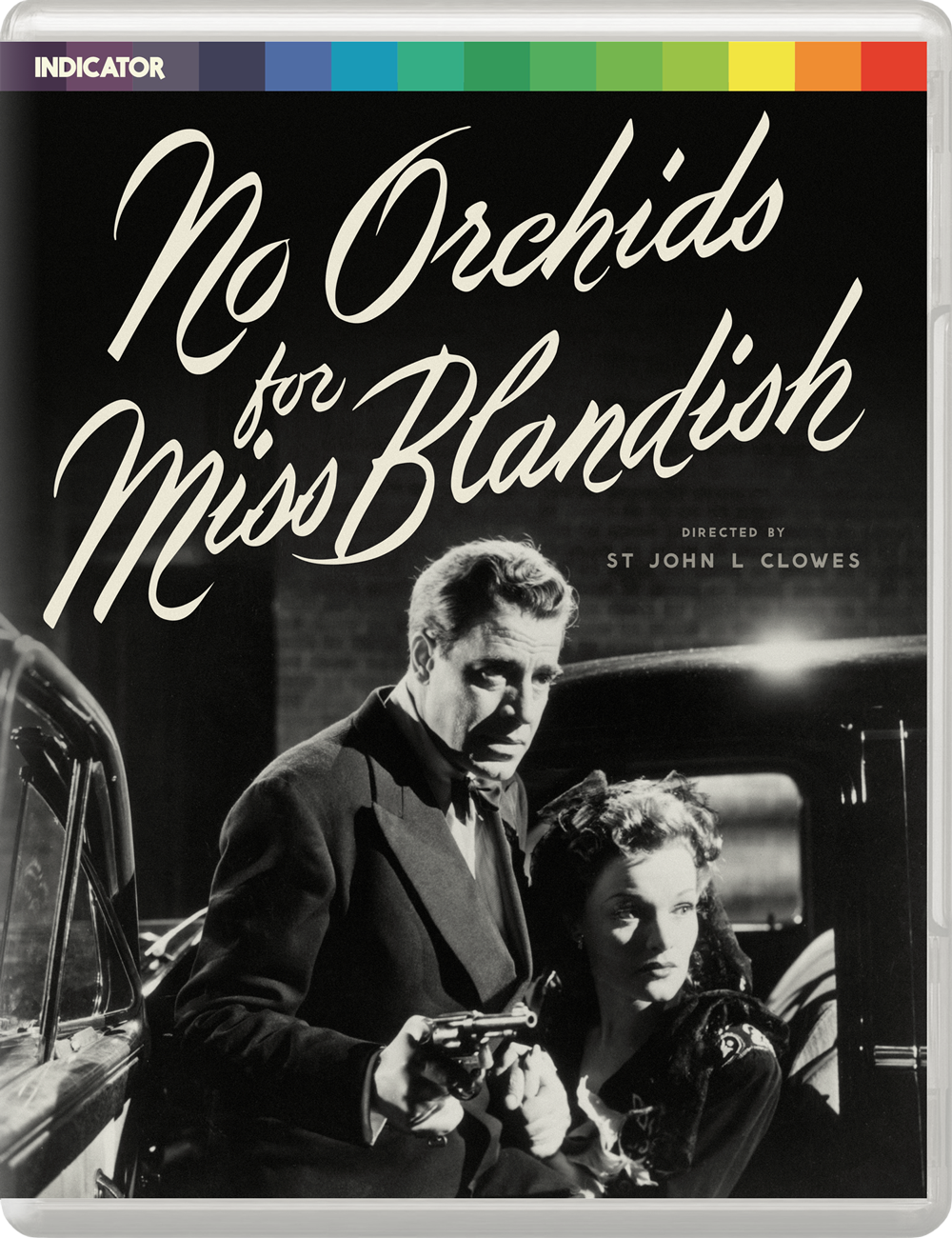 Possibly the most controversial British film ever produced, this lurid crime drama caused an unprecedented storm of controversy upon release: local councils banned it, the Bishop of London denounced it, and MPs demanded an investigation into the BBFC for allowing it to be seen.

Based on the notorious novel by James Hadley Chase (which itself was condemned by George Orwell), No Orchids for Miss Blandish is a mixture of sex, violence and immorality, and tells the brutal story of a kidnapped heiress who falls for one of her crazed captors.

This fascinating example of British film noir, which the Monthly Film Bulletin described as "the most sickening exhibition of brutality, perversion, sex and sadism ever to be shown on a cinema screen", is now released on UK Blu-ray for the very first time.


Video


Gangsters, double crosses, kidnapping of an heiress, Stockholm syndrome, shady characters, femme fatales ...

Bizarre British attempt at an American gangster drama works for the most part with only the odd slipping accent. It's also well mounted and shot which doesn't gibe with how cheap this was supposed to have been. It does feel a bit like the creators watched every 1930s gangster film they could get their hand on. In any case, I enjoyed it as a fun film noir; not hard to see why it was so controversial in it's day.

This is a rather glorious looking B&W film noir, or Britnoir if you will. Plenty of good inky blacks and no signs of unintended crush; shadow detail is therefore very strong. Detail is strong across the board at all focal planes. Fabrics and skin surfaces benefit the most although there is a softness to the image it's very filmic overall. I'm not sure if the image harvest has been taken from the OCN (Original Camera Negative) or an IP (Inter-positive) or even from an extremely good print. I'd favour the former alternatives owing to the sharpness and fine grain field. There appears to be no print damage that I noticed.

Grain is ever present but consistent with no holes or digital splats; the film has been encoded very well and is up to the usual high standards set by David Mackenzie and Fidelity in Motion. I could detect to signs of artefacts such as macro blocking or mosquito noise etc. I could detect to colour bias in the image; just cool, crisp, inky monochrome. Contrast is also well handled and although there are plenty of opportunities for detail to be clipped I saw none.

Two versions of the film are presented here through seamless branching and my observations on image (and sound) are the same for both. It's possible that the opening and closing credits on the US version are from an ever so slightly lesser source but if this is so the difference is negligible.

1080/24p / MPEG-4 AVC / 1.37:1 / 103:01, 103:10

Audio


English LPCM 1.0
Subtitles: English HoH

Sound is a rather thin mono track in that it hasn't much depth or low end. This is pretty typical of UK films that I've seen / heard of the period and restoration has done about as much as can be expected here. It's clean and dialogue is always clear and audible; the George Melachrino score never interferes. Subtitles are present, essential and well done.

Extras


"An Interview with Richard Gordon and Richard Nielson Conducted by Joel Blumberg" 2010 featurette (34:24)

A port from the old US 2010 VCI DVD edition. Gordon is always interesting and Nielson proves another gabby subject filled with interesting tales. It's fun to watch this right after the film and hear Nielson's strong English accent. This is shot in standard definition 1.33:1 and looks good considering the soft source.

"Miss Blandish and the Censor: Ex-BBFC Examiner Richard Falcon on No Orchids for Miss Blandish" 2019 featurette (41:12)

An interesting piece covering the history of the book in brief, but extensively looking into the troubled history of the film at the BBFC (British Board of Film Classification). This is HD and 1.78:1.

"Soldier, Sailor" 1945 docudrama (49:21)

The writer-director behind No Orchids for Miss Blandish, St John Legh Clowes, made this wartime propaganda piece highlighting the role of the UK's Merchant navel personnel and the vital role they played in getting supplies through the German Wolfpacks. Like the main film this is in B&W 1080/24p with an aspect ratio of 1.37:1. Picture and sound are surprisingly good considering the more minor nature of the piece, but it's obviously been given plenty of care and attention. Encoding is as good as the excellent job on the main feature and although there is some very minor print damage, it's only on the level of the odd speckle here and there. Blacks are deep and rich, contrast is delicate and supportive and could detect no signs of digital tinkering.

Theatrical trailer (2:06)
Black Dice trailer (1:42)

Both the original UK and the US trailers; filled with lurid hyperbole typical of the genre and period.

No Orchids for Miss Blandish Image gallery: Original Promotional Material (25 images)

A solid HD image gallery with a modest collection of promo materials.

40-page liner notes booklet with a new essay by Robert Murphy, analysis of the different versions of the source novel, including extracts from George Orwell's critical essay, news accounts of the controversy surrounding the film's release, an overview of contemporary critical responses, Michael Brooke on Soldier, Sailor, and film credits

I found the analysis of the differing versions of the book to be the most interesting aspect of this essential booklet; essentially later editions softened the prose considerably. Orwell's essay also makes for interesting reading in that whilst he acknowledges the well written prose, he bemoans the sex, sadism and violence. The full article is available online and if the reader is interested ought to be read, but the digest here will serve. Odd reading of someone other than Alfred Kinsey discussing orgasms in the 1940s.

Overall


A cracking presentation in that both sound and image are about as good as can be shy of a full-blown 4K UHD Blu-ray release, which is highly unlikely. This UK edition offers much more than the US Kino disc including an alternate version of the film as well as other excellent contextual material.
| | | | | |
| --- | --- | --- | --- | --- |
| The Film: C+ | Video: A+ | Audio: A | Extras: A | Overall: A |