Drive (Blu-ray) [Blu-ray]
Blu-ray B - United Kingdom - Icon Home Entertainment
Review written by and copyright: Rick Curzon (10th May 2019).
The Film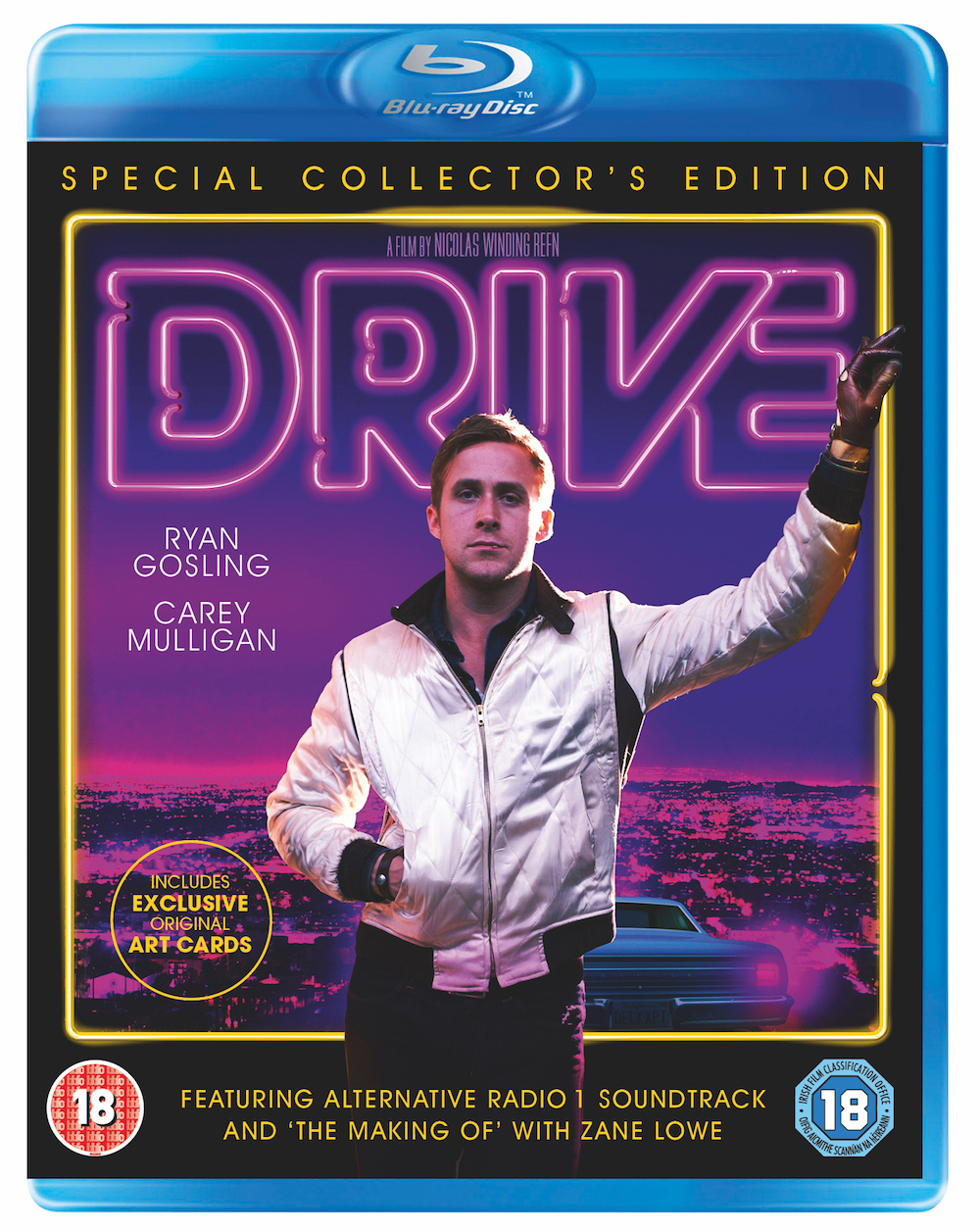 The smash hit LA pulp thriller from BAFTA nominated Director Nicolas Winding Refn (The Neon Demon, Only God Forgives) is back, with a special edition featuring - for the first time ever - both the original and alternative Radio 1 soundtrack curated by Zane Lowe and featuring artists including The 1975, Bastille, Bring Me The Horizon, Foals and CHVRCHES, plus a host of additional bonus material including exclusive original art cards and 'The Making of the Rescore' documentary.

Following the story of Hollywood stunt driver by day / getaway driver-for-hire by night, and starring Golden GlobeŽ winner Ryan Gosling (La La Land), BAFTA Award winner Carey Mulligan (Wildlife, An Education) and Bryan Cranston (Breaking Bad), DRIVE, featuring an astounding mix of high art, gruesome violence, black humour and slick high-octane action, is a fully realised true modern masterpiece.

Video


The Kid (Ryan Gosling) is a car specialist; by day he works as a mechanic in-between stunting for Hollywood. By night he takes on heist jobs as a getaway driver; giving his clients a five minute window in which to avail themselves of his services. The Kid gets involved with a friend who has some trouble with some local gangsters.

A good, solid B movie pastiche owes much to the films of Jean-Pierre Melville and Michael Mann; Melville for the characters and Mann for the soundtrack and visual stylings. All the performances are excellent, especially James Brooks as a Jewish gangster. It's a good if over rated mood piece; it reminded my a lot of Walter Hill's The Driver (1978) is probably about as good as that cult item.

This is a very stylised and vividly shot picture which largely pays homage to the '80s and in particular the films of Michael Mann like Thief (1981), L. A. Takedown (1989) and Manhunter (1986) with plenty of noirish night time scenes and neon blazing away.

The image on the original disc was a peach and the same is true for this one only I'd say being a new encode it manages to have an ever so slight improvement on the original but it is negligible when compared side by side on my 4K 55" TV. Both encodes seemed robust to me but I suppose a 2018-19 encode will take advantage of the improvements in the codecs made since 2011.

Black levels are deep with great shadow detail and I could detect no unintended black crush. Contrast is also very satisfying allowing no loss of detail in highlights; no blown out patches. Fine detail is ever present throughout at all focal plains when intended.

This being a digitally shot production, it does have a certain softness that isn't film like but that's to be expected. Watching as many films and TV series on DVD and BD means I
'M starting to be able to spot the difference. According to IMDB Drive was primarily shot using an Arri Alexa (amongst a couple of others) and was screened printed to 35mm and on the now ubiquitous DCP.

The colour palette seems to want to have much of the warmer, brown and orange of '70s urban thrillers but at times it favours the blue hues to beloved of Michael Mann and the visual and aural approach is pure Mann homage.

There is a slight orange and teal lean in some shots but anyone who has studied art and knows the colour wheel will know why this grade is so popular amongst film makers. Faces and human flesh really pop, and blood when it appears is deep, dark red the way it ought to be. This is one of the best looking Hollywood films of the last decade and the new presentation is well up to par.

1080/24p / MPEG-4 AVC / 2.35:1 / 100:17

Audio


English DTS-HD Master Audio 5.1 (Original Cliff Martinez Score)
English DTS-HD Master Audio 5.1 (Radio 1 Zane Lowe Rescore)
English LPCM 2.0 Stereo
Subtitles: English HoH

Both of the 5.1 tracks are room rattlingly good with tremendous depth and plenty of high and low end. The subwoofer was engaged hugely throughout all of the action. The other point of note is that this at times an incredibly quite film as befitting Gosling's deliberately emotionally detached performance with plenty of lovely hush. Ambient sounds are active at all times with the surround channels getting heavy if modest use during those moments. The scores are largely confined to the front left and right but judicious use of the surround is felt. Dialogue is always clear and centred unless required to hit the surrounds for depth.

I can't honestly say there is a huge difference between the scores and their effect on the drama as both are cut from similar cloth. The Martinez score takes first chair for me because it was the original and the one I'm most familiar with and I'm a fan of his work here and Refn's The Neon Demon (2016).

The 2.0 track is also very robust and active if lacking some of the subtleties, depth and range of the 5.1s.

Subtitles are present and essential and at this late date in the life of DVD-BD-UHD BD ought to be a must on ALL releases.

Extras


"Q&A with Director Nicolas Winding Refn" featurette (40:59)

A smashing Q&A with director Refn that has been ported over from the original Blu-ray and thank got for that as it's the only sizeable extra on that old disc. Filled with plenty of great trivia and info around the making of the film and about Refn's career up to that point (2010-11).

"Radio 1 Rescores: Drive - The Making of" featurette (14:44)

All about the making of the new soundtrack, why it was done etc. An efficient and informative piece. Whether the new soundtrack was worth it or an improvement on the original is subjective but I found this fascinating in any case.

Gallery / Stills from the Film (2:11)

A lovely HD still gallery ported over from the original Blu-ray.

Startup Trailers:
- Wildlife (2:20)
- Hurricane (1:57)
- 90 Minutes (1:41)

Three trailers that are played when the disc is loaded up; can only be skipped by pushing the next chapter button, at least on my player. Hurricane looks the most interesting to these old eyes.

Six art cards

A lovely collection of art cards that are in the form of lobby stills. They show off the stunning visual style of the film very well.

Overall


A stunning looking evocation of '70s grit and '80s visual sensibilities gets a minor upgrade with the essential extras off the old Blu-ray plus a fabulous new sound option. Picture and sound are as good as can be and the other extras are choice. I'd have liked to have had a commentary and a retrospective discussing Drive's history and success etc, but you can't have it all.

If you already have the old disc and cash is tight then you needn't upgrade, but for those fans who treasure this it's a no brainer and the price isn't unfair.
| | | | | |
| --- | --- | --- | --- | --- |
| The Film: B+ | Video: A+ | Audio: A+ | Extras: B | Overall: A- |

---
DVD Compare is a participant in the Amazon Services LLC Associates Program and the Amazon Europe S.a.r.l. Associates Programme, an affiliate advertising program designed to provide a means for sites to earn advertising fees by advertising and linking to amazon.co.uk, amazon.com, amazon.ca, amazon.fr, and amazon.de.