The Snake Pit [Blu-ray]
Blu-ray B - United Kingdom - Powerhouse Films
Review written by and copyright: Rick Curzon (14th May 2019).
The Film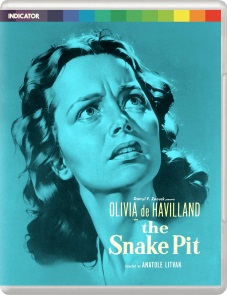 Shocking and highly controversial at the time of release, The Snake Pit broke new ground in Hollywood cinema for its depiction of mental illness and its treatment. Olivia de Havilland (Gone with the Wind, The Heiress), delivers an astounding performance as a young bride who suffers a breakdown and finds herself committed to an asylum.

Director Anatole Litvak (Sorry, Wrong Number, Anastasia) had to fight to persuade producer Darryl Zanuck to back the film, but the result remains one of the most potent and powerful films to tackle the subject and was an influence on later works such as Sam Fuller's Shock Corridor(1963), Robert Rossen's Lilith (1964) and Miloš Forman's One Flew Over the Cuckoo's Nest (1975).

Video


This was a big, prestigious production in it's day and obviously a plum role for De Havilland who takes centre stage with aplomb giving what could very well be one of the best performances of her career; certainly a contender for one of the great female performances of the '40s. Unfortunately for me, I'm not a huge fan of these kind of mental health melodramas. I found this one to be rather cheesy, if no where near as risible as Spellbound (1945). Lilith and Psyche 59 (both 1964) are more or less in the same ball park as well with the nod to the latter taking first chair.

None can match One Flew Over the Cuckoo's Nest (1975) however, which remains the standard for such films in my humble view. The Snake Pit is a very well made film, gorgeously shot and well mounted with very good direction from Litvak. The only other film of his that I can recall seeing was the solid The Night of the Generals (1967). Still, well worth a view at least once.

This is a subtly shot film (by Leo Tover) that eschews the stark, bold contrast levels of some other '40s films, notably noir thrillers. It has a delicate contrast and grey scale that focuses on facial closeups allowing the viewer to better appreciate the emotions on display. The cinematography is fairly straightforward for most of the film but when the tone gets darker the shadows get longer and shadow detail and black levels are very agreeable; enhancing the nightmarish qualities of the Snake Pit for instance.

There's plenty of fine detail on display with the expected skin textures and fabrics coming off best. Background detail is generally very impressive as well and grain is fine and ever present. This is a very filmic transfer done in 4K in 2017 according to the liner notes booklet. I'd say it's also from a primary source (OCN).

Being a B&W feature the gamma has been expertly balanced to there was no bias that I was sensitive to or noticed. Many older monochrome transfers suffer from colour bias creeping in; not so here.

Fox have looked after this prestigious jewel in their library and the master provided to Powerhouse Films is a peach. David MacKenzie and Fidelity in Motion have worked their usual magic and allowed this film to really breath.

1080/24p / MPEG-4 AVC / 1.37:1 / 107:56

Audio


English LPCM 1.0
Subtitles: English HoH

A mono track typical of the '40s that has limited range but manages to do it's job well enough. Dialogue is always clear and Alfred Newman's score never interferes enhancing the drama nicely. I could detect no distortions involving sibilants and like; Audio Mechanics have done a grand job in cleaning up this track and presenting it on it's best behaviour here. Short of someone getting the original sound stems and creating a modern stereophonic track it isn't going to get any better.

Subtitles for the hearing impaired are provided and are very welcome.

Extras


Audio commentary with author and film historian Aubrey Solomon

A wide ranging yak track that has been ported over from the old US Fox DVD from 2004. Solomon seems to specialise in the Fox studio and has published several books on the subject.

"The Battles of Olivia de Havilland: Pamela Hutchinson on Olivia de Havilland" 2019 featurette (9:27)

Hutchinson is a lively speaker and conveys a great deal of knowledge and passion for her subject. She is a writer and blogger who has published a book on G. W. Pabst's Pandora's Box (1929) for the BFI. Essentially an entertaining précis of de Havilland's career mainly covering the troubles she faced getting more serious roles in Hollywood and her legal issues.

"Under Analysis: Neil Sinyard on Olivia de Havilland, Anatole Litvak and The Snake Pit" 2019 featurette (30:59)

An extensive analysis of the film, the production and how significant the film was in paving the way for more films about mental illness. Sinyard is an old pro at this kind of thing and it shows; plenty of trivia and detail on the production and those who made the film.

Theatrical trailer (2:23)

Typical promo piece of the period; emphasising the worthiness and seriousness of the subject and de Havilland's presence.

The Snake Pit Image gallery: Original Promotional Material (30 images)

A decent image gallery in HD.

36-page liner notes booklet with a new essay by Lindsay Hallam, an overview of contemporary critical responses, and film credits

The usual superb, extensive bounty of contextual material. Most interesting for me this time although everything here is fascinating, was the polarised critical responses from contemporary critics. The Snake Pit was quite a risk in it's day and was significant in opening up more serious approaches to mental illness in American cinema.

Overall


Yet another topnotch release from Powerhouse Films. Image and sound quality are well up to par short of a 4K UHD Blu-ray release. Extras are what separates this company from many others who don't bother and as usual they've ported over old extras and made some choice new ones. For fans of the film, indispensable.
| | | | | |
| --- | --- | --- | --- | --- |
| The Film: C+ | Video: A+ | Audio: A+ | Extras: A | Overall: A |

---
DVD Compare is a participant in the Amazon Services LLC Associates Program and the Amazon Europe S.a.r.l. Associates Programme, an affiliate advertising program designed to provide a means for sites to earn advertising fees by advertising and linking to amazon.co.uk, amazon.com, amazon.ca, amazon.fr, amazon.de, amazon.it, amazon.es and amazon.se.