Rhinoceros [Blu-ray]
Blu-ray A - America - Kino Lorber
Review written by and copyright: Eric Cotenas (18th May 2019).
The Film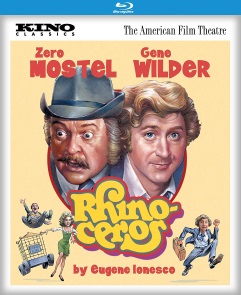 Accountant Stanley (Young Frankenstein's Gene Wilder) feels out of step with the pace and routines of modern life, finding solace in boozing and partying nightly in spite of the inevitable hangovers, with only an unrequited interest in office receptionist Daisy (Burnt Offerings' Karen Black). His effete neighbor and best friend John (Mastermind's Zero Mostel) can only express disgust at Stanley's shabbiness and lackadaisical attitude, insisting that he needs to nurture intellectual and artistic interests. Stanley cannot even be roused to concern when a rhinoceros barrels down the street and causes chaos and property damage. Despite newspaper and television news reports of more rhinoceros sightings and the eye-witness account of Daisy, co-worker Carl (Moonstruck's Robert Weil) can only dismisses the reports as mass hysteria or media manipulation; that is, until the wife (The Honeymoon Killers' Marilyn Chris) of co-worker Bingham rushes into the office claiming to have been chased there by a rhinoceros which invades the lobby of their office and destroys the staircase. Getting a closer look at the animal, Mrs. Bingham insists that it is her husband and jumps out the window onto its back and rides away. As the impossibility of people transforming into pachyderms becomes a frightening reality – shocking even Stanley to his senses as John transforms right in front of him – Stanley, Daisy, and co-worker Norman (Shivers' Joe Silver) shelter in Stanley's apartment as the world comes apart around them and the prospect of individualism becomes even more scary.

An American Film Theatre series adaptation of Eugène Ionesco's 1959 play transposes the non-events of this Theatre of the Absurd play to seventies New York from its provincial French setting and divorces the play even further from the shadow of World War II fascism, occupation, collaboration, and resistance (although its Broadway rendition netted Mostel a Tony Award). The film version – theatrical as it is with much of the rhinoceri havoc taking place just offscreen and not a pachyderm in sight – finds some analogues in American society of the Vietnam War that sadly prove still timely. While Stanley's boss (Planet of the Apes' Percy Rodrigues) regards the central absurdity with bemusement, Daisy and Norman see it as novel, while Carl regards it as terrorism and unpatriotic; that is, until it becomes the norm whereupon he falls into line. Once Stanley's best friend John starts to change, he casts aside his higher cultural ideals in favor of what he describes as "primeval" and natural. Norman wanders away out of curiosity while Daisy in despair of Stanley comes to believe that they must be the unnatural ones and that what they call love does not compare to the "ardor and extraordinary energy that these beings leave around us." Just as it was before the transformations, Stanley recognizes that it would be easier to be like everyone else and even despairs of not being able to transform before taking a stand for his individuality while taking in the chaos from the rooftops. The film was adapted by Julian Barry whose play Lenny had previously been directed on Broadway by Hair director Tom O'Horgan (whose previous feature credit was a screen version of the sexual satire Futz which he had also staged on Broadway).

Video


Released theatrically simultaneously in fifty theaters across the country, as was the exhibition method of the American Film Theatre, Rhinoceros was not released on home video until 2003 when Kino on Video put all of the American Film Theatre titles on VHS and i>DVD. Kino Lorber's 1080p24 MPEG-4 AVC 1.85:1 widescreen Blu-ray comes from a more recent HD master that cleanly represents the economically-lensed feature with its TV series-level studio sets, drab seventies wardrobe and décor, healthy skintones, and its few sunny exteriors without any distracting damage.

Audio


The sole audio option is an LPCM 2.0 mono track that delivers clean dialogue recording, sound design in which most interior dialogue scenes lack much in the way of support until a rhinoceros or two run through the street offscreen or cause the walls to buckle. Optional English SDH subtitles are included.

Extras


Extras start off with an interview with director Tom O'Horgan (23:44) who cast Wilder and Mostel based on their chemistry in The Producers. He was on guard during the shooting having been warned by Wilder of Mostel's quirks but feels that he captured something extraordinary on film with the actor. He also discusses the shoot and the reasons why he decided not to show the rhinoceri after a disastrous attempt to film a scene with a real one (a still is included to illustrate that day of the shoot). Also included is an interview with producer Edie Landau (26:15) which has appeared on all of the AFT Blu-rays and DVDs in which she discusses how the American Film Theatre idea grew out of the earlier "Play of the Week" television programming initiated by herself and late husband Ely Landau where they scheduled plays according to their length rather than commercial blocks of time. Their method of theatrical exhibition was born out of the manner in which they released their earlier three-hour documentary King: A Filmed Record... Montgomery to Memphis (also available on DVD from Kino Lorber). Their funding method for these productions was a combination of selling subscriptions to viewers for the entire season along with the backing of American Express. "Ely Landau: In Front of the Camera" (6:30) is a vintage introduction by Landau that accompanied the films with a survey of the season. All of the discs in the AFT series feature the same eleven trailers.

Overall


Although divorced from its original setting and historical context, the American Film Theatre adaptation of Eugène Ionesco's Rhinoceros finds analogues in the social contexts of seventies America that prove just as timely today.

---
DVD Compare is a participant in the Amazon Services LLC Associates Program and the Amazon Europe S.a.r.l. Associates Programme, an affiliate advertising program designed to provide a means for sites to earn advertising fees by advertising and linking to amazon.co.uk, amazon.com, amazon.ca, amazon.fr, and amazon.de.