Trench 11 AKA Death Trench
R2 - United Kingdom - Signature Entertainment
Review written by and copyright: Rick Curzon (20th May 2019).
The Film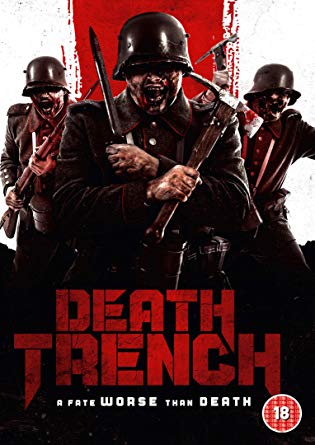 INGLORIOUS BASTARDS meets OVERLORD meets OUTPOST in this terrifying, blood-soaked, gore-filled, stomach-churning zombie horror.

In the final days of WWI a shell-shocked tunneller leads an Allied team into a hidden German base … one hundred feet below the trenches. The Germans have lost control of a highly contagious biological weapon that turns its victims into deranged killers.

The Allies find themselves trapped underground with hordes of the infected, a rapidly spreading disease and a team of German Stormtroopers dispatched to clean up the mess.

The only thing more terrifying, is what lies beneath it.

Video


A tightly conceived ultra low budget Canadian effort originally called Trench 11. It's nice to see more horror efforts exploiting the WWI milieu rather than the more common WWII. Performances are generally good although the English accents on display are not solid and the German doesn't sound like it's from native Germans and the mad scientist German chews the scenery with aplomb! This is a fun, creepy little film and above the average for the genre. And, you've got to love the funky electronic score!

I couldn't find much info online concerning Trench 11's technical specifications but it seems pretty obviously a digitally shot production; probably 2K or 4K. It has a somewhat fluid video look at times but generally black levels are strong with the odd moment of crush; usually in the dark subterranean scenes.

This is a very dark film for much of it's length with action set in underground tunnels beneath a German trench system. Contrast is vibrant and allows for plenty of detail - albeit in standard definition - for the daylight sequences, but once things go underground it all gets murky. It's mystifying as to why Signature Entertainment have gone with DVD only because the film does suffer from the standard MPEG2 compression fairly heavily.

Colours are vibrant so the image always has presence and the film is well shot, but the dark sequences would benefit hugely from the extra resolution and superior MPEG4 codec of a Blu-ray release. There's not much grain to speak of and what their is is drowned by the fog of standard definition.

We have a bog standard standard definition down conversion of an HD lensed production on a single layered DVD. It gets the job done but this dark film is screaming out for a Blu-ray or UHD Blu-ray release to give the image greater immersive depth and detail.

PAL / 2.35:1 / 16x9 enhanced / 87:41

Audio


English / French / German Dolby Digital 5.1
English / French / German Dolby Digital 2.0 Stereo
Subtitles: None

The film is mostly in English but there are moments of French and German with forced subtitles. The soundtracks are both very similar with the 5.1 having greater surround presence and definition. Neither is going to win any awards and both could do with a lossless rendering. My subwoofer did get some engagement but not a great deal which is a shame given the nature of this film which has it's fair share of actionfull moments with our heroes vs infected Germans and non-infection Germans.

No subtitles have been provided for the hearing impaired which is not good for a new release in 2019.

Extras


Startup Trailer: Rise of the Viking (2:21)

Barebones bar a single startup trailer; a shame.

Overall


A rather splendid little plague infection WWI horror film with plenty of action and colourful characters has been given a bog standard, single layered DVD presentation rather than a full-blown HD rendering. It gets the job done but no more. The film is highly recomended, but lets hope someone releases a Blu-ray or UHD Blu-ray soon.
| | | | | |
| --- | --- | --- | --- | --- |
| The Film: B- | Video: C+ | Audio: C | Extras: E | Overall: C+ |

---
DVD Compare is a participant in the Amazon Services LLC Associates Program and the Amazon Europe S.a.r.l. Associates Programme, an affiliate advertising program designed to provide a means for sites to earn advertising fees by advertising and linking to amazon.co.uk, amazon.com, amazon.ca, amazon.fr, and amazon.de.