The Film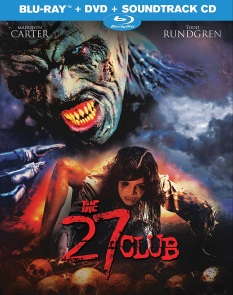 Twenty-six year old aspiring singer Lilly (Valley of Bones' Maddisyn Carter) has the attitude – blackout drunk spells, illicit drugs, and insulting hecklers – but not the talent, as her "shit show" of a performance with Vile Descent that leads to her breakup with Caleb (Adam Celentano) whose gear rental for the band got her the guest shot. She finds some encouragement from filmmaking student Jason (Quality Time's Derrick Denicola) – the roommate Zane (The Devil's Domain's Zack Kozlow), the boyfriend of Lilly's sister Jenny (Victor Crowley's Kali Cook) – who is attracted to her and uses an interview with her for his documentary film as a pretense for getting to know her. The subject of his film is the urban legend "The 27 Club" consisting of music stars who seemed to represent their generation but all died at the age of twenty-seven starting with blues musician Robert Johnson who was rumored to have made a pact with the devil. Other famous members included Brian Jones, Jimi Hendrix, Janis Joplin, Jim Morrison, Kurt Cobain, and Amy Winehouse. The latest "inductee" to the club is rocker Quinn Scott (Nothing Like the Sun's Travis Grant) who was apparently electrocuted by his own equipment after a drunken birthday bash, and whose heart was stolen during his autopsy by someone who also murdered the coroner. While shooting footage of the memorial set up outside of Quinn's loft, Jason spots drug dealer Derek (Death Tunnel's Jason Lasater) laying an offering that he later discovers is an old Latin text. Further research reveals that it appears to be a means of contacting the dead, and Jason attempts the ritual without apparent success. Upon learning that Lilly was present the night of Quinn's death, Jason gets her to take him to Derek who reveals that the book was given to him by Quinn who said he no longer needed it, and that its pages contain a contract with a demon that grants the user's secret desire. Derek was unable to get the ritual to work because he did not have Quinn's obelisk pendant that Caleb stole off his body and gave to Lilly in an attempt to smooth things over with her. Jason, Lilly, Derek, and Derek's buddy Kyle (The Black Room's Nick Principe) attempt the ritual again – with Kyle making an offering of Quinn's heart – but things go awry and a violent fight ensues as Lilly and Derek vie to be the vessel for the demon. Jason wakes up in Lilly's apartment unsure whether the ritual really happened. When he checks his camera, he finds only a video presumably shot by him of Lilly performing a song dedicated to Quinn. Jason uploads the song to social media and Lilly becomes an overnight sensation. As Jason witnesses Lilly's star rising, he also sees changes in her behavior was she falls under the influence of music producer Mick (Flight 666's Terry Woodberry) and others in their circle start disappearing, and Lilly may only have a limited amount of time as a star before she is set to join The 27 Club.

The 27 Club has an interesting initial premise of pop culture's need to ascribe meaning via urban legends and myths going of musicians making diabolical pacts that go back centuries; but the development of the premise extends no further than the imagination of your average conspiracy theorist by way of the equally reductive "price of fame" horror film Starry Eyes. In the universe of the film, there seems to be no question that the aforementioned musicians all were nothing until they became the vessels for some demonic entity, either paid its dues or not with innocent souls, and then were dragged to hell after making a buck for Earthly damned representatives, with cutaways to terrible celebrity to the camera testimonial impressions of the singers bracketing the story. This explanation as to why these stars may have burnt out so quickly and so soon may or may not insult their fans, but presumably it was acceptable to the real-life musical personalities involved in the film who made it past the age of twenty-seven like Utopia's Todd Rundgren – who has a dual role as Jason's film school professor and a record shop customer who may or may not have Lilly's best interests at heart when he dispenses wisdom to her about her relationships – or soundtrack performers Trent Reznor and Atticus Ross who foster the notion that the talent behind more meteoric rises to fame come from something other than that of more lasting careers. There's little mystery in spite of the plot structure, so there is little novel to the film other than some good music – particularly the Rundgren/Reznor/Ross end title track "Deaf Ears" – likable lead performances, a couple gross-out gore effects by Ron Karkoska (Be Afraid), and an original score by band Sodium Kierkegaard.

Video


Shot on a Red Camera, The 27 Club's clean photography and saturated color grading are given a serviceable encode on Cleopatra's BD25 1080p24 MPEG-4 AVC 1.78:1 widescreen Blu-ray.

Audio


The default track is a Dolby Digital 5.1 mix that uses the surrounds to spread the score and songs, as well as for some crowd noises and supernatural rumblings. A Dolby Digital 2.0 stereo track is also available but only selectable via remote. The 2.0 track gets the job done as well. There are no subtitles or captions.

Extras


Extras are rather sparse, consisting of a slideshow (2:14), trailer (1:17), and two very short interviews with actress Maddisyn Carter (2:44) and actor Derrick Denicola (2:00) who both discuss how they became involved in the film and their own musical backgrounds (neither professional), along with trailers for six other films. Also included are a DVD copy of the film and a 19-track CD soundtrack that may be of value to fans of the songs since the soundtrack is only otherwise available via digital streaming or a 200 copy-limited red LP.

Overall


The 27 Club has an interesting initial premise, but the development of the premise extends no further than the imagination of your average conspiracy theorist.