The Film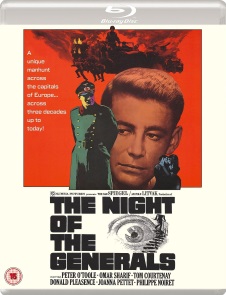 In 1942 Nazi-occupied Warsaw, Major Grau (Doctor Zhivago's Omar Sharif) is called to an apartment building where the body of a Polish prostitute has been discovered stabbed over a hundred times with a focus on the sexual organs. Grau questions why military intelligence has been called to investigate a sex crime and is informed that the victim was a German agent. After threatening to turn all of the occupants of the apartment building to the Gestapo unless the informant steps forward, Wionczek (The Train's Charles Millot) steps forward and reluctantly reveals that the reason he was afraid to speak up is because the partially-obscured view he got of the killer leaving the apartment was of an officer in the military uniform of a general. While Grau's associate Liesowski (Love and Death's Yves Brainville) finds the accusation preposterous, Grau is willing to believe and orders a complete investigation even if that means hanging a general. He focuses on three generals who have no alibis for the night of the killing: General von Seidlitz-Gabler (Diamonds Are Forever's Charles Gray), the 7th Corps Commander living in the Lichsnovsky Museum like royalty with his wife Eleanore (The Killing of Sister George's Coral Browne) and daughter Ulrike (Casino Royale's Joanna Pettet) – who is having an affair with cowardly Corporal Hartmann (The Loneliness of a Long Distance Runner's Tom Courtenay) – chief of staff Major General Klaus Kahlenberge (The Great Escape's Donald Pleasance), and General Tanz (What's New Pussycat?'s Peter O'Toole), commander of the Nibelungen Division, sent to Poland to address "the Warsaw problem" of rooting out resistance fighters with a solution that Kahlenberge finds "monstrous." All three generals stonewall Grau through their intermediates, so Grau goes around his superior Colonel Mannheim (Dial M for Murder's Patrick Allen) and crashes Eleanore's soiree given in Tanz's honor to confront them directly. He determines that the prostitute was definitely Gabler's type, and that Kahlenberge's seeming lack of a private life is suspicious; on the other hand, he finds Tanz less suspect as his solution of intimidating the Warsaw people with flamethrowers, shooting suspected resistance fighters outright, and demolishing half the city suggests that he "revels in death" on a grand scale. Grau makes enough of a nuisance of himself that his investigation is cut short when he is transferred with a promotion to colonel to Paris. In 1944, however, Grau resumes his investigation with the help of Inspector Morand (Cinema Paradiso's Philippe Noiret) – ordered by German intelligence to keep dossiers on German officials in Paris – when all three Generals wind up assigned to Paris in different circumstances: Kahlenberge involved in the plot to assassinate Hitler and for Field Marshall Rommel (The Silent Partner's Christopher Plummer) to take over, Gabler diplomatically straddling both sides of the fence under the guise of being an "uncontaminated" friend the conspirators will need should the plan fail, and the once cool Tanz now a drunk after losing his entire unit in the Soviet Union. Gabler and Kahlenberge, so enmeshed in the Valkyrie plot, continue to stonewall Grau while also needing to keep Tanz away from headquarters by assigning Hartmann as his driver to keep him distracted. And then there is another murder...

Based on the novel by television personality Hans Hellmut Kirst, The Night of the Generals reunites producer Sam Spiegel (Nicholas and Alexandra) with O'Toole and Sharif of his previous triumph Lawrence of Arabia; albeit most reluctantly in the case of the latter two. An American/British/French co-production shot in Panavision and Technicolor, this World War II film is more of a potboiler than an epic focused entirely on the shades of gray within the Nazi party along with production code-baiting elements of deviant sexuality (O'Toole's general may be more of a pervert here than as Tiberius in Caligula). Production values are high if one overlooks that much of the actual war action takes place offscreen and the scenes of mass destruction in the Warsaw ghetto take place in areas actually still rebuilding from the second world war. The billing of the actors disproportionate with their screen time and the seeming importance of their roles also betrays how some of them will be deployed in a narrative whose structure leaps back and forth between the past and present day as Noiret's now-Interpol agent retraces Grau's steps and interviews surviving persons of interest in a post-war industrial boom Germany. What proves interesting about this part of the film is seeing how many of them survived the aftermath of the failed attempt to assassinate Hitler – some having fled Paris and Berlin and surrendered to the Allies – now ostensibly on the right side of history while some more than others look back on the war nostalgically, with anniversary reunions of regiments hinting at the emergence of Neo-Nazi movements in the sixties. As a thriller, Night of the Generals is less of a nail-biter as a whodunit than for following the trajectory of Grau's mission to its bitter end (with his more academic "spilled blood calls out for vengeance" having more conviction than his more flip "what is admirable on the large scale is monstrous on the small. Since we must give medals to mass murderers, let us try to give justice to the small entrepreneur"). Uncredited bit parts include Euro horror favorites Howard Vernon (The Awful Dr. Orlof), Olivier Mathot (Helga: She Wolf of Stilberg), and Donald O'Brien (Doctor Butcher M.D.) while Valentine Dyall (City of the Dead) and actor/dubbing artist Robert Rietty (The Omen) lend their voices to the soundtrack.

Video


Released theatrically in the US and UK by Columbia Pictures, the cuts to the latter theatrical version were restored to the VHS release, with a barebones anamorphic DVD from Columbia UK in 2004 – followed by a War Triplebox set – but not stateside edition until 2013 as one of Sony's 4-Movie Combat Classics Collection along with a solo release the following year. Twilight Time put out a Blu-ray in 2015, and that same master has been used for Eureka's 1080p24 MPEG-4 AVC 2.35:1 widescreen Blu-ray with rich blacks and reds evident from the title sequence onwards while there is a certain pastel quality to the skintones and the more subdued colors of the décor that one associates with the photography of Henri Decaë (Le Samouraï). A 4K scan might have better resolved detail in long shots even taking into account sixties Panavision lenses but heightened detail does make itself known in some close-ups, deliriously so in Tanz's Stendhal Syndrome-esque encounter with Van Gogh's "decadent" self-portrait.

Audio


The sole audio option is an LPCM 2.0 mono track that boasts clear dialogue and effects while also lending a piercing quality to the score of Maurice Jarre (Eyes Without a Face). Optional English HoH subtitles have been included and have corrected a couple errors from the American DVD subtitles.

Extras


While the Twilight Time edition had an isolated music and effects track option, Eureka includes a new audio commentary by author Scott Harrison who gives a loosely structured talk combining historical context of events of the war during the two principal time periods of the film, the film's production history – including the reported factoids that O'Toole and Sharif were paid less than some of the other cast because of a technicality involving an older contract as well as their reluctance to do the film – and a discussion of the cast and crew. While Harrison identifies many of the bit players and associates them with other WWII roles in other films – as well as noting that director Anatole Litvak (Sorry Wrong Number) fled Russia to Germany only to then flee the Nazis to France and then to America – while choosing the more oddball subsequent credits of the stars; perhaps appropriately so given that the film did not receive with the same critical accolades and audience reaction of Spiegel's earlier large scale productions (with Harrison noting that the time jumps in the structure were considered confusing and unnecessary by the critics). Harrison neglects to discuss the source novel on the track, noting that he covers it elsewhere in the set, presumably in the limited edition collector's booklet featuring new writing by author Scott Harrison not supplied for review. The disc closes out with a teaser trailer (1:25) and theatrical trailer (4:03).

Overall


While lightning did not strike twice with the second pairing of Lawrence of Arabia stars Peter O'Toole and Omar Sharif, The Night of the Generals does possess some interesting elements as a thriller.