Scum [Blu-ray]
Blu-ray ALL - United Kingdom - Powerhouse Films
Review written by and copyright: Rick Curzon (2nd June 2019).
The Film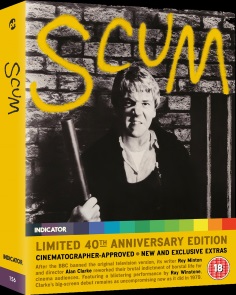 After the banning of their original 1977 BBC TV version, director Alan Clarke (The Firm) and writer Roy Minton (Funny Farm) set out to remake their drama for the big screen to ensure that their vision got the audience it deserved. The resulting film, released here in a special Blu-ray edition to mark its 40th anniversary, was an even more vitriolic portrait of a corrupt and violent institution which stunned cinema audiences and caused outrage.

Uncompromising in its depiction of everyday violence, retribution, suicide and sexual assault, Scum remains a cornerstone of the British realist cinema movement, and a savage and still shocking indictment of institutionalised violence and abuse.

Video


Slice of life drama set in an English borstal.

Hard edged and harrowing; very possibly the finest film of it's kind yet made. It offers no solutions and simply presents the characters - both inmates and staff - in a coldly matter of fact way. It's obviously critical of the system of abuse and humiliation but it simply starts and simply ends with no light in the tunnel.

Brilliantly written by Roy Minton from his own 1977 BBC TV play; all performances are stellar.

This must have been the most foul mouthed UK film up to that point and it's not hard to see how the whole concept of it, pointing a flashlight on one of societies unsavoury truths, was so controversial.

A grim and gritty looking film shot on 35mm film and in the European standard ratio of 1.66:1. The image has a strong, deep, thick film like appearance throughout with a healthy, finely wrought grain field. The encode is world class ensuring that we have no issues with what looks to these eyes as a very tricky source.

Euro London's master seems to be on the higher end of the spectrum as regards care taken and quality with no print damage that I noticed and no signs of any digital tinkering or enhancements. Black levels are solid throughout with fine shadow detail, indeed detail is robust and noticeable at all focal planes with the usual bump with skin and textile surfaces. I saw no signs of unintended crush. Contrast is supportive also ensuring no loss of detail.

This is not a glossy film and has a deliberately evoked naturalistic look with a muted colour palette which benefits hugely from the higher resolution afforded by the 2K scan. Colours are well defined with no signs of bleeding; flesh tones are natural and cooly rendered.

Purists may balk at the aspect ratio which was most likely meant to be 1.75:1 but the compositions look balanced to me, so what the heck.

1080/24p / MPEG-4 AVC / 1.66:1 / 96:30

Audio


English LPCM 1.0
Subtitles: English HoH

Rock solid mono track that supports the films limited range but carefully crafted sound design well. There's no score so dialogue and background effects are everything. There's not much low end and the subwoofer was never engaged but I wouldn't expect it to be. Very occasionally on some mono tracks the LFE is engaged but not here. Subtitles are present, comprehensive and essential. All those American viewers who had trouble with the accents will be pleased!

Extras


Audio commentary by actor Ray Winstone and critic Nigel Floyd

A solid commentary with few silent bits, Floyd does a great job of keeping Winstone on track. Winstone is very articulate about his thoughts and I welcomed this opportunity to hear him speak about the film and his career.

Cast and Crew Interviews:
- "No Luxuries: Mick Ford on Scum" featurette (19:18)
- "An Outbreak of Acting: Ray Burdis on Scum" featurette (15:17)
- "Smashing Windows: Perry Benson on Scum" featurette (11:05)
- "Continuous Tension: Phil Méheux on Scum" featurette (18:00)
- "Criminal Record: Martin Campbell on Scum" featurette (9:19)
- "Back to Borstal: Executive Producer Don Boyd on Scum" featurette (31:23)
- "Concealing the Art: Editor Michael Bradsell on Scum" featurette (29:30)
- "That Kind of Casting: Casting Director Esta Charkham on Scum" featurette (21:43)

A stellar new collection of new featurettes designed to mostly to compliment and not repeat too much the information below in the vintage extras ported over. All are of the highest standard and are hugely effective in boosting appreciation of the film. I was most interested and taken with the editor's piece with Bradsell providing fascinating titbits and technical information. All participants are articulate however and will provide purchasers with hours of enjoyment and appreciation.

Archive Interviews:
- "Interview with Roy Minton and Clive Parsons" 2004 featurette (15:55)
"Interview with Roy Minton" 2005 featurette (19:13)
"Interview with Davina Belling and Clive Parsons" 2005 featurette (8:24)
"Interview with Don Boyd" 2005 featurette (12:17)
"Cast Memories" 2005 featurette (16:53)

A comprehensive collection of material ported over from prior DVD and BD releases. This collection focusses more on the producers and writers but also has a fascinating set of cast recollections. The newer interviews above were obviously targeted at filling gaps not covered here although there is the odd bit of repetition.

'U' Theatrical Trailer (1:05)
'X' Theatrical Trailer (2:27)

We have the full strength trailer, like today's redband trailers which will contain material suitable to the R / 15 / 18 certificate; and, a sanitised variant designed to be shown with certificates like PG or U.

Scum Image gallery: Original Promotional Material (123 images)

Extensive HD gallery.

80-page liner notes book with a new essay by Ashley Clark, recollections from cast and crew members, an archival on-set report by critic Michael Billington, executive producer Michael Relph's viewing notes, archival interviews with director Alan Clarke, an extract from writer Roy Minton's novelisation, a look at Mary Whitehouse's High Court case over the film's television broadcast, an overview of contemporary critical responses, and film credits, as well as an exclusive double-sided poster

Hugely comprehensive companion to the film as you'd expect for 80+:pages; this covers every base you'd wish with Clark's insightful essay kicking things off. Relph's viewing notes are interesting and point forwards to the controversial reception it got. As a child of the Video Nasty era I found the Whitehouse piece fascinating and was heartened to find that ultimately the old bat didn't win; she was ordered to pay £30K legal fees and was olny saved from bankruptcy by a benefactor. I wasn't surprised to find that author Minton preferred the less nasty BBC version however.

Overall


Hands down, one of the discs of the year; every self respecting film buff should have this. Not only do we have top notch picture and sound but we have practically every extra produced for the film off prior releases ... plus a huge amount of new material.

This is limited to only 8,000 copies and is a much anticipated release so grab one whilst you can! The 80-page book is worth the price by itself!
| | | | | |
| --- | --- | --- | --- | --- |
| The Film: A | Video: A+ | Audio: A | Extras: A+ | Overall: A+ |

---
DVD Compare is a participant in the Amazon Services LLC Associates Program and the Amazon Europe S.a.r.l. Associates Programme, an affiliate advertising program designed to provide a means for sites to earn advertising fees by advertising and linking to amazon.co.uk, amazon.com, amazon.ca, amazon.fr, and amazon.de.