The Film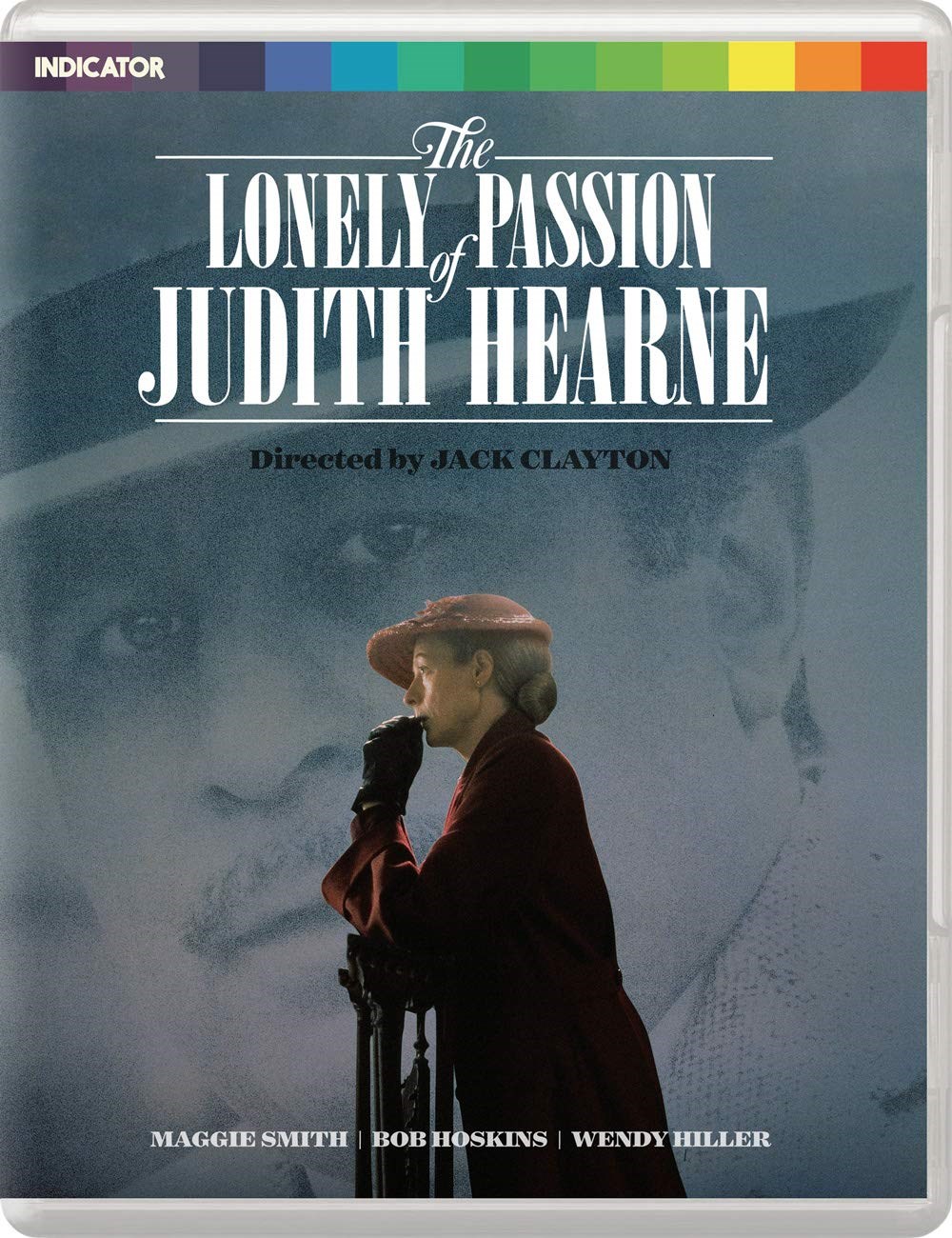 Based on the acclaimed novel by Brian Moore, The Lonely Passion of Judith Hearne was the final feature film to be made by celebrated filmmaker Jack Clayton (The Innocents, The Pumpkin Eater), and boasts a truly outstanding performance by multi-award-winning actor Maggie Smith.

In 1950s Belfast, penniless spinster Judith Hearne (Smith) falls for charismatic James (Bob Hoskins). Succumbing to his attentions, Judith makes a series of profound changes to her life, including re-evaluating her deep relationship with her church, to enable the love for which she so desperately yearns.

Poignant and powerful, The Lonely Passion of Judith Hearne was the recipient of a BAFTA award for Smith, but has since become somewhat overlooked. Now finally available on Blu-ray for the very first time, one of the finest British films of the 1980s is presented in a brand new 2K restoration from the original negatives, supervised and approved by cinematographer Peter Hannan.

Video


One of those brilliantly made, carefully crafted UK films from the '80s that seemed all the rage with critics back in the day; they were always getting high praise and seemed to turn up in all film societies catering for middle class clientele after their theatrical run. I first saw this on VHS when my first wife rented it; she was a devotee of author Brian Moore and loved the 1955 novel this is based on. I remember it's fleeting theatrical run and appearances in the likes of Films & Filming magazine.

I can't fault this in any way; the writing, acting direction, production, technical finesse etc are all as good as can be and from what I recall it's a faithful adaptation of the book. However, I'm a fairly superficial soul who likes his escapism and found that the main drama didn't really engage me. The characters aren't the most sympathetic or interesting; people who've made the wrong decisions in life and have great personal burdens and hangups.

For me, a film I can easily admire and highly recommend if a focused study of a troubled individual is your thing. In any case all of the actors are award worthy but with two exceptions; Smith is really the whole show and easily does one of the finest pieces of acting I have ever seen. Hoskins is saddled with an American accent and does come across as an American caricature, but he's still very good.

Still, for those who eat this stuff up, then you probably can't do all that much better than this little seen sleeper and Powerhouse have done this little know film proud ... which is what they frequently do. Bring a sleeper to a wider audience years after it's time and we love them for it!

This is a worldwide Blu-ray premiere (I can't even recall a DVD release) with a brand, spanking new 2K restoration handled by Powerhouse Films for their beloved Indicator range. With the OCN as the source the technical story is obvious and joyous.

The Lonely Passion of Judith Hearne has that lovely filmic quality many '80s prestige productions have with an intense but finely wrought grain field. The encode deals with this very well and is definitely up to the usual high standards Powerhouse always provide with none of the tell tale signs of digital splats and holes. Darker scenes didn't have any noise that I could detect under scrutiny so, again, all is well. Much of this film is set indoors and I assume in studio although it could easily also be on location, but the image is always artfully lit and accessible. Black levels are velvety and rich with plenty of intended shadow detail; no signs of unintended crush.

Contrast is suitably supportive and subtle allowing detail on all focal planes to shine; this isn't a garish film; it has a naturalistic but warm colour palette favouring browns and flesh tones. Facial textures and fabrics are the whole show and are very well rendered with masses of detail in evidence.

Essentially the image is as good as can be shy of a 4K restoration and a subsequent UHD Blu-ray release.

1080/24p / MPEG-4 AVC / 1.75:1 / 116:14

Audio


English LPCM 1.0
Subtitles: English HoH

This is a rock solid mono track that delivers goods and does it's job well. It's a shame they didn't go with stereo to lend the sound field more depth but it's not surprising that this kind of closeted character piece didn't get the stereo. Dialogue is always clear, provided you understand the Irish accents but if you don't there is the essential subtitle track provided which is also for the hearing impaired. The score is subtly used and never interferes with the dialogue. I heard no distortions or defects; it's also been beautifully restored and is as good as can be with a 5.1 boost.

Extras


"Judith Hearne Remembered by Rudi Davies, Ian McNeice and Maggie Smith" featurette (26:21)

An excellent documentary that covers the production from three of the cast. At the time both Smith and McNiece were old pros and that have plenty to say about the production from that standpoint; where it sits within their career at the time etc. Smith also touches on The Pumpkin Eater (1964) which she made for director Jack Clayton earlier in her career. Davies is very interesting because it was one of her first jobs and was a steep learning curve, especially for her nude scene with the equally nude McNiece and her learning of how camera angles play an important role in such things.

Selected scenes commentary with Neil Sinyard (32:33)

A fascinating a wide-ranging commentary over select scenes but it covers Clayton's life and career, how the two stars came to the project. I found the sections on Clayton wartime experiences particularly interesting and about his approach to directing. Sinyard has done many commentaries and so knows his onions. Essential and brief.

Original Trailer (3:01)

The usual promo piece focusing on the emotional beats of the story; longer than most trailers this one focusses on dialogue.

The Lonely Passion of Judith Hearne Image gallery: Original Promotional Material (16 images)

Small but choice HD image gallery.

Comes with a 32-page liner notes booklet featuring Pauline Kaelís appraisal of the film, Bethan Roberts on Brian Moore, Jack Clayton, Maggie Smith and Bob Hoskins on The Lonely Passion of Judith Hearne, an overview of contemporary critical responses, and film credits

The usual exemplary booklet; Most interesting for me was the Kael review; she focuses very much on the adaptation and Smith's stunning performance and highlighting the changes from the source. The Moore article covers his life and career and the contemporary critical responses are all positive.

Overall


Picture and sound are as good as can be with a limited but very choice extras package when compared to other more generously endowed Powerhouse Releases. Once again, a little known, well regarded film gets a high profile release so hopefully it's profile will be raised.
| | | | | |
| --- | --- | --- | --- | --- |
| The Film: A- | Video: A+ | Audio: A+ | Extras: B+ | Overall: A |