Asher AKA Hitman Redemption
R2 - United Kingdom - Signature Entertainment
Review written by and copyright: Rick Curzon (20th June 2019).
The Film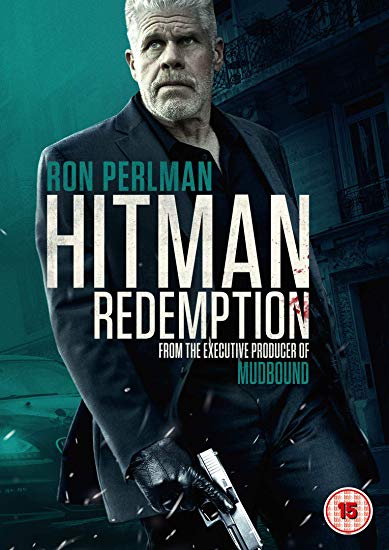 The executive producer of Mudbound and Assassination Nation brings you this slick, gun-toting neo-noir thriller.

Asher (Ron Perlman: Hellboy), a former Mossad agent turned gun for hire, lives an austere life in an ever-changing Brooklyn. Approaching the end of his career, he breaks the oath he took as a young man when he meets Sophie (Famke Janssen: X-Men) on a hit gone wrong.

In order to have love in his life before itís too late, he must kill the man he was, for a chance at becoming the man he wants to be.

Video


Asher (Ron Pearlman) is a contract hitman and former Mossad agent in his sixties and he's had enough. He meets a woman, Sophie (Famke Jansson) and wants to settle down and live a life. Unfortunately, as can be expected, this isn't going to be easy.

A deliberately paced drama rather than the full bore action film the cheesy UK retitling would suggest. There are some action moments and the plot is completely predictable but that isn't the point. This is very much a character study of a man entering his twilight years and seeking some kind of solace. Director Michael Caton Jones handles it all very well and producer-star Pearlman has been nurturing this project for years.

It's a strong neo-noir with no big surprises but I really enjoyed it having been sort of dreading it based on the catchpenny retitle. It has a smokey, boozy, bluesy atmosphere; is beautifully shot and deserved a full blown theatrical release. Simon Boswell does his usual excellent job on scoring lending the film a wonderful melancholy edge.

Both Pearlman and Jansson have great chemistry and their lowkey, troubled romance - through circumstance not chaffing - is wonderfully played. This isn't an instant classic but a slow burner and I hope it gets seen more widely. Not helped at all by the new title and by the fact Signature Entertainment have gone the DVD only route here in the UK. It's available on BD in the US.

This digitally shot feature has a mostly rich colour palette, particularly in exteriors; it sports a shadowy, noirish look with long shadows and occasional stark contrast. I prefer a natural but bright colour grade and am not keen on the desaturated look popular these days with horror-thrillers but thankfully Michael Caton-Jones has not gone down that route. Thereís no bleeding and Hitman Redemption has good colour values well displayed in this transfer.

We have decent black levels, with no crush in daylight scenes; darker scenes have a muted low-contrast look with detail suffering due to the fog of standard definition although there is no major crush. The encoding is decent with darkness handled well. I couldnít detect any digital tinkering.

Contrast is decent and detail is present in close and medium shots and courser fabrics show some texture; skin has pleasing detail in closeups. But, it's a crying shame this hasn't been given a full HD treatment and Blu-ray. It is available in the USA on BD however.

PAL / 2.4:1 / 100:04

Audio


English Dolby Digital 5.1
English Dolby Digital 2.0 Stereo
Subtitles: None

Solid soundtracks both without a great deal of difference. The action scenes sounds a bit fuller in the 5.1 but on the whole these are disappointing considering. The do the job but this hasn't a massively active sound field. The excellent score by Boswell benefits the most and dialogue is always clear.

Sadly, no subtitles have been included so a big demerit there.

Extras


Startup Trailer:
Below the Belt: Brawl at Donnybrook (1:42)

Blah trailer for another violent action flick; nothing to write home about, alas.

Overall


A solid standard definition transfer of this recent thriller, but there's the rub; there should've been a Blu-ray. The subject plus cult stars Pearlman, Jansson and Richard Dreyfus ought to have made sales in HD. The film is good and well worth revising over the years to come but no extras to speak of the add value. Happily, this is a cheap disc to buy and will tide over those fans until an HD one falls into their orbit.
| | | | | |
| --- | --- | --- | --- | --- |
| The Film: B | Video: B- | Audio: C | Extras: E- | Overall: C- |

---
DVD Compare is a participant in the Amazon Services LLC Associates Program and the Amazon Europe S.a.r.l. Associates Programme, an affiliate advertising program designed to provide a means for sites to earn advertising fees by advertising and linking to amazon.co.uk, amazon.com, amazon.ca, amazon.fr, and amazon.de.