The Film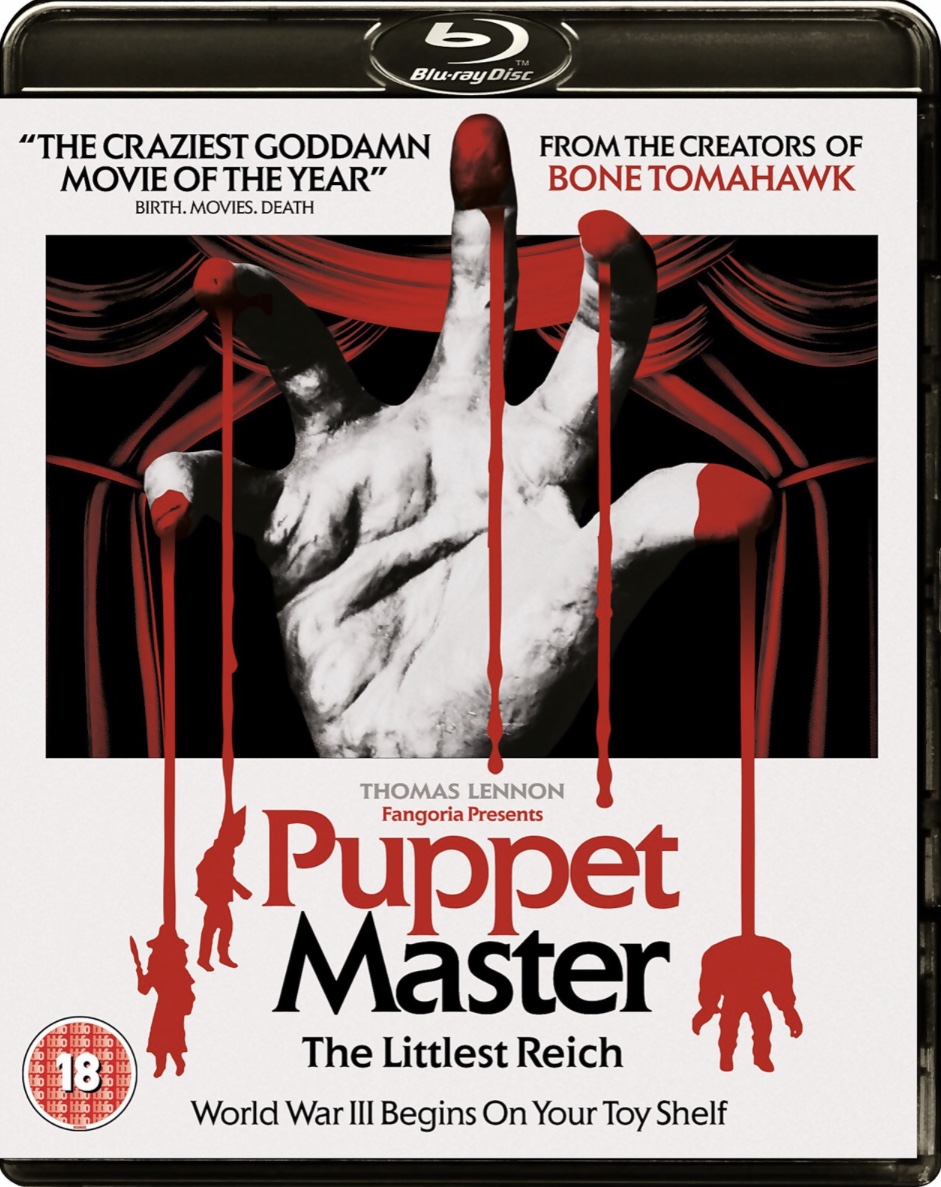 When recently divorced Edgar (Thomas Lennon) returns to his childhood home he finds a nefarious looking puppet and decides to sell the doll for a quick buck. Bringing along his new girlfriend Ashley (Jenny Pellicer) and nerdy pal Markowitz (Nelson Franklin), Edgar heads on a doomed road trip to a puppet auction celebrating the 30th anniversary of the infamous Toulon Murders. But all hell breaks loose when a strange force animates the puppets at the convention, setting them on a bloody killing spree motivated by an evil as old as time.

With twenty-one scenes of graphic puppet violence and a score from composing legend Fabio Frizzi (The Beyond, City of the Living Dead), FANGORIA presents Puppet Master: The Littlest Reich - the wildest, craziest and goriest movie of the year. Fasten your seat belts, it's going to be a bloody ride!

Video


Exploitation Films are releasing the much anticipated cult item Puppet Master: The Littlest Reich (2018) here in the UK. A very highly anticipated release, at least by me.

Initially a Zavvi exclusive.

How does it measure up?

#14 in the Puppet Master series that begun in 1988! This has to be one of the longest running and most prolific horror film series in history.

Nothing new in the ideas department with The Littlest Reich, as it just repeats the same setup we've seen 13 times enjoyably before but the underlying script has it's fair share of witty dialogue and setups ... but the pace is off; it feels stretched out. And, it's handled in such a straight laced way it seems as if the directors (Sonny Laguna & Tommy Wiklund) wanted to make a deadly serious horror film, but screenwriter S. Craig Zahler (Bone Tomahawk) wanted to make a daffy horror comedy.

It's no turkey, but isn't as good as it could've been.

Sequences are designed on the page to be funny, but the execution is too nasty or sadistic in tone to match and nit in a Sam Raimi way. The first third is best which sets up the likeable leads (Thomas Lennon, Jenny Pellicer, Nelson Franklin) but it could've done with faster direction of the actors to pace it up and a more overtly comic tone.

This is a gory and mean-spirited film and it was nice to see mostly practical, on-set SPFX rather than fake-looking CGI blood and grue. It was also nice to see cult stars like Barbara Crampton, Michael Pare and especially Udo Kier (as André Toulon) turn up. I'm a big fan of Fabio Frizzi's Italian scores like The Beyond (1981) and Manhattan Baby (1982) so it was a joy to hear that he got this gig and it was worth the wait, a fine score.

Shot digitally using Red Dragon cameras with a 2K intermediate this has an inherently soft image on Blu-ray albeit it very clean and stable; there's obviously no damage or visual defects from the production process that I could see.

It's a bright, colourful film for much of it's length but also has plenty of darker scenes; black levels are very deep and rich with plenty of shadow detail and no unintended crush. Contrast is lowkey and supportive coming off best in the brighter daylight scenes. Detail is satisfying throughout on all focal plains, although a BD50 might have improved things a tad. Encoding is decent leaving a nice even grain field with no clumping, digital splats or holes in the grain.

The colour palette is largely bright and sparky with plenty of primary colours coming through in force, especially in the illustrated, cartoony credits sequence. Blood looks satisfying dark and rich. A relief, because many modern horror films tend to be desaturated (see The Nun for example). Colours are well defined with no bleed (pun intended!).

Overall the image is decent, well encoded but doesn't kick out quite like I would've thought for such a vividly shot modern production, perhaps the use of a single layered BD25 is nit helping, or perhaps the fact it was taken from 2K and not a 4k (or higher) source is the problem.

1080/24p / MPEG-4 AVC / 2.4:1 / 89:58

Audio


English DTS-HD Master Audio 5.1
English LPCM 2.0 Stereo
Subtitles: None

The 5.1 is obviously the way to go and has greater range and depth than the decent 2.0 track. There's plenty of surround activity and absolutely no distortion. Dialogue is always clear, front and centre and the score mainly active in the left, right and surround channels with good separation. The LFE track engages the subwoofer at times but perhaps not quite as much as I was expecting. Overall a fine if not perfect track, so 'A' rather than 'A+'.

And, no subtitles for the hearing impaired or indeed no subs of any kind, which is not good.

Extras


"Behind the Scenes of Puppet Master: The Littlest Reich" featurette (5:56)

Brief EPK style puff piece, nothing of any real interest here.

"The Cast of Puppet Master: The Littlest Reich" featurette (6:55)

The cast say how wonderful and fun it all is; again, nothing of any real interest.

"Puppets: From Concept to Creation" featurette (1:44)

Good, but too brief look at how the puppets were made.

"Lightning Girl Comic: From Sketch to Final" featurette (0:40)

Interesting, but far too brief. It is what it it says it is.

Red Band Trailer (1:37)

The uncensored trailer with gore and nudity.

Not provided for review were the art cards listed.

Overall


A brand new film shot in digital last year and it looks and sounds a peach. There are no issues here although the image was a shade softer than I was expecting; perhaps a BD50 would've helped? Extras are fleeting and essentially worthless; a shame, as I'd have expected longer, better, more in depth material.

Essentially this is a direct port of the US disc; a brand new cult film like this deserves more effort. A shame 88 Films didn't release this because you could imagine them commissioning some unique, new extras in addition to the ported material.

Make no mistake, this is a good looking and sounding release and well worth picking up and it's a currently at £14.99 it's not too bad a price for day one.
| | | | | |
| --- | --- | --- | --- | --- |
| The Film: C+ | Video: A | Audio: A | Extras: D+ | Overall: B |