Domino (Blu-ray) [Blu-ray]
Blu-ray B - United Kingdom - Signature Entertainment
Review written by and copyright: Rick Curzon (14th July 2019).
The Film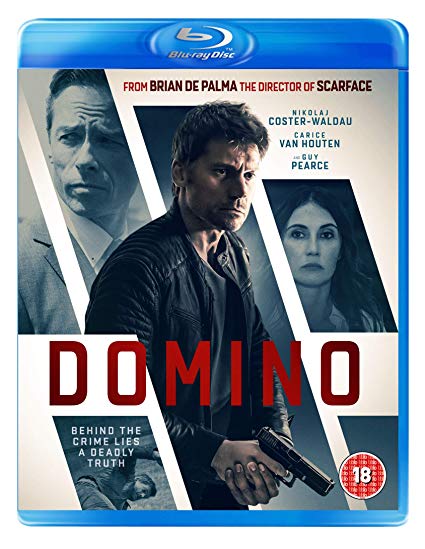 In a world wracked by terror and suspicion, police officer Christian (Nikolaj Coster-Waldau: TV s Game of Thrones) seeks justice for his partner's murder by ISIS member Imran.

On the hunt for the killer, Christian and a fellow cop become caught in a game of cat and mouse, with a duplicitous CIA agent, using Imran as a pawn to trap other ISIS members. Soon, Christian is racing against the clock -- not only seeking revenge but to save his own life.

A thrilling race-against-time also starring Guy Pearce (L.A. Confidential) and Carice van Houten (Valkyrie, TV s Game of Thrones).


Video


Disappointing, slight, perfunctory Brian De Palma thriller. The script is cliched to the point where the actors end up having mostly thankless roles (especially Van Houten) and the whole film feels truncated as if swaths of story and character development have been chopped out. Pearce fares best in a showy role.

Pluses are plenty of great, richly coloured cinematography, careful compositions, good camerawork - with some splendid diopter shots - and a richly symphonic score by Pino Donaggio that's worth savouring.

Some of the set pieces are very good but alas, they're like raisins set in a very heavy cake and the abrupt finale is disappointing.

Very possibly De Palma's worst of those that I've seen.

Technically this is a very good looking film that has been digitally lensed and the maestro's style suits the format well. Typically for De Palma - and thankfully - Domino has a gorgeous colour palette favouring strong, bright colours in the warmer end of the spectrum. Black levels are deep and rich with excellent shadow detail and the encode is a good one. Contrast is layered and supportive of detail and has no signs of blown out highlights.

Detail is excellent at all focal planes so closeups and backgrounds look great. As usual, facial textures and fabrics fare very well. There are no digital artefacts to note, obviously no damage and I saw no signs of macro-blocking in dark areas; no aliasing, no mosquito noise. Grain is present but fine. This uses a BD25 which is more than enough for a short film like this with no extras to speak of.

Bog standard, barebones but a fine rendering.

1080/24p / MPEG-4 AVC / 1.85:1 / 89:15

Audio


English DTS-HD Master Audio 5.1
English LPCM 2.0 Stereo
Substitles: None

A solid if unadventurous 5.1 track that has great fidelity, no distortions and handles music and dialogue extremely well. Sadly, I found it lacking in LFE oomph and surround activity ... at considering the action credentials of the film. They are there but I'd have expected more welly from a De Palma film on that score even if it's a low budget effort like this. Donaggio's fine score benefits the most from the separation.

No subtitles (bar those for non-English dialogue) which is not really acceptable these days; anyone with hearing issues isn't going to access this film as well as they might, sadly ... if at all.

Extras


Startup Trailer:
- Eye for an Eye (2:04)
- Escape Plan 3 (1:46)

Sadly, even more disappointing than the film are the fact we have no extras; just some entertaining trailers for two straight to video programmers released by Signature that both look far more fun than Domino. I have Eye for an Eye on DVD to review and am now really looking forward to it.

Packaging


Standard blue keepcase.

Overall


De Palma hasn't been at the top of his game in public awareness terms for quite some time but he remains one of the great Hollywood directors to emerge since the 1960s and was active at the box office up until the late '90s. After that his films have struggled. I mildly enjoyed Domino at first but over the days following it's perfunctory nature has become obvious and it's gone down in my estimation and is possibly the weakest film I've seen from the maestro. This is very much De Palma working on autopilot and he's made a programmer that paddles about a bit in his obsessions without distinction.

However, the Signature Entertainment Blu-ray is the way to make it's acquaintance if you are so minded unless a full-bore 4K UHD Blu-ray turns up. Signature's disc is well encoded and has fine image and good sound; the mix isn't the most adventurous hence the 'B+' ranking, but it's as good as it can be given the original work in it's design. Sadly, there are no extras and no subtitles for those who require them, which is a real shame. The disc however, fairly cheap so recomended for fans.
| | | | | |
| --- | --- | --- | --- | --- |
| The Film: C- | Video: A+ | Audio: B+ | Extras: E | Overall: B |

---
DVD Compare is a participant in the Amazon Services LLC Associates Program and the Amazon Europe S.a.r.l. Associates Programme, an affiliate advertising program designed to provide a means for sites to earn advertising fees by advertising and linking to amazon.co.uk, amazon.com, amazon.ca, amazon.fr, and amazon.de.