The Film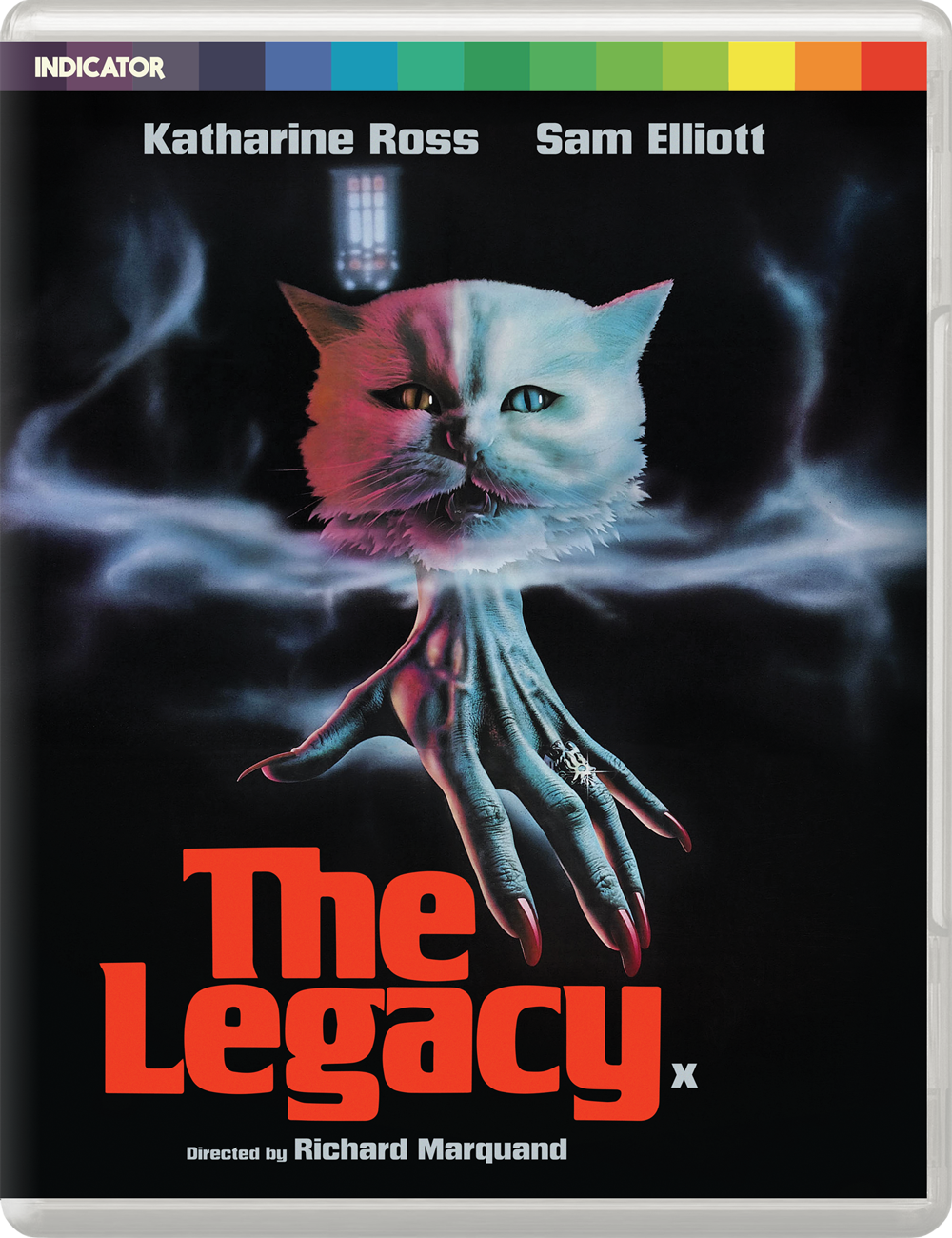 Written by the late, great Jimmy Sangster (The Revenge of Frankenstein, Taste of Fear), this supernatural riff on Agatha Christie's And Then There Were None is a gruesome, hugely entertaining chiller.

Two American architects (real-life couple Katharine Ross and Sam Elliott, who met on the set of this film) are holidaying in England and find themselves trapped at a country mansion where the various guests become victims in a series of unexplained and increasingly violent deaths.

Director Richard Marquand (Return of the Jedi, Jagged Edge), making his feature-film directing debut, deftly balances horror and grisly black humour. The film also boasts sumptuous photography by the great Dick Bush and Alan Hume, a wonderfully eccentric score by Michael J Lewis and a superb supporting cast which includes Charles Gray, Margaret Tyzack, Ian Hogg, John Standing and The Who's Roger Daltrey.

Video


Maggie Walsh (Katherine Ross) and her boyfriend Pete Danner (Sam Elliot) travel to the UK where they find out she is to inherit the Mountolive estate. However, five others are also converging and think they're also inheritors. When folks start to die in gruesome ways things get interesting.

Largely unsung and forgotten these days and never a critical favourite, this is a surprisingly engaging and at atmospheric little shocker with good performances and a wonderful cast of character actors in support. An old dark house mystery set on a rather grand English estate then owned by Roger Daltry who plays one of the inheritors. I'm a sucker for films like this set in grand old houses and the production design and set dressing are spectacular on that score.

Hammer's Jimmy Sangster had a hand in it's writing which is a plus even if his original script bears little relation to the final film. The score by Michael J. Lewis is excellent and well up to the standard of his work on the likes of The Man Who Haunted Himself (1970), Theatre of Blood (1973), Sphinx and The Unseen (both 1980).

A slick, well funded horror opus made to cash in the trend for satanic horror begun by Rosemary's Baby a decade before and continued with the likes of The Exorcist, The Omen an To the Devil a Daughter.

This is a good looking production that has a slightly soft look in his recent HD master supplied by Screenbound Entertainment but I reckon that is inherent in the production. The Legacy has a very '70s colour palette favouring browns and colours from the warm end of the spectrum. Flesh tones are naturalistic and well defined; I saw no signs of colour bleed at all.

Black levels are very satisfying with plenty of shadow detail and no signs of crush. Contrast is supportive with no blown out detail. Detail is excellent with closeups of faces and fabric textures coming through nicely. However, with the wonderful set dressing and production design being so strong I'm happy to report that detail is superb; I spent much of my viewing of the film pausing and drinking it all in.

Reading reviews of the US Shout! Factory BD, mention is made of dirt and signs of wear and tear and other minor issues like some wobble. I saw no signs of this on the version here so obviously Powerhouse have done extensive extra work.

The UK cut is presented in standard definition from an aged master that dates from the 4x3 (1.33:1) TV / video era. Colours are faded, muddy and the image is rather soft. It's perfectly watchable but does have some signs of print damage here and there; nothing too bad so nowt to worry about. It's a valuable option and I welcome it's inclusion for those who wish to watch it. There's a handy HD featurette in the extras (see below) than handily highlights all of the differences.

Being 1.33:1 it's an open matte presentation; the film seems to have been largely if not completely shot soft matte 1.37:1 and designed to be matted in projection to 1.85:1. This means that we get more image at the top and bottom of the image when compared to the glorious HD version and a sliver less image on the left and right sides.

All in all, this is as good as we're likely to ever see The Legacy looking shy of a 4K UHD Blu-ray release ... which is highly unlikely. Full marks of 'A+' seems fair; an excellent visual presentation.

US cut 1080/24p, MPEG-4 AVC / US cut 1.85:1 / US cut 99:39
Standard definition UK cut NTSC / UK cut 1.33:1 / UK cut 102:13

Audio


English LPCM 2.0 Stereo
Subtitles: English HoH

The Legacy was granted a Dolby Stereo track which gave it's sound field extra oomph; most horror films of the period didn't get such lavish treatment. Dialogue is front and centre and the surrounds are mainly used to enhance the Lewis score which never interferes with clarity. There's not a great deal of surround activity except during the action-horror moments. Fidelity and depth are surprisingly good with my subwoofer occasionally engaged. No pops, clicks or distortions. High end was also pretty good considering how old the film's sound design is these days. As good as it's going to get and faithful o the source. Unless someone digs out the sound stems and creates a 5.1 track we shan't see anything better.

As usual, English hard of hearing subtitles are welcome and essential.

Extras


Audio commentary with journalist Kevin Lyons (US theatrical cut)

Quite simply one of the finest commentaries I've heard of recent vintage. Lyons has packed it from beginning to end with an incredible amount of detail covering every conceivable aspect of the film from the careers of key cast and crew to themes, Sangster's original The Devil's Doorway script (set in Chicago hospital no less), Lewis' score, locations, production design ... practically everything you could want to hear about. This coupled with the typically superb booklet included has to be the last word on this under rated film until someone writes a full-length book on it.

"An Extended Legacy" 2019 featurette (10:16)

This excellent comparison betwixt the two versions is accessed when you highlight "Play" on the main menu where you are given the choice of the two versions and this featurette. The footage has been cropped from the 1.33:1 master to conform to the 1.85:1 ratio and shows some dust and dirt. The additional material, whilst nice and full of character development is hardly essential but kudos to the disc production team for giving us the opportunity to see it focused upon.

"Ashes & Crashes: Second Unit Director Joe Marks on The Legacy" 2019 featurette (4:01)

Marks shot plenty of SPFX bits like people burning and some of the car stunting but Marks was annoyed because it didn't get a credit. A short piece but it packs in quite a large number of anecdotes.

"Anne V. Coates: An Editing Legacy" 2015 featurette (13:48)
"The Make-Up Effects of The Legacy with Robin Grantham" 2015 featurette (10:47)

Legacy extras ported over from the US BD of The Legacy and both are excellent and add great value to the the newer Indicator extras. Coates has had a fascinating career as one of the top editors in the UK and latterly on US productions.

Makeup supremo Granthem also handled the makeup on the concurrent Powerhouse / Indicator release Satan's Slave. He has had an incredibly high profile career working in the likes of TVs Inspector Morse and films like An American Werewolf in London and Never Say, Never Again.

"Between the Anvil and the Hammer: A Film About the Liverpool Police" 1973 short film (27:06)

Short film made by Richard Marquand on 16mm film. Unsurprisingly warts and all covering extensively with complaints against the police. The police interviewed seem very concerned about poor social conditions and how they lead to crime. We follow 35 year old Constable Holmes as he goes about his beat; and constable Taylor dealing with child shoplifters. Some depressing statistics; between 1971 and when the film was made child crime went up 64%. Chief Superintendent Stone also gives his view that child crime is a depressing fact of life.

Theatrical Trailer (1:43)

Cheesy promo piece typical of the late '70s.

The Legacy Image Gallery: Original Promotional Material (56 images)

Decent HD image gallery with more images than usual.

40-page liner notes booklet with a new essay by Julian Upton, an archival location report, Jimmy Sangster on The Legacy, extracts from the novelisation, an overview of critical responses, an introduction to Between the Anvil and the Hammer, and film credits

Upton's essay covers the film comprehensively looking at the film's history, influences and the trends in commercial cinema at the time it was released. The Sangster extract is interesting because it outlines his original ideas for the story before other hands took over. We have an excellent introduction to the short film on the Liverpool police force. All in all, another indispensable booklet from Powerhouse Films.

Packaging


Standard Blu-ray keepcase.

Overall


An excellent handling of a recent new master by Powerhouse Films gleans great results. The film is an enjoyable old dark house satanic thriller with confident handling and a great cast running with the hoary old material to produce effective results. Picture and sound are very good and the extras are very comprehensive. For horror buffs, if not unmissable, then certainly one to reappraise if so inclined. Shy of a 4K release, image and sound are probably as good as it gets.
| | | | | |
| --- | --- | --- | --- | --- |
| The Film: B+ | Video: A+ | Audio: A+ | Extras: A+ | Overall: A+ |