The Film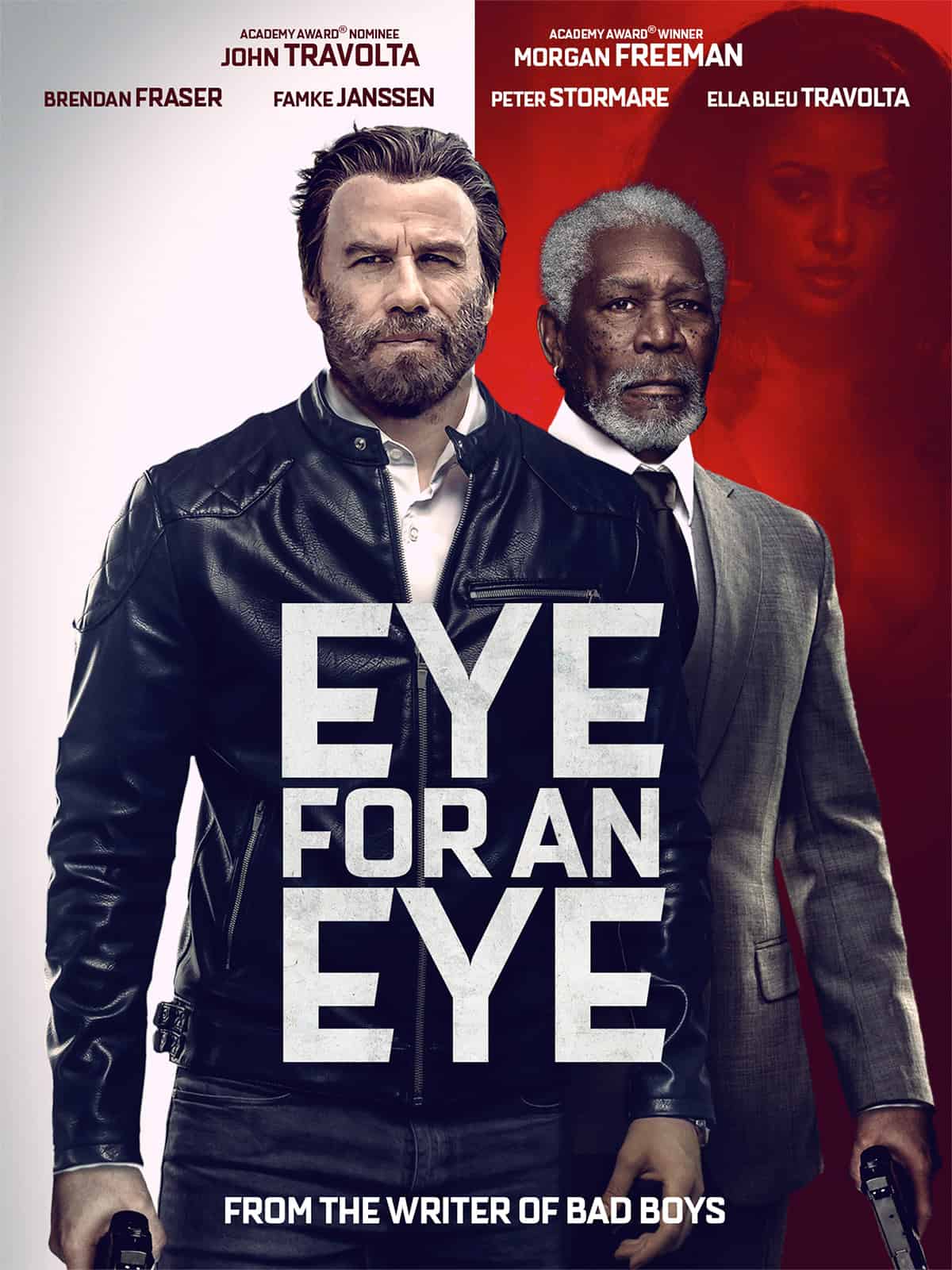 John Travolta (Face / Off), Morgan Freeman (Olympus Has Fallen), Famke Janssen (X-Men) and Brendan Fraser (Crash) lend their talents to this searing detective thriller.

Travolta plays Carson Philips, a hard-drinking L.A. private eye, who takes a case in his old hometown of Galveston, Texas. While searching for a missing woman, Philips must confront a crime boss (Freeman), a shady doctor (Fraser), a sexy club singer (Kat Graham: All Eyez on Me), his former lover (Famke Janssen) — and his own dark, disturbing past.

Video


The actual American title for this one is the far superior and much more poetic "The Poison Rose", and not the cheap, catchpenny "Eye for an Eye" that Signature Entertainment have decided to go with here.

An agreeable modern noir with good performances and direction. Although set in 1978, I felt the period detail wasn't successfully evoked and it ought to have been cast with people who hadn't had very modern plastic surgery on their faces. It's a bit too languid for it's own good, but was a decent view overall and above the average. When compared to most modern noirs this one was much less violent and sleazy.

Visually this film is shot to resemble old style film noir films but through a modern context. It has an effectively moody, bluesy, boozy atmosphere as all of the cliches of hard boiled detective fiction are trotted out, lovingly polished and given a nice new spin.

He colour values are warm and rich with a naturalistic spin; no orange and teal grades here thank god. Black levels are satisfyingly deep and rich and bar the odd bit of crush and the occasional bit of digital noise, due to being in standard definition, things look fine.

Contrast is a bit flat in daylight and interior scenes although I saw no signs of blown out highlights. There are obviously no signs of damage, nor grain. It's inherently somewhat soft but some detail is there. A crying shame Signature Entertainment haven' released this on Blu-ray, as in other territories.

We have a solid standard definition transfer of a digitally shot modern film and it gets the job done.

PAL / 2.4:1 / 93:18

Audio


English Dolby Digital 5.1
English Dolby Digital 2.0 Stereo
Subtitles: None

The underlying soundtrack is a pretty good one with both 5.1 and 2.0 choices. The former is obviously the better one with greater depth and range. Dialogue is always clear and audible with the relatively low key score keeping it's place. Dialogue at the front and the score mainly in the surrounds; when the action kicks off it's a pretty active track.

However, the tracks are both recorded far too low; I normally have a lossy DVD track with the volume at about 25 on my system. But, with this disc I had to have the 5.1 on level 40 and the 2.0 on 35. Now, I've had DVDs where they were blowing me out of my chair at level 20 before so I know it's possible to have good, lossy Dolby Digital tracks.

Sadly, this one is too low; I shouldn't have to raise the volume to get it to play as it should, not that much. To cap it off, the are no subtitles for the hearing impaired. In 2019 that just shouldn't be the case.

Extras


Startup Trailers:
- Arctic (2:13)
- Burning Rubber (2:24)

Startup Trailers as it says; meh.

Packaging


Standard keepcase with a card slipcover.

Overall


As I said above, we have a solid standard definition transfer of a digitally shot modern film and it gets the job done. The sound is good, but recorded too low on the disc so you'll have to pump up the volume. Extras are barely there and essentially worthless. A shame because in addition to getting a Blu-ray release, the US discs have a director and writer commentary track.

This os cheap on day one so on that score I recommend it ... for casual purchasers. True cinema buffs will import the HD release with extras.
| | | | | |
| --- | --- | --- | --- | --- |
| The Film: C+ | Video: B | Audio: C+ | Extras: E | Overall: C+ |