Charlie Says
R2 - United Kingdom - Signature Entertainment
Review written by and copyright: Rick Curzon (31st July 2019).
The Film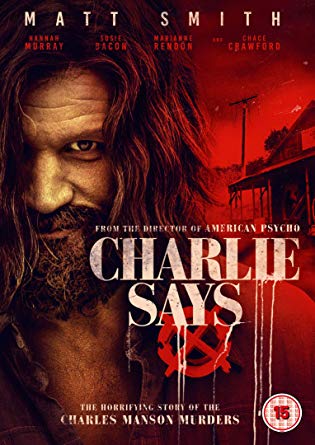 This is the shocking, infamous and chilling story about Charlie Manson and his manipulation tactics on the members of his cult.

With remarkable cinematography and a disturbingly stand-out performance from Matt Smith, portraying Manson's manipulative and twisted charm, Charlie Says is a thought provoking perspective on guilt and victimhood about one of the most notorious serial killers in history.

Starring alongside is Game of Thrones' Hannah Murray, Suki Waterhouse and Chase Crawford and comes from the director of American Psycho.

Video


Activist and under graduate Karlene Faith (Merritt Wever) is asked by warden Virginia Carlson (Annabeth Gish) to help rehabilitate three women serving life for the Tate-LaBianca murders: Leslie Van Houten (Hannah Murray), Patricia Krenwinkel (Sosie Bacon) and Susan Atkins (Marianne Rendón). As she gets to know the women she learns of their life with Charles Manson (Matt Smith) and what lead to the murder.

Extremely well written, acted and directed ... but I just didn't find the story terribly involving or interesting. Essentially what we have is a tale of weak-willed, silly, disaffected twenty somethings looking to belong somewhere who got in with the wrong crowd and then paid the price for the rest of their lives. All of the actresses are excellent and Smith gives an Oscar-worthy supporting performance as Manson but the hard fact is that Manson was a bit of a dullard.

It's very well made and the cinematography is pretty sweet but you really have to find something of interest in the characters who by definition aren't very interesting of sympathetic. Recommended because it is well done but with the caveats above which are obviously from my point of view.

Charlie Says is made by the same team of director Mary Harron and writer Guinevere Turner responsible for American Psycho (2000). It's not as graphic as that film but it does have a fair amount of full frontal nudity and the murder sequence is disturbing albeit much of it off screen.

Charlie Says has a fairly naturalistic if slightly desaturated colour palette which is par for the course these days; richer colours come to the fore during night and campfire scenes. I saw no signs of colour bleed and other alignment issues that can arise in standard def transfers.

Black levels are generally very good with no obvious signs of unintended crush and shadow detail is acceptable; par for the course in a standard def transfer. Contrast is low key and only really kicks in in daylight sequences. Darker scenes are decent and detail in both extremes is par for the course with a modern digitally shot film in standard def. That is to say there is a slight muddiness and grain is barely noticeable.

I could see no sign of compression artefacts or digital manipulation such as edge enhancement etc. A good transfer.

PAL / 2.4:1 / 105:51

Audio


English Dolby Digital 5.1
English Dolby Digital 2.0 Stereo
Subtitles: None

Very good sound choices here with good separation although this isn't the kind of film that will really use the full benefits of the 5.1 channels. Dialogue is centred and clear; always audible and the score and sound effects never het in the way. Like most lossy options, I had to increase the volume to ensure a proper experience when compared to lossless playback. The 2.0 track is obviously not quite in the same league but will be fine for those on a 2.0 system like a sound-bar etc.

No subtitles is extremely regrettable.

Extras


Startup Trailer:
- Domino (1:23)
- The Captor (2:06)

Hugely disappointing not least because there's so much historical context here, but no EPK or promotional material either.

At least the trailer from Domino makes that hugely disappointing film look good.

Packaging


Standard DVD keepcase with a card outer slip.

Overall


Decent standard definition representation of a modern film with solid picture and sound. Obviously, a Blu-ray would've been much more desirable. In overall picture and sound terms about as good as we can expect when stacked up against HD equivalents. The lack of extras and subtitles is deeply regrettable however, especially the latter because I'm sure sub tracks will have already been prepared for this film.
| | | | | |
| --- | --- | --- | --- | --- |
| The Film: C+ | Video: B | Audio: B | Extras: E | Overall: C+ |

---
DVD Compare is a participant in the Amazon Services LLC Associates Program and the Amazon Europe S.a.r.l. Associates Programme, an affiliate advertising program designed to provide a means for sites to earn advertising fees by advertising and linking to amazon.co.uk, amazon.com, amazon.ca, amazon.fr, and amazon.de.