The Film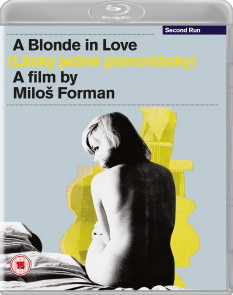 Oscar (Best Foreign Language Film): Czechoslovakia (nominated) - Academy Awards, 1967
Golden Globe (Best Foreign-Language Foreign Film): Czechoslovakia (nominated) - Golden Globes, 1967
Bodil (Best European Film): Milos Forman (winner) - Bodil Awards, 1967
Jussi (Best Foreign Director): Milos Forman (winner) - Jussi Awards, 1967
Golden Lion: Milos Forman (nominated) - Venice Film Festival, 1965

After yet another young woman has fled to the city, the supervisor (Three Wishes for Cinderella's Vladimír Mensík) of a large shoe factory in a dying town where women outnumber men sixteen to one proposes to the a military major (If a Thousand Clarinets's Jan Vostrcil) that he station training maneuvers nearby so that his women and their men might find companionship ("Girls are like rosebuds. You get me? That's youth. And youth needs what you used to need, Comrade Major, and myself, and the others too, see?") in hopes of staving off youthful wanderlust. Unfortunately, the young factory workers discover at the dance hall that the People's Army consists of middle-aged reservists, most of them married or otherwise unappealing lotharios. While her two friends Jana (Late August at the Hotel Ozone's Jana Novaková) and Marie (Marie Salacová) are resigned to going out (if not going home) with a trio of men who have sent them drinks, Andula (Amadeus's Hana Brejchová) waffles between agreeing and making eyes at young pianist Milda (Change Meeting's Vladimír Pucholt). Although apparently engaged to Tonda (The Fireman's Ball's Antonín Blazejovský) who works in the city, Andula runs off with Milda and spends the night with him and he invites her to visit him in Prague. Andula returns to the dormitory, not only having annoyed her two friends but causing a scene when Tonda forces his way into the dormitory to demand back his ring; after which she is expelled. Andula travels to Prague to visit Milda but finds herself the unwelcome guest of his parents (Closely Watched Trains's Milada Jezková and The Best Age's Josef Sebánek) for an awkward sleepover.

Director Milos Forman's follow-up to his feature debut Black Peter, A Blonde in Love (more fittingly translated as Loves of a Blonde as it was released in America) in spite of some of its events is not really a look at male and female attitudes towards sexuality as the social and cultural forces that manipulate and distort them (not always deliberately). The "social engineering" of the factory owner seems well-intentioned if self-interested, but the result achieves anything but the goal with mostly married men just looking for a good time while away from their wives, and the young women mostly resigned to their attentions in as far as they ensure a night out (those most vulnerable to such come-ons cruelly snubbed in a painfully awkward moment). The lie of Andula's romantic account to her roommate about her relationship with Tonda – and dissatisfaction hinted at with her flirtation with a local woodsman when Tonda does not show up to an assignation – is revealed when he comes demanding his ring (whether it is simply spurred by his discover that she no longer wears it or because he wants to give it to another girl since he has not been around in nearly a month), while a certain hypocrisy is exposed when "Comrade Governess" lectures the girls on "a girl's virtue" ("If you keep treating it the way you do, don't be surprised if boys treat you badly") as a preamble to a vote to expel Andula. Upon being invited to dinner by Milda's parents in his absence, Andula must then endure their assumptions about her while also realizing to her devastation that they are more or less true when Milda comes home and deservedly endure his parents' scorn while literally stuck between them (he did after all trick her into being more at ease with him on their evening together by telling her that he, like her, is a child of divorce). The ending finds her returning (presumably after groveling) to the factory and the dormitory, and telling a fanciful version of her relationship with Milda and his parents to her roommate.

Video


Released theatrically in the United States by Prominent Films and the United Kingdom by Contemporary Films with an X-rating, A Blonde in Love in its original theatrical cut running roughly eighty minutes – presumably also the length of RCA/Columbia 1984 U.S. VHS – while some home video editions reintegrated a deleted scene back into the picture bringing the running time up to roughly eighty-four minutes at 24fps as was the case with Criterion's 2002 DVD and Second Run's 2011 DVD (along with an English-friendly Czech DVD from 2004 but not MK2's French DVD). The new Czech National Film Archive 4K restoration presented on Second Run's 1080p24 MPEG-4 AVC 1.37:1 pillarboxed fullscreen Blu-ray represents the original cut (80:25), improving on the standard definition transfers with deeper blacks without losing detail in dark hair or flattening the image in some of the dark interiors like the hotel room shared by Andula and Milda (revealing some surprising but not graphic additional nudity beyond the bed scenes).

Audio


The sole audio option is an LPCM 2.0 mono track of a soundtrack that is rather undemanding, with clear dialogue, production audio effects, the title sequence's live song performance, and the dance hall source music mixed to intrude intermittently into the dialogue with choice lyrics. The optional English subtitles are free of errors and do a nice job of translating the pop song heard in the opening without introducing any anachronistic slang.

Extras


Whereas Second Run's DVD was barebones apart from a booklet, and Criterion had a different deleted scene (not included here) in the extras with a Forman interview, Second Run have upgraded their Blu-ray with some nice contextual features starting with The Projection Booth Podcast with film historian's Mike White, Samm Deighan, and Kevin Heffernan playable as a secondary audio track for the feature. Although recorded specifically for this release, it is not a scene-specific commentary but a casual and lively talk which includes discussion of how they each came across the film (of relevance due to the lack of visibility and difficulty of seeing the film and most other Czech New Wave films for a time), their reactions to the film in the context of their prior appreciation of Forman as an international mainstream filmmaker, his use of mostly non-professional actors (most of the factory workers were from the town in which they were filming and Milda's parents were people Forman approached on the street) including those who went onto to subsequent work, the film's social commentary, and its comedy. In "Life as It Is: Milo Forman on His Czech Films - Part 2" (26:40), Forman discusses the film and being invited to London to screen the film along with Pucholt who was unused to the luxuries afforded to them as guests, and the disastrous reception of The Firemen's Ball which was banned forever after the Soviet Invasion. He was facing debt and jail time for "economic damage to the state" when Carlo Ponti pulled financing, and a print had to be snuck into France for it to be screened by François Truffaut and Jean-Luc Godard who then convinced a distributor to pick the film up. He goes onto discuss the events of 1968 in Prague and then in Paris where he in solidarity removed the film from consideration at Cannes, and then his subsequent American film Taking Off, and how his attempt to get an extension on his work visa led to him being dropped by Barandov Studios (although he return there to shoot parts of the American/French/Czech co-production Amadeus). He also reveals that Pucholt left acting and went to London to work manual labor by day and study by night to get into medical school and that he now has a successful London practice. The disc also includes the film's theatrical trailer (1:46).

Highlighting the Forman interview an arrowing left accesses a deleted scene (5:14) that runs the same length as the Criterion extra but is different in content, representing the sequence in which Milda uses the pretense of teaching Andula self-defense techniques to get her into bed. This scene was integrated into the Criterion while their deleted scene featured Milda with a different girl and came from a print with burnt-in subtitles. Presumably the 24-page booklet featuring writing on the film by film historian Michael Brooke is identical to the earlier edition as its analysis mentions the self-defense scene which may be confusing to viewers if they do not find the Easter Egg first. The essay provides an appreciation and analysis of the film, the significance of the song lyrics heard in the film, the film's reception and its censorship issues abroad, as well as some of Forman's biography and filmography subsequent to the film and The Firemen's Ball.

Overall


Director Milos Forman's first film to achieve interantional exposure, A Blonde in Love, comes to Blu-ray from Second Run with some nice contextual extras.