The Film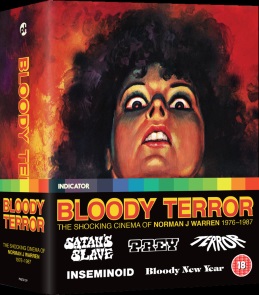 One of British genre cinema's most important and distinctive independent filmmakers, Norman J. Warren made a series of horror films which were at the forefront of a new wave in British horror during the 1970s. Reflecting a period of permissiveness and fearlessness, Warren's distinctive stylings are far removed from the Gothic conventions of Hammer Films, deliberately upped the ante in terms of sex, violence and gore to create a new breed of horror that was designed to shock for shock's sake.

Five of Norman J. Warren's horrifying chillers are presented here in new restorations and on Blu-ray for the very first time in the UK. Containing a wealth of new and archival extras – including new appreciations by contemporary British filmmakers, new cast and crew interviews, audio commentaries on all five films, rare short films, outtakes and alternative scenes, and making-of documentaries – this stunning Limited Edition box set is strictly limited to 6,000 units.

Video


A group of six friends fall afoul of a trio of funfair hooligans; they escape on a boat to an island offshore. The thugs follow but both groups have to contend with strange supernatural goings on in an old island hotel. It would seem that time has been displaced somehow and the hotel was frozen on new year's eve 1959.

Totally wacky, goofy little quickie made by Norman J. Warren under difficult circumstances and for what would seem to be a budget of tuppence. It looks magnificent considering this is from the only surviving film element and it was well shot to begin with on 35mm. The plot doesn't really hang together and hasn't been thought through very well but it's an agreeable set piece horror film in which a bunch of likeable twenty somethings get picked off by zombies, possessed corpses, poltergeists and other daffy shenanigans.

Certainly not the absolute turkey some would claim but also not likely to displace the likes of The Exorcist (1973), Halloween (1978) or Nosferatu (both 1922 and 1978) in the horror pantheon any time soon. Definitely a lesser effort from Warren but I probably enjoyed it more than Inseminoid (1980) which was much nastier, grottier and slicker affair.

The SPFX in this are pleasingly cheap but surprisingly effective with the mild gore and makeup being of the papier-mâché variety; it all has a certain energetic charm, but the plonky piano-electronic score is mostly poor. Very much one of those oddball little independent films that got lost on video back in the day but worth a look for those who're interested.

Shot on 35mm for seemingly the price of a lunch at McDonald's this is a surprisingly good looking film. Sadly, the OCN went AWOL or was accidentally destroyed years ago and as this went straight to video very few film prints were made. Happily, one of the very few has survived and has snatched Bloody New Year back from the brink of VHS-master oblivion; for an example of another film of similar budget and ilk see see also Night of the Demon (1979) which has no known surviving film materials, just old video masters locked in low grade standard definition.

Colours are string and candy-like with Norman still showing that he was influenced by
Suspiria (1977) at times; non signs of bleed although I did notice the odd change in density. Black levels are very healthy with plenty of shadow detail and only a small amount of crush in some of the darker moments which will mostly down to using a print source rather that the OCN or interpositive. Contrast is subtle and supportive with the restoration teams having done a good job of minimising a contrast heavy print. I could see no substantial blown out highlights. Detail is also strong as is grain which can be agreeably heavy at times. In any case, the top notch encode handles it all very well with no anomalies of corner cutting like clumping, digital splats or holes.

As good a transfer we are going to see shy of better film elements turning up and given an UHD Blu-ray release.

1080/24p / MPEG-4 AVC / 1.85:1 / 93:40

Audio


English LPCM 1.0
Subtitles: English HoH

Very solid mono track, especially given the limited resources and post production woes Warren had to face; he wasn't allowed to fine tune the film in the edit nor create the ideal sound-field for Bloody New Year. In any case, both Vinegar Syndrome and Powerhouse films have done a bang up job here. Plenty of range and boom; the subwoofer kicked in mildly at a couple of points. Dialogue was always clear and the indifferent score came off about as well as it could (Warren ain't happy with it either).

As is usual for Powerhouse Films, subtitles for the hearing impaired have been included and that is always a huge bonus in my book, bravo.

Extras


Audio commentary with director Norman J. Warren and film historian Josephine Botting

Superb commentary where it's very evident that Botting and Warren know each other well. They play off each other in so far as Botting jogging his memory and Josephine hath done her homework as regards the cast and crew. There's plenty of behind the scenes info and Warren politely pulls no punches about the troubled nature of the production and especially the post production; producer Maxine Julius comes in for almost all of the flak. Warren is especially good on the choice of locations, the geography of where each setup is in relation to other locations etc. Top notch track and one of the best, chattiest I've heard in a while. More commentaries with Botting please!!

"Norman's Wisdom: Norman J. Warren on Making it as a Director" 2019 featurette (28:01)

Solid overview of Warren's career and how he started out.

"New Blood: Catherine Roman on Bloody New Year" 2019 featurette (15:06)

Candid piece about how dancer-actor Roman got the plum role in Bloody New Year. She has mostly fond memories from that production and the cast and crew but she didn't like doing the Waltzer scene.

"The Art of Blood: Screenwriter and Set Dresser Frazer Pearce on Bloody New Year" 2019 featurette (14:28)

Pearce covers her career starting as a photographer when she met Warren who asked her to do stills on the sets of his films. She met her husband, producer Hayden Pearce (who sadly passed away in 2009) on the set of Terror (1978); she helped him create some convincing blood and their relationship went in from there. Lots of tales about how they came up with the concept of the snow scene, the creation of a fifties setting on a low budget and other stories of how they got production value for little money.

"Fights, Camera, Action!: Stuntman and Actor Steve Emerson on Terror and Bloody New Year" 2019 featurette (10:22)

A warmly nostalgic piece with Emerson discussing his love of cinema as a lad during the war and how he got into doing stunts on Lorna Doone (1963 TV) with actor Bill Travers, his time on The Saint (1962-68) and working with star stuntman Peter Diamond. He first worked with Warren on Terror (1978). Interesting is the tale,about how he got the job on Bloody New Year and his two accomplices acting and stunting.

"Working with Warren: Yixi Sun Talks About Norman J. Warren" 2019 featurette (10:09)

London-based Chinese film maker from Beijing discusses how she came to work with Warren. He was invited to see a Chinese film by Sun and they then discussed her time in London up the then which was arduous. Sun feels that Warren is an auteur in that you can always tell it's his film despite them being very different in others. Satan's Slave is her favourite. She then discusses Warren's very calm, laid back way of working; Warren produced her film Susu (2018).

Turn Off Your Bloody Phone:
- Turn Off Your Bloody Phone: Norman J. Warren and the Ghost" 2013 short (0:48)
- Play with Bloody New Year (94:28)

Amusing short piece created for Frightfest which can be played separately or before the film itself.

Original Trailer (2:08)

Cheestastic trailer plays all,the highlights and just makes the film look fun.

Bloody New Year Image gallery: Original Promotional Material (18 images)

Solid HD gallery of 8mages.

118-page liner notes book with new and vintage writing in all five films in the set

Holy zarking fardwarks!

A ball-bustingly good extra 118 pages on Norman J. warren and his most popular films. Never a critical darling this is as good a collection of essays and material as I've read on a film maker and bless Powerhouse and all those responsible for giving Warren his due. There aren't many books out there about Warren and his work and this superb tome goes some way towards redressing the balance. Perhaps Jo Botting and Katt Ellinger can take up the gauntlet?

Packaging


Standard keepcase inside a hard card box.

Overall


Vinegar Syndrome in the US started the ball rolling by restoring the only surviving 35mm print and Powerhouse Films then built on their already great work to create the definitive edition of this charmingly goofy little gem. Picture is hindered by the odd bit of damage and some chemical staining but those readers who've got the Arrow Nightmare City (1980) Blu-ray can be rest assured the damage is nowhere near as obvious or as disruptive. Sound is robust and gets the job done very well. Extras are first rate and thoroughly comprehensive, especially considering how unloved this film is.

For my money, Bloody New Year is ripe for rediscovery as a great midnight, party film with many potentially wonderful ... and disabling drinking games to be had.
| | | | | |
| --- | --- | --- | --- | --- |
| The Film: C | Video: A | Audio: A | Extras: A+ | Overall: A+ |