Professor (The)
R2 - United Kingdom - Signature Entertainment
Review written by and copyright: Rick Curzon (12th August 2019).
The Film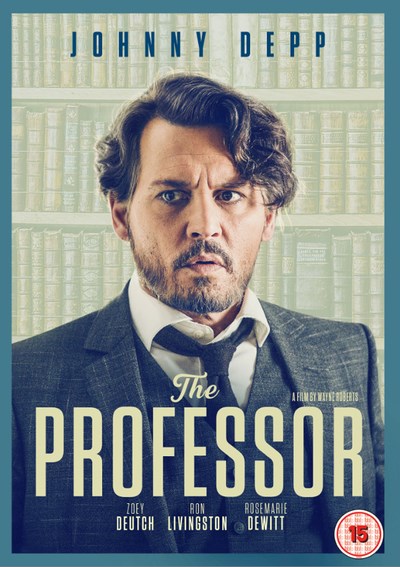 Johnny Depp finds the role of a lifetime in the hilarious, boundary-pushing and heart-breaking THE PROFESSOR. Depp plays Richard, a buttoned-down college lecturer, whose life is turned upside down after learning he has six months to live. To the shock of his wife (Rosemarie DeWitt: La La Land, Mad Men) and school chancellor (Ron Livingston: The Conjuring, Swingers)- and the delight of his students--Richard embarks on a hilarious crusade against authority and hypocrisy, with sex, drugs and bad behaviour galore in this dark comedy co-starring Zoey Deutch (Set it Up).

Video


I was very surprised to find that The Professor (2017 but only seeing release belatedly) has not been well received. I had an obligation to review it due to being sent the disc by those fine folks at Signature Entertainment and having never heard of the film wasn't really sure what to expect and reading the blurb wasn't enthused ... if I'm honest.

However, within ten minutes I was hooked and really got into it's funny but melancholy groove. The performances could not be bettered and it's reassuring that Depp is still making small, intimate films like this that just don't get the splash. Although everyone is very good here (especially Depp), mention must go to Danny Huston as Depp's best friend and Rosemarie DeWitt as his estranged wife.

Every time the script starts to get maudlin or sentimental the film always manages to kick it in the balls with a touch of humour, usually rude and irreverent. If I had to pick any fault it would he in the character of the university's dean (Ron Livingston) who is set up as the villain here and a bit under written as a cornball dick. This does undermine it's overall effectiveness and there are one or two bits towards the end where it does succumb but when it's this well acted and directed, why carp.

Visually the film is very strong with a warm palette throughout favouring the browns and reds of it's traditional academic backdrop. Black levels are very nicely handled being deep and rich; contrast is subtle and supportive. The film is mainly set in interiors and as thus is overall rather dark. Now, this you'd think would prove problematic for the standard def codecs to deal with but it does so pretty well. There's the odd moment of crush that was probably not intended but I find that digitally shot productions like this have that issue when down converted to standard.

Grain isn't really present, certainly not in the standard def rendering here and I couldn't detect any digital artefacts or other problematic garbage. It is what it is: a generally well handled standard def rendering, no better no worse.

It's a great shame that it hasn't been afforded a Blu-ray release because the film deserves it and has great production design and set dressing and the cinematography will shine with added depth and detail.

PAL / 1.85:1 / 87:11

Audio


English Dolby Digital 5.1
English Dolby Digital 2.0 Stereo
Subtitles: None

Two standard options, both decent but they're lossy so lack fine detail and depth with the 5.1 obviously coming off best. But, the nature of the film being what it is the soundtrack only really needs to ensure the dialogue is front and centre and it is. The surrounds are used mainly for the score but there is some nice, subtle uses of ambiance. I found that to hear this properly I had to turn the volume up considerably but I do find that many DVDs have this problem.

As this is a very dialogue orientated piece it's all the more disappointing that there are no subtitles.

Extras


Startup Trailer:
- The Captor (2:06)
- Arctic (2:13)

Nowt. A real shame because the film is really interesting and enjoyable.

Packaging


Standard DVD Keepcase.

Overall


A very enjoyable comic-tragic character piece gets solid, adequate handling in standard on DVD from Signature Entertainment. Picture and sound are as good as can be given this state of affairs. Extras are non existent which is a shame.
| | | | | |
| --- | --- | --- | --- | --- |
| The Film: B | Video: B- | Audio: B- | Extras: E | Overall: C+ |

---
DVD Compare is a participant in the Amazon Services LLC Associates Program and the Amazon Europe S.a.r.l. Associates Programme, an affiliate advertising program designed to provide a means for sites to earn advertising fees by advertising and linking to amazon.co.uk, amazon.com, amazon.ca, amazon.fr, and amazon.de.