The Film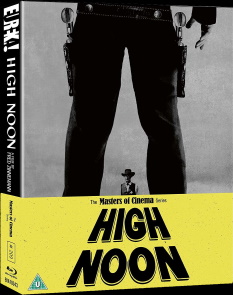 Oscar (Best Actor in a Leading Role): Gary Cooper (winner), Best Film Editing: Elmo Williams and Harry Gerstad (winner), Best Music, Original Song: Dimitri Tiomkin and Ned Washington (winner), Best Music, Scoring of a Dramatic or Comedy Picture: Dimitri Tiomkin (winner), Best Picture: Stanley Kramer (nominee), Best Director: Fred Zinnemann (nominee), and Best Writing, Screenplay: Carl Foreman (nominee) - Academy Awards, 1953
Golden Globe (Best Actor - Drama): Gary Cooper (winner), Best Supporting Actress: Katy Jurado (winner), Best Original Score: Dimitri Tiomkin (winner), Best Cinematography – Black and White: Floyd Crosby (winner), Best Motion Picture - Drama (nominee), Most Promising Newcomer - Female: Katy Jurado (nominee), and Best Screenplay: Carl Foreman (nominee) - Golden Globes, 1953

On the Sunday morning that Marshal Will Kane (Mr. Deeds Goes to Town's Gary Cooper) is surrendering his badge to wed Amy Fowler (Rear Window's Grace Kelly) and depart to run a general store in another town, he receives word that Frank Miller (Johnny Guitar's Ian McDonald), a man he put away five years ago for murder whose sentence was commuted by the state, has been pardoned and that the surviving members of his gang – younger brother Ben (Silverado's Sheb Wooley), Jack Colby (The Good, the Bad, and the Ugly's Lee Van Cleef), and Jim Pierce (The Magnificent Seven's Robert Wilke) – have ridden into town and are awaiting his return at the train station. His friends encourage him to leave as quickly as possible and leave Miller to the new marshal who will be arriving the next day. With a new bride to consider, Will rushes off with Amy but realizes that he cannot run away, that Miller and his gang would just follow them wherever they went, and the town is now endangered regardless of whether he leaves or stays. A Quaker with an aversion to violence after the murders of her father and brother, Amy decides to board the noon train and leave Will behind. Idealistic Will believes he can form a posse to deal with Miller and his gang but finds only one volunteer in Deputy Sheriff Herb Baker (Winchester '73's James Millican) who is not so willing when he learns that he is the only one. Sore over not being selected to succeed Will, Deputy Harvey Pell (Airplane!'s Lloyd Bridges) offers to take his place as Marshal and deal with Miller in turn for Will backing him in filling the position permanently, but Will refuses to buy his support and Harvey quits. Will seeks out support at the saloon only to discover that those who formed the original posse that helped him capture Miller are afraid while the other half of the denizens are Miller's friends. While waiting for the train at the local hotel, Amy learns that widow Helen Ramirez (The Fearmaker's Katy Jurado) was not only Miller's mistress but subsequently Will's, and that she too plans to leave on the noon train. Will seeks help from the town at the church but only discovers fear from some and self-interest from the ones who at first seem to support him, and must in spite of his fear face down Miller and his gang all alone.


A shoestring budgeted, sub-ninety minute Hollywood western shot in black and white largely on the Columbia Pictures backlot with little action, High Noon was thrown together to fulfill a contract between United Artists and independent producer Stanley Kramer (Judgment at Nuremberg) with aging star Cooper taking a significantly lower than usual salary. Upon release, however, it was an instant success and winner of four Academy Awards, and has since become regarded as one of the best westerns ever made and even among the best pictures ever in spite of the behind the scenes controversies that have also informed some of the more dissenting opinions of the film. Writer Carl Foreman (The Guns of Navarone) had nearly completed the screenplay when he saw parallels in the actions of the House Un-American Activities Committee and the Red Scare (he would eventually be blacklisted as an "uncooperative witness" for refusing to name names), and rabid anti-Communist John Wayne (Stagecoach), who had turned down the lead before Cooper, saw the film as anti-American and mounted Rio Bravo with Howard Hawks in response. On the other hand, the ways in which the film might be considered an anti-western may be the most satisfying for viewers who look for more depth and nuance in character and conflict. Will's convictions war with his fear, and he does consider running even without prompting from others, and it is refreshing to see a faction of a town not glad when a good man comes in and straightens everything out. Indeed, very few in the town come across well even among the respectable – even those who seem to side with Will in arguing that Miller is their problem because it is their town are as willing to pass the buck as those who argued that it is the job of the Marshal to handle it – when Will's best friend (M*A*S*H's Harry Morgan) hides from him, the judge (Dracula's Daughter's Otto Kruger) who sentenced Miller has fled town, his mentor the previous Marshal (The Wolf Man's Lon Chaney Jr.) has given over to cynicism, and the only unwavering volunteers are a fourteen year old boy and an alkie with bad eyes. The female characters are refreshingly defiant, with Amy having her own convictions, a woman speaking up about how it was not safe for women or children before Will came along, Sam's wife (Three in the Attic's Eve McVeagh) not wanting her husband to join Will's posse but losing respect for him when he hides and has her tell Will he is not there, and finally Jurado's Helen who expects Miller to kill Will but tells Harvey while dressing him down that when Will dies so too will the town that has forsaken him. Composer Dimitri Tiomkin's Oscar-winning "The Ballad of High Noon" sung by Tex Ritter conveys the film's themes and repeatedly underlines them as a recurring element low on the soundtrack after being heard in full.

Video


Released theatrically in the United States and the United Kingdom by United Artists, High Noon eventually wound up with Republic Pictures who released the film on VHS while Criterion released the film on laserdisc twice in the eighties followed by a Republic laserdisc in the early nineties. Stateside, Artisan released the film twice on DVD through their deal with Republic – including a 1998 standard edition with a 1992 Leonard Maltin-hosted making-of featurette and a 2002 special edition featuring a commentary by Cooper's daughter Maria-Cooper Janis, screenwriter Foreman's son Jonathan Foreman, director Frank Zinnemann's son Tim Zinnemann and singer Ritter's son John Ritter, as well as additional featurettes as well as an "enhanced" Dolby Digital 3.1 track. When the Republic library was sold to Paramount, the film was issued again by Lionsgate as a two-disc set that carried over the commentary and featurettes while adding a couple more. The United Kingdom only received a single Universal Pictures edition with the Maltin featurette. Olive Films made a deal with Paramount in time for a 60th Anniversary Edition featuring a high-definition transfer and the Maltin featurette, which they upgraded four years later with a Signature Edition from a new 4K master with brand new extras. Eureka's 1080p24 MPEG-4 AVC 1.37:1 pillarboxed fullscreen Blu-ray comes from the same 4K remaster and looks completely free of blemishes while retaining the predominantly gray look of the film in which the whites and blacks of Cooper's wardrobe stands in stark contrast to the settings while the grain of Floyd Crosby's photography is well-resolved without becoming noisy in the harsh shadows of the sunbaked settings and squinting faces.

Audio


As with every release since the Lionsgate edition, Eureka dispenses with the "enhanced" track – High Noon was issued theatrically in mono only without any stereo playdates – in favor of the mono original in LPCM 2.0. The track is so clean that the lurching percussion of Tiomkin's ballad does not at first register as music and may be mistaken for atmospheric sounds, and the track conveys clear dialogue and effects while also drawing attention to the more understated uses of music in the film including places where the ballad turns up again if only for a few moments. Optional English HoH subtitles are included.

Extras


In place of the earlier commentary is a pair of new tracks. The first is an audio commentary by historian Glenn Frankel, author of "High Noon: The Hollywood Blacklist and the Making of an American Classic" who frames the discussion of the film within the contradictions of its making and reception, interpretations of an allegory for the Korean War and/or the Red Scare, Foreman's story and screenplay, the John W. Cunningham short story that Kramer purchased for security because of basic similarities, Foreman's blacklisting, the perspectives of Kramer and Zinnemann that the was not political, and John Wayne's reaction to the film while still accepting Cooper's Oscar in his stead. The discussion is comprehensive but feels a little unfocused because he jumps between production anecdote, analysis, and the social contexts of the film's production and reception. The audio commentary by western authority Stephen Prince feels more focused as Prince covers a lot of the same material while using the film's structure as the framework for his talk, noting the removal of a lot of extraneous information in the editing – like establishing Will's friends during his wedding in favor of letting his subsequent interactions with them stand on their own – and even makes the reasoned argument for a "Masters of Cinema" title that High Noon is not an "auteur film" but truly the collaborative work of Foreman, Zinnemann, cinematographer Crosby – who had worked with Zinnemann's mentor Robert J. Flaherty (Tabu: A Story of the South Seas), and editor Elmo Williams (20,000 Leagues Under the Sea). Also available as an alternate audio track for the first 76:46 of the film is a 1969 audio interview with writer Carl Foreman from the National Film Theatre in London who went to England in search of work after being blacklisted. The wide-ranging discussion includes his Hollywood and British work as well as the differences in writing for and about America and then having to learn to write for the widest possible audience for the world market.


Also new is an interview with film historian Neil Sinyard, author of "Fred Zinnemann: Films of Character and Conscience" (29:35) that rehashes some of the same narrative of the film's origins but also brings us discussion of Zinnemann's intent with Crosby's photography to create a sort of gray, newsreel quality "documentary of the American West" in contrast to the John Ford westerns of the time, his visual strategies for the film, as well as controversy over just who is responsible for the end product, with Zinnemann claiming that the film differs little from what was shot while editor Williams claimed to have saved the film in editing. Sinyard provides some additional discussion of Williams' editing, including a sixty-six minute cut he found most satisfactory as well as his choice to score the sequences preceding the tolling of noon with silence which was overruled by Zinnemann and Tiomkin. "The Making of High Noon" (22:11) is a 1992 documentary hosted by critic Leonard Maltin featuring contributions by Foreman, Kramer, and Zinnemann as well as cinematographer Crosby's singer son David Crosby. "Inside High Noon" (50:11) is a 2008 documentary narrated by actor Frank Langella (The Ninth Gate) featuring comments by Cooper's daughter Maria-Cooper Janis, screenwriter Foreman's son Jonathan Foreman, director Zinnemann's son Tim Zinnemann – who all appeared on the Lionsgate DVD commentary, while "Behind High Noon" (9:48), a 2007 featurette featuring rehashed footage and remarks from Cooper's daughter and others first heard in the aforementioned featurette. Also included is the theatrical trailer (2:17). The limited edition first pressing houses the disc case in a hardbound slipcase with a 100-page collector's book featuring:
- "The Tin Star" original 1947 short story by John W. Cunningham
- "The Power and the Politics of High Noon" by Philip Kemp (2019)
- Review of High Noon" (retrospective) by Richard Combs (1986)
- "When the Big Hand is on the Twelve... [or 7 Ambiguities of Time]" by Richard Combs (1986)
- "Carl Foreman versus John Wayne" by Carl Foreman (1974)
- Artwork Gallery
- Viewing Notes
- Production Credits & Special Thanks.

Overall


One of the true milestones of the Hollywood Western gets true signature treatment in the United Kingdom.