Escape Plan: The Extractors AKA Escape Plan 3 AKA Escape Plan 3: Devil's Station (Blu-ray) [Blu-ray]
Blu-ray B - United Kingdom - Signature Entertainment
Review written by and copyright: Rick Curzon (15th August 2019).
The Film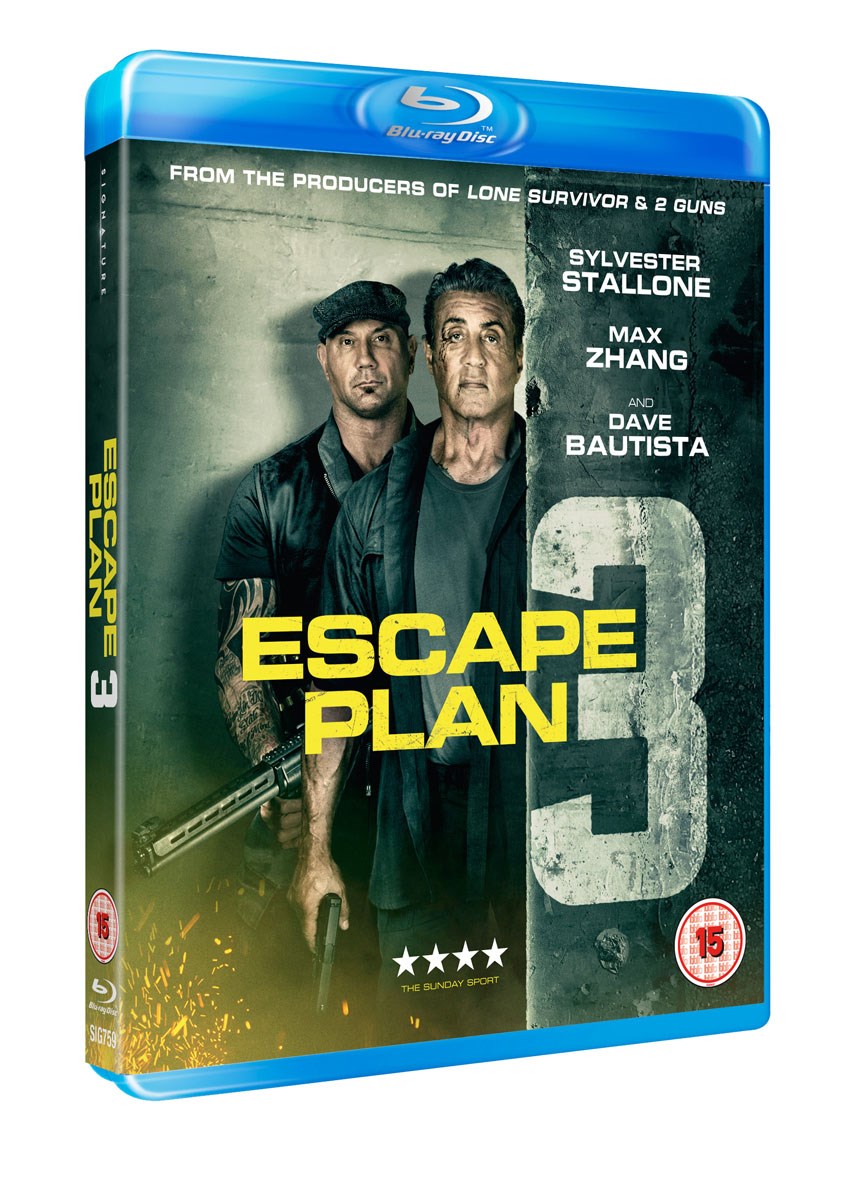 The third and final instalment of the unstoppable franchise, Escape Plan 3 sees screen legend Sylvester Stallone (The Expendables) kick this explosive action tale into high gear. After security expert Ray Breslin (Stallone) is hired to rescue the kidnapped daughter of a Hong Kong tech mogul from a formidable Latvian prison, Breslin's girlfriend (Jaime King: Sin City) is also captured. Now he and his team, including Trent DeRosa (Dave Bautista: Guardians of the Galaxy) and (Curtis "50 Cent" Jackson: Power) must pull off a deadly rescue mission to confront their sadistic foe and save the hostages before time runs out.

Video


Escape expert Ray Breslin (Sylvester Stallone) gets involved in rescuing a Chinese business mogul's (Russell Wong) daughter (Malese Jow) when she's kidnapped by the vengeance-seeking son (Devon Sawa) of a deceased former associate of Ray's (in the first film).

Along for the ride are two Chinese security agents (Zhang Jin, Harry Shum Jr.) and Ray's associates (Dave Bautista, Fifty Cent). The goons have also grabbed Ray's girlfriend (Jaimie King) and really pissed him off royally!

Like the second film in the series (also 2018, which I haven't seen) this has been sent straight to video in the US and UK. Also like the second film (with which this was shot back to back) this went to cinemas in Russia and China.

A solid actioner of the kind we've come to expect from Stallone these days; not quite up to the first Escape Plan (2013), nor as much lively fun as The Expendables films (2010-14) which had more humour. But, it doesn't have the same levels of cheese we saw in the likes of Rambo: First Blood, Part 2 (1985), Rambo III (1988, The Specialist (1994) or Cliffhanger (1993).

Characterisation is more solid and it's competently directed by John Hertzfeld. An agreeable time killer and good fun for fans of Stallone who just want to see him kick the seven bells of shit out of scummy villains. For some strange reason it's been retitled Escape Plan 3 when it's known everywhere else under the above title.

Signature Entertainment has issued this digitally shot production in both DVD and Blu-ray (hereafter referred to as BD) flavours for the UK market.

The colour palette favours blues, yellows and greens and is generally in the more desaturated end of the market. Flesh tones are naturalistic on both formats with BD being more substantial. Much of the action takes place in offices, rooms and in stoney prison backdrops. I didn't see all that much in the primary end of the spectrum obviously the DVD being a bang-up to date release manages to give a good account of itself without being top drawer. Detail is present but obviously fuzzy and limited when compared to the sharper BD which has much more texture and grain, although being digital the latter is limited when compared to a celluloid source.

Black levels are deep and satisfying but some mild crush does creep in on the DVD which is better resolved with better shadow detail on the BD. Contrast is supportive and noticeably better in scenes saturated in colour gels / washes (mainly yellow).

Overall this isn't going to win any awards on either format but obviously the BD is the way to go for the more technically minded and dedicated; DVD is for the casual purchaser. A more colourful choice of palette during production and post production would've made a much visually arresting final product. Both formats are single layered and as such suffer mildly when compared to dual layered releases of similar length with even greater bitrates. Encoding is good on both although the superior codecs of the BD format ensure no mild artefacting when compared directly to the softer DVD.

1080/24p / MPEG-4 AVC / 2.4:1 / 97:21
PAL / 2.4:1 / 93:22

Audio


Blu-ray
English DTS-HD Master Audio 5.1
English DTS-HD Master Audio 2.0 Stereo

DVD
English Dolby Digital 5.1
English Dolby Digital 2.0

Both
Subtitles: English HoH

Firstly, subtitles are essential; at least in my humble view and both formats have them and do their job well. It's surprising the number of releases I see where they aren't present and Signature Entertainment can be very guilty of this; I hope moving forward subs will be included on ALL releases from now on.

This is a modern action flick and as such it gets a great audio track. Filled with plenty of great surround action and the subwoofer kicks in regularly. It's sad to think that the second film in this franchise and this third didn't theatrical issue all over the world (just in Russia apparently) because this third one is very entertaining and the kind of fare that just twenty years ago would've played in multiplexes.

Dialogue is front and centre and never hard to hear, the score, and sound effects own the surround and front left and right channels. Plenty of depth, especially in the lossless track on the BD, but the lossy version is no slouch for it's format either. No distortions nor other issues rear their head and both gave a grand sonic experience with the BD obviously taking first chair and making my wife upstairs bang in the floor!

Extras


Blu-ray
"Making Escape Plan: The Extractors" featurette (10:01)
Startup Trailers:
- Kursk: The Last Mission (1:21)
- Night Hunter (2:32)

DVD
"Making Escape Plan: The Extractors" featurette (9:36)
Startup Trailers:
- Kursk: The Last Mission (1:21)
- Night Hunter (2:26)

Nothing worth mentioning. Where's the commentary with John Hertzfeld (director) and Devon Sawa (actor) found on the US release?

Packaging


Standard keep cases for both, black for DVD and clear blue for the Blu-ray.

Overall


An entertaining franchise action flick gets a virtually barebones release from
Signature Entertainment. The DVD does a good job rendering the digital source but obviously the Blu-ray is far superior and is much closer to the original interns of detail and resolution. Neither is top notch for each format but by the same token neither is a slouch. Extras are very disappointing with a basic featurette and some startup trailers for other releases. For some reason the director-actor commentary available on the US discs has been dropped.

For fans these releases will appeal to the casual, opportunistic fans just passing by but the more dedicated will ignore and go for the superior US version.
| | | | | |
| --- | --- | --- | --- | --- |
| The Film: C+ | Video: A | Audio: A+ | Extras: E | Overall: B |

---
DVD Compare is a participant in the Amazon Services LLC Associates Program and the Amazon Europe S.a.r.l. Associates Programme, an affiliate advertising program designed to provide a means for sites to earn advertising fees by advertising and linking to amazon.co.uk, amazon.com, amazon.ca, amazon.fr, and amazon.de.