The Film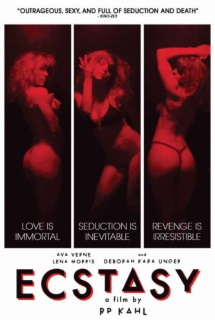 German Film Critics Award (Best Film Score): Matti Gajek and Sebastian Szary (nominated) - German Film Critics Association Awards, 2019
Young German Cinema Award (Best Production): Rolf Peter Kahl and Torsten Neumann (nominated), Screenwriting: Rolf Peter Kahl and Torsten Neumann (nominated), Acting: Ava Verne (nominated), and : Lena Morris (nominated) - Munich Film Festival, 2017
Grand Prize: Rolf Peter Kahl and Torsten Neumann (nominated), Jury Price (Best Director): Rolf Peter Kahl (nominated), Best Script: Rolf Peter Kahl and Torsten Neumann (nominated), Best Actress: Ava Verne and Lena Morris (nominated), Best Actor: Rolf Peter Kahl (nominated), Best Cinematographer: Markus Hirner (nominated), Best Music (nominated), and Best Actress: Deborah Kara Unger - Tallinn Black Nights Film Festival, 2017

Twenty-two years ago, German engineer Frank Patrick (writer/director Rolf Peter Kahl, Angel Express) came to Los Angeles and had a whirlwind love affair with a girl name Marie in the Mojave Desert. He has returned to Los Angeles to propose the erection of a desalinization plant but also to find Marie again after discovering himself a character in a memoir titled "LA Desert" by someone named Ross Sinclair who he believes to actually be Marie. He contacts the publisher who sends him to an acquaintance of Sinclair's in Liz Archer (Crash's Deborah Kara Unger, who also produced) who claims that Sinclair is not Marie and the story is entirely fictional. Frank refuses to believe this, but that appears to have been the intent of Liz and her co-conspirator who know that he will follow the path of the novel. He first comes across an abandoned desert bunker which was the scene in the novel of a series of encounters featuring Marie and masked clients filmed for their protection and hers, doubling as privately-commissioned underground pornographic films. Frank finds in her place prostitute Nina (Ava Verne) enacting the same sort of videos and only willing to entertain his inquiries as a customer. As Frank endeavors to learn more of Marie's whereabouts and what became of her, he agrees to work for Nina and a woman who looks vaguely like Marie (Lena Morris) photographing their encounters while trying to discover the identity of the mysterious lover Marie mentioned in the book who was intensely jealous of Frank and may have been responsible for the path of Marie's degradation and Frank's own as he becomes possessive of Nina and jealous of her clients.

A David Lynch-influenced road movie of a sort, Ecstasy, or A Thought of Ecstasy as it is known abroad, is deliberately contrived in its plotting but a handful of explicit sex scenes and the mythic resonance of its climax may not be worth the protracted ninety minutes of droning music, contemplative desert shots, and uneven performances. Whether Kahl dubs himself in the German version of the film or shots English and German takes of his dialogue, his English performance is so monotone it is off-putting – Kahl has been acting constantly and directing intermittently since the nineties in German film and television while his more recent directorial efforts have consistently veered towards the erotic including the provocative Bedways – and the German track/version might just be more preferable despite the loss of Unger's performance if Verne and Morris sound more naturalistic than on the English track where they both sound as though they have been dubbed by Siri- or Alexa-type AI technology (in some cases where their exchanges become voiceovers, they sound like more like an overdub track), which may speak of an erratic post-production that also has Kahl utilizing American expatriate Buddy Giovinazzo (Combat Shock) as the voice of a news radio presenter (his years in Germany showing in his own accent and ringing false for the supposed Southern California radio DJ dialogue). The stark desert visuals and found locations are attractive but really no more novel than those of Twentynine Palms, another visualization of the California desert landscapes visualized by a European filmmaker, and the film may perhaps best be appreciated more as an art installment than a salacious or intellectual thriller.

Video


Already available in Germany on Blu-ray, Ecstasy's HD, digitally-graded visuals are well-represented in Strand's high bitrate, progressive, anamorphic standard definition DVD presentation. A 1080p presentation might eke some additional detail from the interior shadows and better delineation of detail from some saturated red gel-lit scenes, less so in the grabbed Los Angeles neon-lit street montages, but intrigued stateside viewers are recommended to sample this more accessible release or one of Strand's streaming venues before splurging on the import.

Audio


The sole audio option is the English Dolby Digital 5.1 track which includes opening and closing German voiceovers from star/director Kahl. The 5.1 mix is generaly front-oriented, especially as the film becomes more claustrophobic, with the score reaching the surrounds more so than the sound design. Optional English subtitles are available only for the German dialogue.

Extras


Although the import has a German-language commentary and interview, Strand's DVD only has the film's theatrical trailer (1:47) and trailers for four other titles including Kahl's Bedways.

Overall


Ecstasy, or A Thought of Ecstasy, may perhaps best be appreciated more as an art installment than a salacious or intellectual thriller.