The Film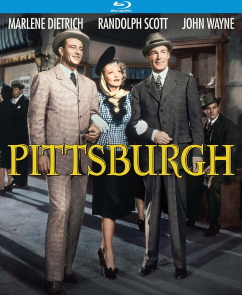 In post-WWI Pittsburgh, brash Charles "Pittsburgh" Marvin (Stagecoach's John Wayne) and his long-suffering best buddy Cash Evans (Murders in the Zoo's Randolph Scott) eke out a living digging coal in the Wilson Colliery, dreaming up big plans for the future, avoiding their landlady, faking illness to wheedle some contraband rotgut from the mine's scientist Doc Powers (Barbary Coast's Frank Craven), and conning local tailor Shorty (The Strange Case of Doctor Rx's Shemp Howard) out of a new suit for a night on the town. When Shorty denies them credit, Pitt hits upon the idea to pay off their debts by taking advantage of the promotion of one hundred dollars for three minutes in the ring with boxer Killer Kane; however, he actually volunteers Cash for the fight while he flirts with the "Countess" Josie Winters (The Blue Angel's Marlene Dietrich) who is on the arm of Kane's promoter Frawley (Cat-Women of the Moon's Douglas Fowley). When it seems like Cash is about to win, Frawley tries to cheat and gets into a punch-up with Pitt which precipitates a brawl. Pitt and Cash escape with the money but learn of a collapse at the mine and steal Brawley's Rolls Royce without realizing that Josie is in the back seat. Josie surprises Pitt and Cash by going below ground with them to aide in rescuing Doc Powers, revealing that she is the daughter of a coal miner who was killed in a collapse years ago – earning her the affectionate nickname of "Hunky" (an ethnic slur directed at Austro-Hungarian immigrant laborers) – reaching for the stars in any way she can to rise beyond childhood poverty. While Pitt believes that Josie has gone off to the big city in spite of their passionate kiss, he soon discovers that the real reason Cash has been keeping convalescing Doc Powers' company in the evenings is that Josie has also been a regular visitor to the older man. Pitt makes overtures at Josie again, but she thinks he is all talk in spite of his ambitions, but forces his hand by quitting the mine on his behalf. Pitt ropes Cash in on his new plan: offering steel mill owner Prentiss (You Can't Take It with You's Samuel S. Hinds) the opportunity to cut his operating costs by delivering coke to the mill rather than processing it on site, which also cuts the cost of delivery; however, they have neither a mine nor manufacturing material. In spite of Cash's misgivings about fraud ("Sing Sing, here we come!"), Pitt forges Prentiss' signature on a contract in order to convince Wilson (The Man With Nine Lives's John Dilson) to invest in the materials for a cut of the profits. When they open their first colliery, Pitt and Cash vow to use their cut of the profits to take care of the workers, giving them a living wage rather than the six cents raise union leader Joe Malneck (Key Largo's Thomas Gomez) was trying to get out of Wilson, as well as to fund Doc Powers' experiments with coal tar derivatives as a medical miracle. Pitt makes Josie an unofficial third partner but, as the business quickly expands, it is not just work that keeps Pitt away from social occasions (including his own birthday), and she ends up spending more time with Cash who is falling in love with her. Although Josie has started to return Cash's affections, she is still shocked when Pitt reveals that he has married Prentiss' daughter Shannon (Son of Dracula's Louise Allbritton), and disgusted when he claims to have done it for the business and wants to continue seeing her. Pitt's ambitions towards high society and pleasing his investors clash quickly with the promises made to the workers, and Cash is caught in the middle. When Pitt pushes Wilson out of the operation, it seems fitting, and Cash quits of his own accord before Pitt can push him out; however, when Pitt breaks his promises to Doc Powers to fund his research and double crosses the workers, Cash decides to have it out with Pitt once and for all. Josie is afraid for both of the men in her life, and a subsequent tragedy causes an irrevocable rift between the two former friends at a time when the entire country needs to come together.

Energetically helmed by Universal contract director Lewis Seiler (Charlie Chanin Paris), Pittsburgh is a piece of wartime filmmaking emphasizing the work done by men and women in the factories stateside for the men overseas, and the war effort as the catalyst for people to set aside their differences and come together. Although Wayne is the main character, he is billed third since Scott was a Universal contract player since the early thirties and the studio was trying to keep the momentum of Dietrich's comeback stemming from their successful western Destry Rides Again. Perhaps because the story arc is Pitt's redemption after forgetting "to be human," Wayne is quite effective here both at his slimiest and most callous, as well as when he is broken. Dietrich has little to do here since the rift is between the two men, while Scott comes across best since the script requires his character to be the polar opposite of everything attributed to Wayne's Pitt in an almost mathematical configuration. It is indeed a weakness of the film that it is framed as a flashback and incessantly narrated by Craven's Doc character – to the audience though addressed to Pitt as a lesson that "the most important word in any man's language is: partners" – that the performers sometimes seem to be reacting more to the narration doing much of the heavy-lifting than to each other, but the lead trio are still charismatic and there are some welcome supporting cast faces including a brief bit by The Three Stooges' Howard, Universal regulars Nestor Paiva (Creature from the Black Lagoon) and Harry Cording (Tower of London), as well as typecast serial cowboys/stuntment Bob Reeves (The Lonesome Trail) and Tom Steele (Silver City Kid). Also dependable behind the scenes are contributions of Universal contract technicians including cinematographer Robert De Grasse (The Body Snatcher) – soon to go over to RKO – composers Hans J. Salter (The Wolf Man) and Frank Skinner (Harvey), Dietrich's gowns by Vera West (The House of the Seven Gables), and some unconvincing but then state-of-the-art photographic effects by John P. Fulton (Vertigo).

Video


Released theatrically by Universal and reissued a handful of times in the fifties by Realart, Pittsburgh failed to garner a home video release until the early nineties when it was issued on VHS by MCA and on a laserdisc double feature with Seven Sinners. The film first appeared on DVD in 2006 on Universal's five-film, two disc John Wayne: An American Icon Collection followed by an individual DVD-R edition as part of the Universal Vault Series. While the out of print icon collection set was not expensive, a better deal for DVD viewers came last year with the five-disc, ten film set John Wayne 10-Movie Collection . Opening with windowboxed credits and windowboxing for a couple newspaper headlines, Kino Lorber's 1080p24 MPEG-4 AVC 1.37:1 pillarboxed fullscreen Blu-ray obviously comes from a DVD era master but the blacks remain deep and the image looks reasonably sharp for the era even when zoomed in.

Audio


The sole audio option is a lossless English DTS-HD Master Audio 2.0 mono track in which dialogue is always intelligible, the music is unobtrusive, and the silences are relatively hiss-free. Optional English SDH subtitle are included.

Extras


The only extras are an animated image gallery (6:06), theatrical trailer (2:05), and trailers for other Kino Lorber releases.

Overall


Simplistically-plotted but energetically directed, Pittsburgh retains intereste thanks to welcome turns by the trio of Dietrich, Scott, and Wayne.