The Film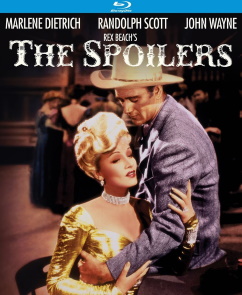 Nome, Alaska 1900: Alaska during the gold rush is a lawless frontier in which claim jumpers and corrupt officials can seize control of tapped mines by filing papers falsely stating that they found the mine first. When Flapjack Sims (The Grapes fo Wrath's Russell Simpson) is a victim of such swindling by claim jumpers Clark (Death Rides the Plains's Ray Bennett) and Bennett (Shadow of Chinatown's Forrest Taylor), saloon owner Cherry Malotte (The Scarlet Empress's Marlene Dietrich) at first believes that the new gold commissioner Alexander McNamara (Ride the High Country's Randolph Scott) might legality to the land even if he helps Flapjack out of his own interest in Cherry. The town's biggest mine belonging to Roy Glennister (True Grit's John Wayne) and Al Dextry (Angela and the Badman's Harry Carey) has been under constant threat since the two have been in the United States. When they return in the company of Helen Chester (Scarlet Street's Margaret Lindsay), niece of Judge Stillman (It's a Wonderful Life's Samuel S. Hinds) who is bringing law and order to the territory, Cherry has her reservations about the close acquaintance of the judge and McNamara. Clark and Bennett file a claim on Glennister's and Dextry's mine and it is put in trust to McNamara until Stillman's hearing, and Al wants to fight with guns but Roy put his faith in the system. Cherry warns Roy that she thinks McNamara and Stillman are planning to steal the twenty-five thousand dollars in gold they have mined but have not yet shipped out, and that Helen is manipulating him, but Roy believes Cherry is just jealous. When Stillman rules against them and they discover that Stillman and McNamara are indeed crooked, Roy and Al decide to seal their money back from the bank. When one of the guards is killed, Roy is arrested and Cherry discovers that the law plans to silence him.

One of two 1942 pairings of the trio Dietrich, Scott, and Wayne – the other being Pittsburgh – The Spoilers is generally well-made, but the film's triumphs are those of Universal's technical departments from the monochrome photography of Milton Krasner (All About Eve), the sprawling saloon set of Jack Otterson (Arabian Nights), Dietrich's gowns by Vera West (Shadow of a Doubt), and photographic effects supervisor John P. Fulton (Rear Window) and his ability to extend locations and soundstage sets artificially. Like Pittsburgh, the film barrels along with Dietrich running between men conveying plot details, atypical villainous Scott getting by on easy charm, Wayne falling back on his limited cowboy range and seeming all the more oblivious to danger, and Lindsay as the simpering romantic interest (Only Angels Have Wings' Richard Barthelmess is much more affecting as Cherry's pining bartender). Although the climax involves a crashing train and a shootout with victims falling right and left around the mine, the extended punch-up between Scott and Wayne is much more exciting, demolishing the saloon set and ending in the muddy streets before a seemingly undeserved happy ending for Wayne. The Rex Beach source novel and play had previously been adapted in 1914, 1923, and 1930 (with Gary Cooper), and would be adapted once more in 1955 with Anne Baxter, Jeff Chandler, and Rory Calhoun. Poet Robert Service has an uncredited appearance as "The Poet."

Video


Released theatrically by Universal and on VHS by MCA in 1986 – the same year as MCA's "Encore Edition" laserdisc – The Spoilers has only been available on DVD in various boxed sets, including the John Wayne: Screen Legend Collection, the Classic Westerns: 10-Movie Collection, and last year in the John Wayne 10-Movie Collection. Kino Lorber's 1080p24 MPEG-4 AVC 1.33:1 pillarboxed fullscreen transfer is probably from the same HD master used for the DVD sets, and it looks pretty good on Kino's single-layer disc with good contrasts during the darker scenes and only some faint edge enhancement that is only evident when the image is zoomed in.

Audio


The sole audio option is a DTS-HD Master Audio 2.0 mono track that is free of distortion during the Universal fanfare and the scoring while dialogue is always clear. Optional English SDH subtitles are included.

Extras


Extras start off with an audio commentary by film historian Toby Roan who discusses the source novel and the other adaptations, frames the film within the context of Wayne's rising stardom, Dietrich's comeback with Destry Rides Again and the same year's Pittsburgh with Scott and Wayne, and Scott's own subsequent comeback as a western star during the fifties and early sixties. He also provides plenty of information on the supporting cast - including many uncredited faces - and interesting trivia about the crew like the uncredited work of costume designer West on several Universal horrors and her suicide note that cites twenty years of blackmail (the source of which was never determined). The disc also includes an animated image gallery (12:20), the theatrical trailer (1:48), and bonus trailers.

Overall


The Scott/Dietrich/Wayne starrer The Spoilers is generally well-made, but the film's triumphs are those of Universal's technical departments.