The Show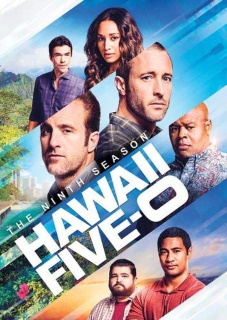 McGarrett and Danno hit the waves again in Hawaii Five-0; only this time it is Peter M. Lenkov's (R.I.P.D.: Rest in Peace Department) and Alex Kurtzman's (Transformers) reboot of the classic Leonard Freeman series Hawaii Five-O, and it's this time, it's U.S. Navy SEAL Steve McGarrett (The Back-Up Plan's Alex O'Loughlin) – who initially returned to Oahu to investigate the murder of his father and was offered full immunity and means by the late governor to head the Five-0 task force – and police Detective Danny Williams (Into the Blue's Scott Caan, son of James Caan), a New Jersey transplant who followed his remarried ex-wife to this "pineapple-infested hellhole" in order to be near his daughter Grace (Teilor Grubbs) – "Danno" now being Danny's nickname based on his daughter's childhood pronunciation and used as a term of endearment by Steve – veteran Chin Ho Kelly (LOST's Daniel Dae Kim) is a disgraced former officer and colleague of McGarrett's father who he recruits using his influence with the governor, and Kono Kalakaua (Battlestar Galactica's Grace Park) becomes Chin's cousin, a former surfer taken out of professional competition by an injury who has just graduated from the police academy at the start of the series in 2010. Subsequent members of the team include medical examiner Dr. Max Bergman (Heroes' Masi Oka), the son of a serial killer's victim – who departed at the end of the last season to join "Doctors Without Borders" and was replaced by Dr. Noelani Cunha (Hi-5's Kimee Balmilero) – Chicago PD transplant Captain Lou Grover (Boston Public's Chi McBride), conspiracy theorist/consultant Jerry Ortega (Alcatraz's Jorge Garcia), Inspector Abby Dunn (Dexter's Julie Benz) – an internal affairs officer who was spying on the Five-0 task force in season six who is now an HPD officer – Danny's comic relief nephew turned crime scene tech Eric Russo (Jack Frost's Andrew Lawrence), and ex-convict turned food truck entrepreneur Kamekona (Forgetting Sarah Marshall's Taylor Wily) who occasionally uses his former contacts to assist investigations. The end of season seven saw the departure of principal cast members Park and Kim over a salary dispute – their characters Kono Kalakaua and Chin Ho Kelly respectively written out as joining the mainland task force taking down a sex trafficking ring and starting his own task force in San Francisco – and replaced in the eighth season with Tani Rey (Being Human's Meaghan Rath) who was kicked out of the police academy for punching out instructor Captain Keo (Mortal Kombat: Legacy's Eric Steinberg), and former Navy SEAL Junior Reigns (Enemy Within's Beulah Koale). While these replacements inevitably drew comparison to their longtime predecessors, the development seems somewhat more believable than Ian Anthony Dale (The Event) as yakuza gang leader's son Adam Noshimuri and Kono's husband being kept on the show by heading up Five-0's organized crime division. Third-billed Dale does not show up until episode six, although his presence does make up for the absence of Caan for a handful of episodes mid-season. While long-time fans of the show may have issues with these changes, the casual viewer comfortable with the formulaic nature of the show will appreciate that the ninth season jumps into the action right away with the case of the week and dolls out the continued character drama across several episodes with flash cuts to bring the viewer up to speed: among them, Tani's suspicion that Adam killed his own sister to save her brother, and carrying out a covert investigation for fear of alienating the team; Danny still dealing with unresolved issues stemming from his one night stand with ex-wife Rachel (Chronic's Claire van der Boom), mother of his teenage daughter Grace (Teilor Grubbs), which resulted in the birth of Charlie (Zach Sulzbach); and the return of Steve's love interest Catherine and series heavy Wo Fat (Crying Freeman's Mark Dacascos). While I have not seen the eighth season, it is perhaps a side effect of the changes during that season that the narrative structure of many of the stories this season feels very lopsided when parallel investigations into different cases become subplot storylines in place of character drama such as in the seasons Grace-in-peril episode where the family drama and investigation into the Grace's car accident severely overshadow Tani's and Junior's investigation into the suspicious death of a addict being counseled by Tani's former addict brother Koa (The Kids Are All Right's Kunal Sharma) which is afforded as much screen time as the comic relief subplot involving Danny and Steve going into partnership with Kamekona on a new restaurant. The comic chemistry between O'Loughlin and Caan remains one of the series' constants, the Hawaiian backdrop is still ravishingly beautiful, and the action set-pieces are always entertaining (more so for the stunt work than the dodgy CGI). The show is best enjoyed with the recurring storylines disregarded in favor of the "of-the-week" procedural aspect.

Season 9 Episode Breakdown:

9.01: "Ka owili oka'i [Cocoon]" (43:34) - When one of Steve's CIA colleagues turns out to be the latest of a series of unexplained deaths of people involved with Five-0 in bringing down a Russian spy ring, Steve joins up with agents Miller (Dynasty's Jack Coleman) and former love interest Greer (Mistresses' Rochelle Aytes) to track down enemy agents who use sensory deprivation to extract counterintelligence.

9.02: "Ke Kanaka I Ha'ule Mai Ka Lewa Mai [The Man Who Fell From the Sky]" (41:30) - Five-0 investigate the case of a seemingly mild-mannered family man (David Preston) abducted mid-air while flying to Hawaii on vacation with his wife and daughter.

9.03: "Mimiki Ke Kai, Ahuwale Ka Papa Leho [When the Sea Draws Out of the Tidal Wave, the Rocks Where the Cowries Hide Are Exposed]" (42:02) - Crime amps up during a grueling heatwave while Steve and Danny try to discover why a woman with no criminal record viciously assaulted her landlord over a broken air conditioner and then murdered two cops and passing motorcyclist when escaping custody.

9.04: "A'ohe kio pohaku nalo i ke alo pali [On the Slope of the Cliff, Not One of the Jutting Rocks is Hidden from Sight]" (43:30) - Junior and Jerry escort a fallen soldier back to Hawaii while Steve and Danny discover a corpse that might have been sold on the Black Market.

9.05: "A 'ohe mea 'imi a ka maka [Nothing More for the Eyes to Search For]" (42:50) - Jerry, Eric, and Noelani reunite with Jerry's childhood buddies at their now-abandoned summer camp in search of the body of a woman who Jerry believes he saw being buried by a mythical axe murderer. Meanwhile, the rest of the Five-0 task force investigate a child who claims an imaginary friend drew a series of pictures depicting the real victims of a serial killer.

9.06: "Aia i Hi'ikua; i Hi'ialo [Is Borne on the Back; Is Borne in the Arms]" (43:30) - Steve is arrested while investigating the death of a SEAL colleague while Adam returns to the island and finds himself under investigation for murder.

9.07: "Pua a'e la ka uwahi o ka moe [The Smoke Seen in the Dream Now Rises]" (43:18) - In a film noir-styled two-hundredth episode, the task force works on a cold case from the forties with Steve assuming the role of his grandfather and other character in other rolls that mirror their own.

9.08: "Lele pu na manu like [Birds of a Feather]" (43:30) - The task force discover a burglar crushed to death by an empty safe while Grover has a fractious Thanksgiving with his parents (An Officer and a Gentleman's Louis Gossett Jr. and singer Gladys Knight) and brother (Ray's Clifton Powell).

9.09: "Mai ka po mai ka 'oia'i'o [Truth Comes from the Night]" (43:26) - Comic book superhero-loving Jerry leads the investigation of the murder of a so-called "urban vigilante" who has a reputation of making citizen's arrests. Meanwhile, Adam tries to clear his name by investigating his sister's murder.

9.10: "Pio ke kukui, po'ele ka hale [When the Light Goes Out, The House is Dark]" (43:28) - Steve and Joe White (The Stepfather's Terry O'Quinn) try to protect fellow SEALs who were involved with them in a past mission that has come back to haunt them.

9.11: "Hala I Ke Ala O'i'ole Mai [Gone on the Road from Which There is No Returning]" (43:26) - The line between revenge and justice is blurred when one of their own is killed and the team head to Laos along with old associates Wade Gutches (Firestarter's David Keith) and MI-5 agent Harry Langford (Prison Break's Chris Vance)

9.12: "Ka hauli o ka mea hewa 'ole, he nalowale koke [A Bruise Inflicted on an Innocent Person Vanishes Quickly]" (43:00) - When Grace and a school friend are gravely injured, Danny and Rachel stay at her bedside while Steve and Grover try to discover the truth about the suspicious high-speed crash.

9.13: "Ke iho mai nei ko luna [Those Above are Descending]" (43:26) - When a murder occurs in an underwater laboratory, Adam, Tani, and Junior travel to the bottom of the sea to catch the killer.

9.14: "Ikiiki i ka la o Keawalua [Depressed with the Heat of Keawalua]" (40:30) - A murder investigation uncovers a plot by an extremist group of bombers.

9.15: "Ho'opio 'ia e ka noho ali'i a ka ua [Made Prisoner by the Reign of the Rain]" (43:32) - When a hurricane comes down on Oahu, Danny and Rachel play house with Charlie while the rest of the team is stuck at the palace protecting an extradited prisoner from a potential assassin.

9.16: "Hapai ke kuko, hanau ka hewa [When Covetousness is Conceived, Sin is Born]" (42:52) - Five-0 investigate when a mermaid performer (Chelsea Gilson) is murdered during a Sirens of the Seven Seas event while Adam, mourning his failed marriage, befriends a homeless man (Children of a Lesser God's Bob Hiltermann).

9.17: "E'ao lu'au a kualima [Offer Young Taro Leaves To]" (43:26) - Five-0 is on the trail of violent bank robbers and Junior's ex-girlfriend (Taiana Tully) may be the key to discovering their identities.

9.18: "Ai no i ka 'ape he mane'o no ko ka nuku [He Who Eats 'Ape is Bound to Have His Mouth Itch]" (41:38) - Tani and Junior go undercover at a gym to uncover the dealers behind a deadly batch of steroids while Danny suffers the presence of his former mother-in-law (Empire of the Ants's Joan Collins).

9.19: "Pupuhi Ka He'e O Kai Uli [The Octopus of the Deep Spews Its Ink]" (43:20) - While the team investigate the murder of an infamous street artist, Junior and his estranged father (Eric Scanlan) deal with the memory of his sister's death.

9.20: "Ke ala o ka pu [Way of the Gun]" (42:26) - The team investigates a murder committed with a .38 that may be the same one purchased by a teenage girl online from a junkie, a gun that turns out to have woven its way through the professional careers of each of the team members.

9.21: "He Kama Na Ka Pueo [Offspring of an Owl]" (42:44) - Danny and Steve inherit a cat from a widow and Five-0 discover the remains of a private eye who might be the key to a twenty-year old kidnapping of a girl who may still be alive.

9.22: "O ke kumu, o ka mana, ho'opuka 'ia [The Teacher, The Pupil - Let It Come Forth]" (42:30) - Noelani and her mentor (Body Rock's Page Leong)are forced to operate at gunpoint on a wounded criminal while Adam investigates the murder of an undercover FBI agent engaged to the daughter of a Yakuza boss.

9.23: "Ho'okahi no la o ka malihini [A Stranger Only For a Day]" (42:10) - While trying to get a local kid's drone back from an inhospitable AirBnB neighbor (Evil Bong's John Patrick Jordan), Steve's sister Mary (Orange Is the New Black's Taryn Manning) suspects that he may be up to no good.

9.24: "Hewa ka lima [The Hand is at Fault]" (42:22) - Former rogue hacker Aaron Wright (Blossom's Joey Lawrence) tells Five-0 that he believes that he may be next when a number of his NSA coworkers are murdered.

9.25: "Hana Mao 'ole ka ua o Waianae [Endlessly Pours the Rain of Waianae]" (43:28) - In the season nine finale, the team race against time to prevent the sale of cyber weapons and then are threatened when an old enemy resurfaces at the palace. Meanwhile, Junior fears the worst when his father learns that his sister's killer has been paroled.

Video


While Paramount stopped Blu-ray releases of the series at season three in the United States, the series is on Blu-ray in Germany up to season eight. Although given an interlaced encoding as per usual with their TV series - Blu-rays of seasons one through three were 24p - Paramount's six-disc season nine DVD set is of their usual high standard with a clean image in spite of deliberately warm-biased color scheme and boosted saturation in the scenery.

Audio


Audio options include very active Dolby Digital 5.1 and serviceable 2.0 surround tracks. Optional English SDH and Spanish subtitle tracks are provided (some earlier seasons had Portuguese subtitles but no Spanish for some vague licensing reason).

Extras


Extras include deleted and extended scenes for eleven episodes, a "Five-0@200" (6:19) special for the two-hundredth episode "Pua a'e la ka uwahi o ka moe [The Smoke Seen in the Dream Now Rises]", a lengthier "Giving Thanks" (55:00) featurette with actor McBride and producer Lenkov, the "Shorelines: Season 9" (21:19) overview, and a gag reel (4:53).

Overall


Although season nine has its rough edges, Hawaii Five-0 seems to be bouncing back after the major casting changes and plot turns of the previous season.