The Show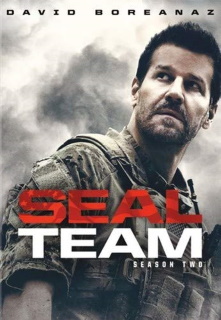 Just six months after the popular Fox procedural Bones ended with an abbreviated twelfth season, actor/producer David Boreanaz (Angel: The Series) was back on television, this time on CBS with the premiere of his new show SEAL Team as Master Chief Special Warfare Operator Jason Hayes, leader of elite NAVY Seal unit Bravo Team undertaking tactical assault and rescue missions worldwide while trying to also be part of the lives of his children Emma (Kerri Medders) and Michael (Ammon Jacob Ford) with the help of long-suffering ex-wife Alana (Into the Grizzly Maze's Michaela McManus). Season one ended with Hayes' 21C Ray Perry (Never Back Down's Neil Brown Jr.) off the team ostensibly for rehabbing a shoulder injury which lead to a death after Ray lied about the injury, which is a trust issue with Hayes who also downplayed the effects of his own concussion in a helicopter crash, causing the rest of his team to question his own judgement. Season two opens six months later with Jason and his team crushing a test mission and being approved by Lieutenant Commander Eric Blackburn (USS Indianapolis: Men of Courage's Judd Lormand) to return to duty; except, that is, Ray who is training a green team and trying to convince himself that he is happier with normal hours and being around more for his wife and kids. Alana and the kids have also gotten used to having Jason home, with Emma asking him rather than her mother to go with her on college tours and Michael coming out of his shell. Special Warfare Operator Second Class Clay Spenser (House at the End of the Street's Max Thieriot) is just getting over the embarrassment of his ex-SEAL father's tell-all book and earning respect as 21C in Ray's place, and has also been getting more serious with grad student girlfriend Stella Baxter (Veronica Mars' Alona Tal). Special Warfare Operator First Class Sonny Quinn (CSI: NY's A.J. Buckley), on the other hand, contends with downtime by drinking and partying in destructive excess. Logistics Specialist First Class Lisa Davis (Ruby Sparks' Toni Trucks) had pulled out of Officer Candidate training previously but applied again just as the team returns to duty and must consider staying or leaving. CIA liaison Amanda "Mandy" Ellis (Wicker Park's Jessica Paré), with whom Jason has a flirtation, may be taken away from the team by her own professional ambitions and greater opportunities to take on terrorism directly. Demolitions expert Summer Kairos (Ruffin Prentiss) joins the team and his California "hippie" air clashes with Sonny's Texan bravado. Alana is understandably concerned when Jason returns to duty, "chasing a high somewhere else in the world," and just as worried as when they were married about whether he will return at all (a situation we see mirrored in the relationship between Clay and Stella as her initial annoyance that he will miss a social event is actually at his flippant view on impending danger); but Jason's confidence in his own survival and that of the team under him is severely shaken when she is killed in a car accident by a drunk driver. While Ray was vacillating between remaining on base as a trainer to be closer to home or leading his own SEAL team, it is Jason who has to step away from Bravo Team to be there for his children; whereupon Ray returns to the team which is to be lead by Clay's mentor Master Chief Special Warfare Operator Adam Seaver (Mayans M.C.'s Michael Irby) as they are first shipped off to India to extract an American diplomat and then a local university where American students are being held hostage. Jason learns when dealing with his children that he cannot run them like his team, and that they cannot simply "soldier on" through the mourning process.

While it remains to be seen whether SEAL Team has the staying power of Bones, Boreanaz gets less opportunity here than in the latter series or previous ones to be quirky, and a lot of the interpersonal team and family drama has a been-there-done-that feel, the dynamics of the cast going through the military-as-family motions are engaging enough as CBS weeknight fodder. The overseas missions are economically realized if not always convincingly not shot in downtown Los Angeles locations visually distinguished from the stateside scenes with a sickly yellow/green digital color scheme and much CGI haze and dust while any sense of gravity is undercut by the villains of the week as the usual anonymous terrorist groups relegated to gun-toting extras further faceless by murky night vision POV shots as they take CGI squib hits, and the gravity of the mission is further trivialized by visuals in which the as either chest-level POVs or camera mounted on the gun barrel reverse angles give the show the look of a first-person shooter video game. While some of these shows benefit from being binge-watched, SEAL Team may be best enjoyed in chunks; and, indeed, the structure of season 2 does have some story arcs that take place over a series of successive episodes with ideal break points with the first five episodes focusing on the team returning to duty and Jason dealing with his ex-wife's death and helping his children with the badgering advice of his mother (Midnight Run's Wendy Phillips), the next five on an operation to capture or kill a Mexican drug lord (Bad Boyz II's Yul Vazquez), Jason and Seaver's widow Victoria (Hush's Samantha Sloyan) work through their loss while Clay deals with moving on from Stella – with a visit from his father (The Hitcher's C. Thomas Howell) – and his realization that Bravo Team is his real family, amidst the next four episode missions, the team's relationships with PTSD-stricken ex-SEAL Swann (The League of Extraordinary Gentlemen's Tony Curran) underline the next five episodes, and the efforts of Commander Shaw (Peter Jessop) to break up the team.

Season 2 Episode Breakdown:

2.01: "Fracture" (40:06) - Bravo Team returns to duty and heads to the Gulf of Guinea when a new terrorist group takes over an oil rig with the plan to steal millions of dollars of fuel and blow up the rig causing a massive ecological disaster. Mandy goes to Mexico to take on a drug king.

2.02: "Never Say Die" (42:54) - Bravo Team travel to Saudi Arabia when Shia extremists threaten to release anthrax into an underground water source. When Jason reveals he still does not trust Ray, Ray shops around for other SEAL teams.

2.03: "The Worst of Conditions" (42:40) - When Alana is killed in a car accident, Jason steps back from the team and contemplates retiring to help his children deal with their loss. Adam Seaver and Ray join the team on a mission to Mumbai to extract a kidnapped diplomat.

2.04: "All That Matters" (42:44) - While Jason tries to adapt his parenting style to the needs of his children, Bravo Team is in Mumbai encounter interpersonal strife while in the midst of a mission.

2.05: "Say Again Your Last" (41:46) - Bravo Team is reassigned to rescue American hostages from an Indian university overtaken by terrorists while Emma reconsiders her feelings about her father's sense of duty when she accompanies him on a death notification.

2.06: "Hold What You Got" (43:26) - Bravo Teams head to Mexico on a joint mission with the Mexican marines to take on drug cartel leader Doza who killed a DEA agent. Meanwhile, Stella's concerns about Clay's safety after Adam's death are ramped up after she sees the bruises left over from a bullet that struck his body armor.

2.07: "Outside the Wire" (42:26) - Bravo Team goes undercover as civilians as they continue to search for Doza. Tensions between Jason and Mandy come to a head over similarities to a past mission gone bad.

2.08: "Parallax" (39:18) - Jason and Mandy go undercover as a vacationing couple to get close to Doza while Sonny helps Clay get over Stella.

2.09: "Santa Muerte" (43:06) - Bravo Team holds up in a church under fire fro Doza's men and suspect that there is a link from within the operation.

2.10: "Prisoner's Dilemna" (42:22) - In the fall finale, Bravo Team closes in on Doza's safehouse in a last ditch attempt to capture and extract him. Jason and Mandy also resolve their tension.

2.11: "Backwards in High Heels" (42:18) - In the winter premiere, Bravo Team and British Special Air Service attempt to rescue passengers on a hijacked plane. Clay and Stella dance around the dissolution of their relationship. Luke Mably (28 Days Later) and Louise Lombard (Hidalgo) guest star.

2.12: "Things Not Seen" (43:14) - Bravo Team have moral dilemmas with an assignment to extract and American girl (High School Musical's Olesya Rulin) held for ransom by a sex trafficker when they learn that she married an ISIS leader when she disappeared two years before.

2.13: "Time to Shine" (43:26) - During a mission off the coast of Korea, Sonny is trapped in a submarine torpedo tube while the team work against time to rescue him.

2.14: "What Appears to Be" (41:12) - Bravo Team travels to the Congo to capture the head of a rebel militia group. Sonny and Davis grow closer just as she is on the verge of taking a once-in-a-lifetime opportunity, while Jason discovers that his daughter wants to attend college on the other side of the country.

2.15: "You Only Die Once" (43:24) - Bravo Team travels to Afghanistan in search of an international financier of attacks that have claimed eleven American lives. Ray's wife (Parisa Fakhri) fears that he has started drinking again. Joe Flanigan (Stargate Atlantis) guest stars.

2.16: "Dirt, Dirt, Gucci" (43:02) - The team are in the Philippines on a "Gucci" assignment when they are reassigned after a U.S. container ship crashes due to a cyber attack. Meanwhile, Jason is wrapped up in dealing with his daughter wanting to go to college in New York and facing enormous debt that he neglects to check on Ray's drinking.

2.17: "Paradise Lost" (40:16) - Bravo Team is training local SEALs in Manila when Clay is injured in a surprise bomb attack that also kills several locals.

2.18: "Payback" (43:26) - The rest of Bravo Team hunt down the people behind the bombing while Swan helps a recovering Clay with the depressing prospect that his SEAL career may be finished.

2.19: "Medicate and Isolate" (42:04) - The team travel to Mali to extract the remains of a murdered soldier before they can be used in a terrorist propaganda video but return home to another tragedy.

2.20: "Rock Bottom" (43:08) - Tensions between Jason and Ray over his drinking and reliability come to a head as Jason's leadership undergoes scrutiny from Shaw. Meanwhile, Clay takes on the problems with the VA after learning about their failure to help Swan with his traumatic brain injury.

2.21: "My Life for Yours" (43:26) - Ray gets separated from the team in enemy territory while Clay wants his father to use his notoriety from his tell-all book to raise awareness about traumatic brain injuries.

2.22" "Never Out of the Fight" (43:26) - Mandy and Blackburn are in trouble with Shaw for Bravo Team diverting from their mission to rescue Ray, and the team have one last chance to get their target or be permanently broken up.

Video


Unlike some other shows that Paramount releasead on progressive Blu-ray and interlaced DVD in earlier seasons before dropping the former format for television shows, SEAL Team on DVD is progressive and the mid-range bitrate for housing four to five episodes per disc looks decent enough since the HD-lensed show has a lot of dark and backlit or nightvision scenes that might gain a bit more from Blu-ray (that said, the SD image probably would look better on an SD monitor than upscaled to HD as most viewers will be watching the DVDs).

Audio


Audio options include a very active Dolby Digital 5.1 track and a more than serviceable Dolby Digital 2.0 Surround downmix boasting clear dialogue, plenty of directional effects, and surround channels that are restrained or active depending on the need of scenes. Optional English SDH subtitles are provided.

Extras


Extras include deleted and extended scenes for seven episodes - the most interesting being those for the episode "The Worst of Conditions" since they address the Jason/Mandy subplot but were wisely removed so as not to take away from the drama of the episode - "The Only Easy Day Was Yesterday" (26:38), a season two overview type featurette common to CBS shows on DVD full of talking head commentary and behind the scenes footage, "Operation: Puerto Rico" (6:38) focusing on the story arc set in Mexico City with Puerto Rico standing in for the city, the self-explanatory "Nothing Fake About It: The Props of SEAL Team" (9:48), and a gag reel (2:35) with plenty of Boreanaz goofing around and mishaps involving prop machine guns.

Overall


While some TV shows benefit from binge-watching, the structure of SEAL Team: Season 2's story arcs lends itself to watching in blocks of episodes conveniently broken up by disc on Paramount's DVD release.