Our Hospitality [Blu-ray]
Blu-ray A - America - Kino Lorber
Review written by and copyright: Eric Cotenas (21st November 2019).
The Film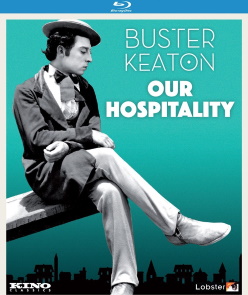 Despite the efforts of family man Joseph Canfield (Joe Roberts) to "Love Thy Neighbor as Theyself," the longstanding feud between the Canfields and the McKays claims its latest victims when his wild younger brother James (Trail of Kit Carson's Tom London) and John McKay (One Million B.C.'s Edward Coxen) manage to gun each other down simultaneously, leaving the latter's wife (Jean Dumas) a widow with a one-year old son Willie (Buster Keaton Jr.) and Joseph Canfield embittered. Mrs. McKay takes Willie to the city to live with his aunt (Kitty Bradbury) ignorant of the feud back home. Twenty years later, after his mother has died, Willie (Sherlock Jr.'s Buster Keaton) receives word that he has inherited his father's property and decides to go back home; whereupon his aunt apprises him of the feud. Naturally, his fetching traveling companion turns out to be Joseph Canfield's daughter Virginia (Passion Flower's Natalie Talmadge), although he does not realize this until he has accepted her invitation to dinner and overhears her father telling his two grown sons (Francis X. Bushman Jr. and Craig Ward) that they cannot shoot him so long as he is a guest in their house, Willie decides to take extended advantage of their hospitality.

A quite ambitious feature from comedian Buster Keaton following a string of two-reelers and his first feature Three Ages – which the extras mention had been conceived as three stories so that it could be spit up into shorts if the feature-length version as unsuccessful – Our Hospitality is an ambitious and engaging comedy from "The Great Stone Face" opening with a legitimately tragic prologue played entirely straight rather than sending up the still fresh story of the Hatfields and the McCoys before shifting tonally towards as soon as grown-up Willie McKay envisages a grand estate of the shack the audiences know he will encounter. The love story is as much fodder for comic sight gags as the attempts of the brothers Canfield to kill Willie – leading up to some comic stunt work audiences would more likely have expected of Harold Lloyd – and yet the film is dramatically satisfying. Although an initial claim to historical detail in the recreation of 1830s New York with the card establishing the location citing fidelity to "an old print," seems like a nod to D.W. Griffith, the film's highlight is the journey from New York aboard a recreation of a British Stephenson's Rocket which was picked by Keaton over the U.S. DeWitt Clinton for the greater comic possibilities he saw in it. Like the locomotive and its hilariously perilous tracks, historical detail recedes in focus as the settings and story serve the mechanics of comic vignettes from furtive glances to misfiring pistols before a climax right out of the serials of the next decade. Talmadge was Keaton's wife at the time, and his father Joe Keaton appeared as the train engineer. The next ten years would be quite fruitful for Keaton as star and director of features, but he would soon be relegated back to shorts before taking on character and cameo roles through to the sixties (with perhaps the nadir of his career being the back-to-back How to Stuff a Wild Bikini and Beach Blanket Bingo).

Video


Released theatrically by Metro Pictures Corporation and the subject of a handful of reissues throughout last century, Our Hospitality received its first official home video release stateside from HBO as part of the "Thames Video Collection" followed by a 1989 laserdisc release from Image Entertainment, both utilizing an original release print from film archivist/hoarder Raymond Rohauer – who had established partnership with Keaton in 1954 to make his films available again – featuring a score by Carl Davis (The French Lieutenant's Woman) recorded in 1984. A restoration followed from Kino on Video in 1995 in a double bill with Sherlock Jr. restored from archival prints and featuring a new score by Donal Hunsberger. This double bill made it to DVD separately in 1999 and as part of the eleven-disc The Art of Buster Keaton. The Rohauer collection was eventually acquired by Douris Corporation who licensed the film to Kino Video in 2011 for their "Definitive Edition" 1080i60 Blu-ray shortly before the Douris assets were acquired by Cohen Media. While Cohen has released a couple Keaton Blu-rays themselves, Our Hospitality carries no mention of Cohen or Douris, coming from a 2019 restoration by French company Lobster Films and the Museum of Modern Art from a 2K scan of a Blackhawk Films nitrate dupe negative rather than the Rohauer release print. Comparison to screengrabs of the former edition reveal similar sepia tinting but a sharper image in which more detail is retained in the brighter areas of the frame (including facial features in medium and long shots). Although one could argue that the former Blu-ray's label of the "definitive edition" could apply to the extras, the feature presentation here seems to be the superior option.

Audio


While the earlier Blu-ray featured the Davis score in 5.1 and 2.0 and the earlier Hunsberger score, Kino Classics' Blu-ray only features a newly recorded score by Robert Israel who is no stranger to Keaton or Kino. Since the score is new, there are no issues with the DTS-HD Master Audio 2.0 stereo track. The intertitles also appear to be the originals rather than digital recreations.

Extras


Extras start with an audio commentary by film historians Farran Smith Nehme and Imogen Sara Smith who discuss the family nature of the production, the tonal shifts of the narrative, the film as a turning point in Keaton's career, and the novelty of its emotional engagement from a comedian more focused on comedy as an art. Ported over from the earlier Kino release is the 1925 short The Iron Mule (14:03) starring Western actor Al St. John which has nothing to do with the feature other than being another silent comedy about early train travel. The difference in running time is presumably that of different framerates. New to the disc is the 1947 short French film Un duel à mort [A Duel to the Death] (23:50) starring Keaton and directed by Pierre Blondy in which the titular duel breaks out over a fish. Also included is A Presentation of Our Hospitality (4:37) – presumably from the 2019 DVD-only French Lobster Films edition – in which critic Serge Bromberg covers some of the same production factoids as the commentary. Scoring for Buster (24:36) is a two-part documentary on the recording of Israel's score in the Czech Republic with Israel conducting piano and a chamber orchestra.

Packaging


The cover is reversible and a booklet essay by Jeffrey Vance is included in the case which provides an overview of the production and its reception.

Overall


Our Hospitality is an ambitious and emotionally-engaging feature-length comedy from "The Great Stone Face."

---
Rewind DVDCompare is a participant in the Amazon Services LLC Associates Program and the Amazon Europe S.a.r.l. Associates Programme, an affiliate advertising program designed to provide a means for sites to earn advertising fees by advertising and linking to amazon.co.uk, amazon.com, amazon.ca, amazon.fr, amazon.de, amazon.it and amazon.es . As an Amazon Associate, we earn from qualifying purchases.