The Film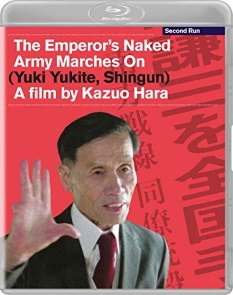 Caligari Film Award: Kazuo Hara (won) - Berlin International Film Festival, 1987
Cinéma du Réel Award: Kazuo Hara (won) - Cinéma du Réel, 1988
KNF Award: Kazuo Hara (won) - Rotterdam International Film Festival, 1988
Festival Prize: Best Film and Best Director: Kazuo Hara (won) - Yokohama Film Festival 1988

Kenzo Okuzaki, 62, imprisoned three times – once for firing a slingshot at Emperor Hirohito during a protest, once for distributing pornographic leaflets depicting the Emperor, and once for the murder of a loan shark – continues to provoke traveling around in a vehicle covered in leftist banners, okaying his travel plans with the local police who seem to be as resigned as his own wife Shizumi. A World War II veteran who nearly starved to death when stationed in New Guinea, he has enlisted a documentary crew – lead by director Kazuo Hara – to accompany him on his new quest to hold those responsible for the conditions he and his fellow soldiers endured, as well as the unexplained execution of two soldiers ostensibly for desertion several days after Japan surrendered. Okuzaki drags along the brother and sister of the soldiers as he questions former higher-ranking officers who offer contradicting stories about why they were executed, when it happened, who did it, and under whose orders. The accusation that the two soldiers had engaged in cannibalism causes the siblings to withdraw their involvement – although the contradicting stories also have it that they were either executed for discovering cannibalism or unpopular enough to become feed for their starving brothers-in-arms – whereupon Okuzaki hires an actor to play the brother and drags along his wife to play the sister as he continues to guilt-trip, cajole, harass, and even brutalize his interview subjects whose stories keep changing until everything explodes in an act of violence that everyone should have seen coming.

A thought-provoking and at times shocking authentic documentary, The Emperor's Naked Army Marches On anticipates not so much "gotcha journalism" and so-called "social experiments" than some of the mockumentaries and faux-found footage movies documenting both the manias of the subjects and the lengths that the filmmakers will go to capture something sensational (less Cannibal Holocaust than the likes of Man Bites Dog or A Necessary Death) with the always offscreen Hara not only aiding Okuzaki in "putting the focus on" his subjects but also provoking the questions of whether the obviously mentally-ill Okuzaki is playing up for the camera or being himself and whether Hara is trying to provoke his subject into the former or exploiting the latter. Whatever the case, Hara is certainly taking advantage of the interview subjects' reluctant hospitality (having already gone along with Okuzaki's other deceptions), disarming them in a different manner than Okuzaki who progresses from extremely ingratiating to combative and even abusive. There is as much a perverse fascination in watching this escalation, but also the creeping suspicion that Okuzaki is onto something and that the subjects are lying rather than merely flustered by the tactics of interviewer and filmmakers, especially once it turns out that cannibalism was a practice during the war in areas where supplies were cut off and that among the inconsistences in the stories are supposed unwritten rules as to how troops went about it; whereupon the viewer might find of less concern why Okuzaki waited so long to take this on and to feel a sense of injustice for two barely sketched out "characters" who may have been targeted because they were not popular with the troops (and/or possibly not "robots" as Okuzaki charges the police, the soldiers, and the citizens who step up in outrage early on when he travels around in his car protesting against the Emperor through his loudspeaker). Hara was the ideal filmmaker to document Okuzaki's quest to its bitter end, having documented his own obsession with an ex-lover who left him for another woman and then an African-American soldier, and then an all-female commune in after delivering a mixed-race baby in Extreme Private Eros: Love Song 1974; and, like that documentary, it is difficult to determine whether Hara is trying to provoke thought or just provoke. For better or worse, Okuzaki's story was continued in the 2001 Akira Fujiwara documentary Kami-sama no ui yatsu.

Video


Released theatrically in the United States by Kino International, The Emperor's Naked Army Marches On's 2007 Japanese DVD release was quickly followed by an English-subtitled American release through Facets Video. Second Run's 1080p24 MPEG-4 AVC 1.55:1 pillarboxed Blu-ray of this 16mm production is subject to the shooting conditions, from sunny exteriors where harsher shadows lack fill-lighting and more evenly-exposed overcast scenes to interiors where sometimes the only light is a lamp attached to the camera. The transfer and the photography get the job done, but don't expect much shadow detail or even texture in black clothing.

Audio


The LPCM 2.0 mono mix fares better, with the interviewees always cleanly recorded and Okuzaki's outbursts contained in the highs of the mix while occasional interjections by Hara are sometimes barely picked up by the microphones. Optional English subtitles are also provided.

Extras


Although the extras are not plentiful, they are illuminating. First up is a 2019 interview with director Kazuo Hara (27:17) who reveals that director Shôhei Imamura (The Insect Woman) wanted to do a film on Okuzaki during the slingshot incident but his crew was kicked out of the court when they tried to secretly film the trial and were unable to interview him in prison. Ten years later when Hara was working as an assistant director, Imamura introduced him to Okuzaki. Hara reveals that it was he who recommended that Okuzaki pursue the cannibalism story as the plot of the film, and that Okuzaki while "playing the protagonist" had scenes in mind and the two clashed in terms of their overall visions (with Okuzaki seeing the investigation as a way to confront and challenge contemporary authority). Although he was conflicted over whether to intervene or just keep filming when it came to Okuzaki's violence, he reveals that he was truly surprised at Okuzaki's attempted murder after shooting wrapped. Kazuo Hara Masterclass: The Emperor's Naked Army Marches On (39:30) takes place at a 2018 documentary film festival screening in which is remarks are translated by an interpreter. He covers some of the same ground but also notes the deceptive nature of the time-compressing editing, noting that one of the pivotal interviews actually took place over the course of eight hours and that he came to realize that Okuzaki knew how to use violence as a tool rather than his attacks being uncontrollable outbursts, and that some of the people who told something approaching the truth to the camera were simply worn down by Okuzaki over time. He does address his conflicting feelings but does not necessarily answer whether he felt complicit in Okuzaki's actions by not intervening.

Packaging


Included in the case is a twenty-page booklet with writing on the film by Tony Rayns, Jason Wood, and Abé Mark Nornes in which Rayns and Wood reach different conclusions about the cannibalism but this seems due to the confusion with which the filmmaker also met in interviewing the subjects who offered different accounts.

Overall


A thought-provoking and at times shocking authentic documentary, The Emperor's Naked Army Marches On anticipates not so much "gotcha journalism" and so-called "social experiments" than some of the mockumentaries and faux-found footage movies documenting both the manias of the subjects and the lengths that the filmmakers will go to capture something sensational.