The Film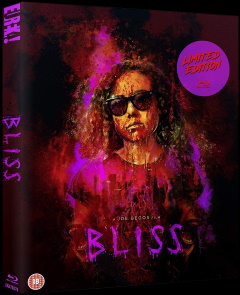 Dezzy (Exists' Dora Madison) is an edgy Los Angeles artist with an upcoming gallery exhibition and an unfinished painting. Her repeated procrastination causes her agent David (King of the Ants' Chris McKenna) to drop her, gallery owner Nikki (Tropic Thunder's Rachel Avery) to give her a last warning rather than another advance, and the rent is due. Needing something stronger than cocaine for inspiration, Dezzy goes to dealer Hadrian (Late Bloomers' Graham Skipper) who gives her a sample of Diablo which causes her to experience vivid hallucinations on the first go around which leads to a blood-drenched threesome with model Courtney (Tru Collins) and her hedonistic boyfriend Ronnie ('s Rhys Wakefield). When she comes to the next morning, she finds that her blackout has included progress on her painting for which she cannot account, which proves worrying for her bartender boyfriend Clive (The Battery's Jeremy Gardner). Her continuing blackouts and hallucinations involving brutal murders, she becomes convinced that she has developed a craving for blood and starts to wonder whether it is a withdrawal effect of the drug or of something else she might have ingested during her encounter with Courtney and Ronnie. As her painting begins to take shape into something that she believes will be her masterpiece, Dezzy is torn between the horror she feels and her creative impulses. As much another take on the horror subgenre from the seventies onwards that draws ties between addiction and vampirism – with the likes of Ganja & Hess and The Addiction among others – Bliss also belongs to a more recent trend of female-centric body horror that includes such films as Contracted and the recent remake of Rabid, not to mention an even more recent trend of independent horror movies with retro-synth eighties soundtracks. With the deletion of its original prologue sequence (which also puts a more sympathetic spin on two rather jaded characters), one is hard-pressed to even identify the film as a vampire movie until quite late in the third act as the protagonist's craving specifically for blood involves not fanged love bites or licks but throats, fingers, eyeballs, and the like torn away by blunt human teeth; as such, the more overtly vampiric climactic scenes are a bit of a letdown. For much of the film, the hallucinatory drug sequences give the film the look of a nineties drug PSA with added sex and gore. Dezzy is not particularly sympathetic from the start and does not becomes so as the film goes on, but Madison throws herself into the role with abandon while some of the more understated supporting performances by Collins, Gardner, and Skipper hint at characters that could have used more shading if not seen solely from the perspective of a protagonist ultimately revealed to see fellow humans in terms of function and as the means to realize her creative ambitions. While the work has plenty of rough edges, it does represent some creative growth on the part of director Joe Begos from his debut Almost Human and its follow-up The Mind's Eye.



Video


Shot in Super 16mm with fast lenses and finished digitally, Bliss has a deliberately skewed in its 1080p24 MPEG-4 AVC 2.40:1 widescreen Blu-ray with deliberately heavy grain, murky environments, aggressive color gel lighting with some of the more naturalistically lit scenes looking almost untimed in comparison to the bulk of the film. The film is also available on Blu-ray stateside from Dark Sky Films/MPI Home Video.


Unlike some limited edition Eureka releases, a standard edition is concurrently available.

Audio


The DTS-HD Master Audio 5.1 track is quite aggressive from the start with booming music and aggressive directional effects while dialogue always remains clear apart from some of the club and party scenes where the ambience deliberately frustrates conversation. An LPCM 2.0 stereo track is also included, as are English HoH subtitles.

Extras


Ported over from the Dark Sky DVD is an audio commentary by director Joe Begos and actress Dora Madison in which Begos discusses the character as a stand-in for himself while Madison describes the inspiration for her characterization in two artists she knew, male and female, with contrasting personalities and styles, both of whom helped her understand what it means when some artists describe the pain of creation (and why some give it up) while also noting that she did raid Begos' wardrobe for her more androgynous outfits. They discuss the shoot, the effects sequences – including a particularly bloody sequence that did not make the final cut – as well as the film's deleted prologue while also pointing out other Begos regulars and the economic use of locations. Also ported over is an audio commentary by director Joe Begos, producer Josh Ethier, and the Russell FX team in which they discuss the film's effects work – the artists having worked on the shoot by night while also doing a television show by day – which included not only the blood and prosthetics but also fake drug paraphernalia. Exclusive to the Eureka disc is a new audio commentary by film historians Kat Ellinger and Samm Deighan of Diabolique Magazine and the Daughters of Darkness podcast. They note the trend of reexamining and re-envisioning the vampire genre every decade or so as well as the recent trend of independent horror films about "female monstrosity" as well as the influence of the Gothic – not only in terms of its American innovations of possession, object obsession, and the "woman in a room going mad" trope – but also noting that the Gothics used the genre to comment on contemporary anxieties in the earlier centuries and it could be argued that new films like this do as well as a furtherance of that tendency. The deleted scene (1:52) mentioned in the commentary is present here, spoiling the vampire aspect before it is revealed much later in the finished film, but also kind of paling in its execution next to Begos' description of it on his track. The disc also includes the film's trailer (1:55).

Packaging


Also limited is the O-card slipcase. In "Blood Splashes and Paint Splatter: Bliss and the Body Politic", Heller-Nicholas notes the influence of Abel Ferrara's The Addiction but more so of his The Driller Killer and literary antecedents about the supernatural influence of artwork on and by their artists while Mann's "In the Veins: Bliss and the Vampire as Addict" is self-explanatory in its content but also draws parallels between the film and Begos' other works. An interview with Begos has also been reprinted from the film's press notes.

Overall


As part of an ongoing trend of films that draw parallels between vampirism and addiction, as well as female-orientd body horror films of late, Bliss feels more like a nineties drugs PSA than a truly innovative work in the genre.