The Film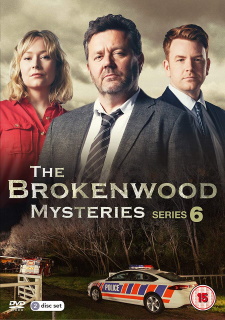 Touted as New Zealand's answer to Midsomer Murders, The Brokenwood Mysteries trades village fκtes for cheese rolls as four-times divorced, country & western music-loving city officer Detective Senior Sergeant Mike Shepherd (The Irrefutable Truth About Demons's Neill Rea) first turned up in the North Island town of Brokenwood to put the "field in field investigator" and takes over investigation into a death that everyone else would rather believe was a suicide or accidental death, replacing the local senior inspector implicated in the case. Taking the city for Brokenwood and a vineyard, Shephard finds his outsider status both alienates him from the locals but also allows him to view cases from a perspective lacking in partner Kristin Sims (The Almighty Johnsons' Fern Sutherland) and young Detective Constable Sam Breen (Power Rangers Mystic Force's Nic Sampson); and yet, they are as much sources of background information and incriminating gossip as feisty pensioner Mrs. Marlowe (30 Days of Night's Elizabeth McRae), hapless entrepreneur Frankie 'Frodo' Oades (Karl Willetts) who finds himself a suspect more than once, and half-Maori jack of all trades Jared Morehu (The Dead Lands's Pana Hema Taylor) – who sat out series four and five in favor of Sims' love interest Kahu (Rawiri Jobe) before returning for series six – while the outlandish theories posited by humorless Russian pathologist Gina (Filthy Rich's Cristina Serban Ionda) are sometimes as fruitful as Shephard's habit of interrogating corpses. As with the aforementioned Midsomer Murders and other small-town procedurals, dirty laundry and skeletons in the closet could do with some airing out to expose culprits and the motives which sometimes are rooted in the past; and, in this case, suspects from earlier cases often pop up in later episodes not always readily available to help. The formula is starting to wear, with the Gina's unrequited crush on Mike becoming less funny as it goes on, Breen stepping back from being the butt of amusing pratfalls (actor Sampson also co-wrote the steampunk episode), and an uncertainty as to the nature of Sims' professional and personal relationship with Mike after her two series subplot relationship petered out, but what remains is a nicely balanced mix of humor and drama is moodily accompanied by country and folk rock music selections from local North Island artists including Tami Neilson and Delaney Davidson.

Series 6 Overview:
6.01: "The Power of Steam" (92:54) – The team investigate a murder at a local Steampunk convention – while also trying to ferret out exactly what steampunk is – in a case involving exploding outhouses, missing body parts, incel chatrooms, and a hydrogen balloon pursuit.

6.02: "A Real Page Turner" (92:15) – When the visiting writer of provocative murder mysteries (Narcos' Matt Whelan) gets a knife in the back during a book club meeting, Shepard and his team discover that several of the book club members – including Gina and one of Mike's ex-wives (Underbelly's Lucy Wigmore) –had motives for murder including passion, jealousy, plagiarism, and revenge.

6.03: "Dead Men Don't Shoot Ducks" (92:12) – When a "Birds' Lives Matter" activist (Alex Ellis) puts herself between a hunting party and its prey and is struck on both sides with steel pellets, Shepard and team start to suspect the death was not an accident when they discover a battle with the local duckstalkers association, marital infidelity, organic duck eggs, and the ghost of a local hunting legend who appears to be very much alive.

6.04: "Dead and Buried" (92:00) – When a murderess (Romy Hooper) who Mike put away years ago for the murder of her abusive husband (whose body was never found) is found dead in her cell of an apparent suicide at a prison with a very lax and New Age disciplinary approach, three fellow inmates – all of whom the team previously convicted of murders – attempt to use the whereabouts of her husband's body and the means of her own likely murder as leverage to shorten their sentences.

Video


Digitally-lensed and finished, the anamorphic widescreen encodes of the four episodes of The Brokenwood Mysteries: Series 6 split between two dual-layer discs get the job done with the combination of breathtaking scenery and cleanly-shot action with a minimum of digital effects and naturalistic color timing.

Region A-locked viewers will be glad to know that the American arm of Acorn Media plans to release the sixth series on Blu-ray in May (the series is DVD-only in the UK and other Region B territories thus far).

Audio


Audio is Dolby Digital 2.0 stereo, presumably the show's original configuration as all of the Blu-rays and DVDs have sported stereo sound only. Dialogue and music selections is always clear and some of the local jargon is transcribed via the optional English HoH subtitles (as are song lyrics).

Extras


Extras are confined to the second disc, but they are not lengthy, totaling 13:35 with the "Play All" option. Behind the scenes (2:55) is a run-of-the-mill talking head bit of EPK similar to other releases while "Logan the Corgi" (1:07) introduces the dog character that features in the first episode of the season, self-explanatory bits on costume design (1:52) and production design (2:09), and a look at the episodes' themes (1:38) by the cast and producer Tim Balme (1:29) who reflects on the duck-shooting episode and his childhood. In "What Have You Learnt?" (1:47), the cast discuss the progression of their characters and their hidden interests, while in "What Would You Be?" (1:12) they discuss their dream jobs if they were working behind the scenes. A picture gallery (1:35) is also included.

Overall


By series six of The Brokenwood Mysteries, the formula is starting to wear but there is still a nicely balanced mix of humor and drama moodily accompanied by country and folk rock music selections.