The Film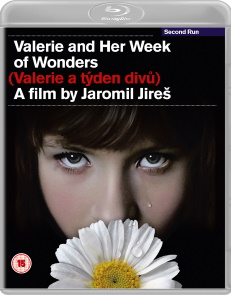 One night, young Valerie (Hotel Pacific's Jaroslava Schallerová) starts menstruating, and her life as she knows it goes from idyllic sunny fantasy to chilly nightmare with the arrival of a sinister figure known as the Constable (Jirí Prýmek) but who she recognizes as The Weasel, who dominates a young man named Orlick (Petr Kopriva) who at first steals her keepsake of her mother's pearl earrings and then returns them now seemingly imbued with magical powers. Valerie's grandmother (The Cremator's Helena Anýzová), who has raised her since the death of her father The Bishop and her mother, discourages her childish imaginings but it seems as if she too is stricken by the appearance of Weasel amidst the simultaneous arrival in the village of a performing troupe and a procession of penitents. When Valerie constantly escapes the unwholesome attentions of Weasel – sometimes with the help of Orlick – Weasel reveals himself to grandmother as her eternally youthful lover Richard (Martin Wielgus), demanding the house (Valerie's inheritance) in exchange for restoring grandmother's youth. Grandmother subsequently reemerges as Elsa, a distant cousin of Valerie's who makes erotic overtures to both Valerie and Orlick since it is really Valerie's virginal blood she and Weasel need to survive.

Based on the novel by Czech surrealist poet Vítezslav Nezval, Valerie and Her Week of Wonders is a combination of vampire film and coming of age tale. In the essay booklet included with Second Run's Blu-ray release of the film, Peter Hames describes the theme of the film as "Valerie's recognition that her immediate family and friends are sexual beings (and this sexuality may also be alternate and ambiguous) but also the masking of this sexuality by repressive structures of religion and authority." Far from being a reductive summation of an endlessly ambiguous fantasy, this observation does suggest an underlying structure to an almost serial-like adventure of horrific and comic vignettes. Valerie knows when she sheds drops of blood on flowers as she walks through her yard that she has become a woman, but her plucking of one of the stained flowers is the first suggestion that anything more than her being of marriageable age and needing to curb her imagination has been repressed from her understanding; knowing that she is no longer a child but not what being a woman entails. When she observes the wedding preparations of young Hedvika (Alena Stojáková) to an elderly farmer, she sees marriage as an ending, expressing pity for the girl while Valerie's grandmother notes that the girl will be a rich landowner's wife. She is attracted to Orlick even after it seems possible that she may be his brother and also seems not quite so disturbed about the possibility that Weasel might be her father. However innocent Valerie may be, she is not helpless but self-possessed, even finding amusement in some of the more obvious attempts of religion to oppress sexuality, such as when visiting priest Gracián (Daisies' Jan Klusák) – who she has spied watching on passively as grandmother throws herself at him and whips herself in seemingly masochistic pleasure – accuses her of seducing him and continues to hurl accusations of her godlessness as she is tied to a stake for burning in the village square (rescuing herself once again with her pearl earrings). The film flirts with incest throughout as Orlick and others may or may not be family, but the resolution of the film's "dark night of the soul" of Valerie's sexual awareness seems to be her recognition of the sexualities of those close to her – not only in the sense of physical attraction but also of their associated repression, bitterness, and fetishes – as distinct from that of her own still-developing sexuality. The film would make an ideal companion piece to other horror-tinged blossoming of womanhood films Lemora: A Child's Tale of the Supernatural and the Freudian The Company of Wolves.

Video


Released theatrically in the U.S. by Janus Films and in the U.K. by Contemporary Films in 1971, Valerie and Her Week of Wonders made the rounds at festival screenings and in the 16mm rental market but was largely known to horror fans through stills and reviews in books about the genre. PAL-capable VHS collectors stateside could track down Redemption's VHS from the nineties, but the film would not arrive on DVD until 2004 when Facets released a typically poor PAL-converted DVD with video-burned subtitles while Redemption released their own DVD which had optically-burned subtitles on the print as well but sported superior colors and contrast even though it was not ideal. In 2008, Second Run released a DVD sporting an improved transfer with optional subtitles, although it still looked a little digital. In 2015, Criterion released a Blu-ray from a new 4K master that was crisper and clearer but criticized in some circles for a cool color scheme that seemed revisionist. Second Run's 1080p24 MPEG-4 AVC 1.37:1 fullscreen Blu-ray also comes from a 4K master but has some quirks of its own. Contrasts seem superior to the Criterion but there is an overall faint greenish tinge to the image and some damage that has not been cleaned (it also seems to be a practice of the Czech restoration technicians as seen in some HD masters of other Czech films) that the reel change marks have not been painted out. It is possible that this transfer may reflect how the film was projected, but some may prefer the more natural-looking Criterion but the Second Run is more than satisfactory.

Audio


While Criterion offered an LPCM 1.0 track of the original mix (as well as an alternate track featuring a psych-folk soundtrack by The Valerie Project), Second Run presents a clean-ish LPCM 2.0 Czech track that clearly presents the dialogue and the ethereal scoring of Lubos Fiser (The Mysterious Castle in the Carpathians), although people with surround systems would be advised to turn off Pro-Logic or any other virtual surround enhancements applied to 2.0 tracks since the score distorts at the high end with some of these on. The optional English subtitles appear to be the same translation as the earlier DVD.

Extras


While Criterion's Blu-ray featured a new interview with film historian Hames, Second Run includes an audio commentary by film historians Peter Hames and Daniel Bird ported over from the German Bildstörung DVD edition. The cite the film as one of the last films of the Czech New Wave, having been produced just after the Prague Spring, and suggest the reason it was allowed to go into production was because source novel author Nezval had been a bureaucrat and Communist party member, even trying to dissolve the Czech surrealist movement, and that its more subversive elements were couched in the fantastic. They note Nezval's cited influences as Matthew Lewis' gothic novel "The Monk" and the Fantomas serials of the period, and suggest the influence of Fellini and Ken Russell on the film (noting that the lyrical quality of the film is different from that of director Jaromil Jires' other films) rather than drawing from the text. They also discuss the collaboration of Czech New Wave "muse" Ester Krumbachová – a screenwriter and costume/production designer who also worked with Vera Chytilová (Fruit of Paradise) and Jan Nemec (A Report on the Party and Guests) among others – citing her own observations on the difference between her more feminist characterizations and Valerie and Her Week of Wonders which she affirmed was a "male fantasy about female sexuality."

New to the Blu-ray release is a The Projection Booth commentary with film historians Mike White, Kat Ellinger, and Samm Deighan as an optional audio track on the feature. They note that Nezval eliminated the novel from his CV but that his reputation as a party member and the more pronounced anti-Catholic themes probably were reasons the film was allowed to go into production, as well as the film seeming to have more in common with the country's tradition of more fantastic, fairy tale cinema than the other Czech New Wave films. They expand upon the gothic borrowings as well as the theme of the corruptibility of power and Valerie's agency in the narrative despite her sexual naivety. Also new is an introduction by film historian Michael Brooke (20:58) who notes that the difficulty of translating Czech surreal poetry is the reason he is not as well known for his poetry as the disowned novel, the influences of Nezval's interest in dream theory and of "Alice in Wonderland." He also notes that Communist Party membership was not uncommon among the surrealists but that Nezval remained a party member even after the Soviet Show Trials. In common with the Criterion Blu-ray are three early shorts by director Jireš – "Uncle" (1959; 6:06), "Footprints" (1960; 20:53), and "The Hall of Lost Footsteps" (1960; 11:57), and a short interview from 2006 with actor Jaroslava Schallerová (6:07) – in which she notes that they kept close to the script with the only opportunities for improvisation coming from the desire of cinematographer Jan Curík (Love Between the Raindrops) to attain pretty images – has been ported over from the Second Run DVD. The disc also includes the film's theatrical trailer (2:29).

Packaging


Included in the case is a 24-page booklet by film historians Peter Hames and Joseph A. Gervasi in which Hames analyzes the themes of the film – sexuality and the old living off the young – while Gervasi contributes a short piece about his first contact with the film.

Overall


A combination of vampire film and coming of age tale, Valerie and Her Week of Wonders is an ideal companion piece for fans of The Company of Wolves and Lemora: A Child's Tale of the Supernatural.