Inherit the Viper [Blu-ray]
Blu-ray A - America - Lions Gate Home Entertainment
Review written by and copyright: Eric Cotenas (27th March 2020).
The Film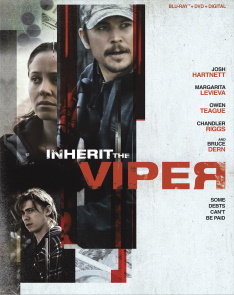 For two generations in an Appalachian mill town, the Conley family have been the pill-pushing kingpins with their latest concentration on Oxycontin considering how easy it is to for injured mill workers to get addicted; and daughter Josie (The Deuce's Margarita Levieva) is perfectly willing to exploit that weakness even though her imprisoned father's emphysemic ex-partner Clay (Black Sunday's Bruce Dern) disapproves. Her ex-army sniper brother Kip (Halloween H20: Twenty Years Later's Josh Hartnett) is in on the operation but is looking fo a way out now that his hairdresser girlfriend Eve (Blair Witch's Valorie Curry) is pregnant and his hero-worshipping teenage brother Boots (It's Owen Teague) – who tools around town in a gaudy green sports car purchased for him by Josie – is eager to get into the family business. Kip starts pressing Josie to give up the business after a confrontation at the mill with co-worker Tedd (Orange Is the New Black's Brad William Henke) after his wife (True Blood's Tara Buck) was found dead on the restroom floor of Clay's bar after dealing with Josie. Despite Kip's attempts to set Boots straight but introducing him to a fellow war vet (Deepwater Horizon's Garrett Kruithof) who is now a hopeless addict, Boots steals from Josie's stock to start his own operation with buddy Cooper (The Walking Dead's Chandler Riggs). When Cooper's brother Ryan (Happy Death Day 2U's Blaine Kern III) and his partner Marcus (Ambition's Jared Bankens) try to cheat Boots, Kip takes care of things and is shocked that Josie means to continue on with business as usual even when her married on-again-off-again sheriff boyfriend Knox (Punisher: War Zone's Dash Mihok) comes around seemingly uncertain himself as to whether he is warning them off or threatening them with investigation into their activities in light of two disappearances. When Josie shows just how determined she is to continue dealing and bring increasingly frightened Boots into the business, Kip is not so sure Josie is really dedicated to family first as she proclaimed and ponders Clay's anecdote about a snakebite and whether he is "willing to cut off an arm to save the body."

Inherit the Viper from Barry Films is nowhere near as bad as some of the product from other Lionsgate distributed small studios like Saban (The Trust, I Am Wrath) and Grindstone Entertainment (Extraction, Misconduct); indeed, it is halfway good with an intimate scope, an oppressive atmosphere, and decent performances (including the usually bland Hartnett while Levieva gives inklings of depth), and yet the execution feels like identikit filmmaking. The story beats are as predictable as the low key (and low volume) dialogue delivery, the backlit photography (it may or may not be an intentional effect to not be able to tell the difference visually between Kip and Knox in some scenes), the desaturated secondary color correction, barely there scoring, each pan of the camera, and deployment of drone aerial shots. Usually an eighty-four minute film in which six minutes is end credits is suggestive of a cut down to the bone film, but in the case it may just be that there was very little to start with; as if the feature-length film debuting director Anthony Jerjen and screenwriter Andrew Crabtree have developed a shorthand filmmaking style not only from their earlier shorts but also a couple hundred films of this kind put out by Lionsgate and the like from the aforementioned action genre studios. Inherit the Viper seems really more of a feature-length calling card designed to make producers take notice more so than an audience.

Video


Shot in high definition with ARRI cameras and Zeiss SuperSpeed film-era anamorphic lenses, the 1080p24 MPEG-4 AVC 2.40:1 widescreen looks appropriately soft with a warm bias, seemingly the visual intent. Brighter shots and close-ups reveal the expected textures and detail but darker shots in terms of lighting and resolution are definitely intended to fall away into the indistinct in sharpness as in the inky blacks.

Audio


The sole audio option is a DTS-HD Master Audio 5.1 track, but this is not really an engaging surround experience by design. Surround is more prominent in the bar scenes than the desolate exteriors. This is the sort of film where the sound of an exploding car gets deliberately drowned out by a raise in the volume of music (as if to suggest in this case that the characters driving away from it expect it will be done without needing to confirm the other character goes through with it). Optional English SDH and Spanish subtitles are included.

Extras


There are absolutely no extras apart from the start-up trailers which are also selectable from as the sole special feature.

Packaging


The Blu-ray/DVD combo - also available in a DVD-only edition - comes with a slipcover.

Overall


Although nowhere near as bad as some of Lionsgate's Saban and Grindstone pick-ups, Inherit the Viper seems really more of a feature-length calling card designed to make producers take notice more so than an audience.

---
DVD Compare is a participant in the Amazon Services LLC Associates Program and the Amazon Europe S.a.r.l. Associates Programme, an affiliate advertising program designed to provide a means for sites to earn advertising fees by advertising and linking to amazon.co.uk, amazon.com, amazon.ca, amazon.fr, and amazon.de.