The Film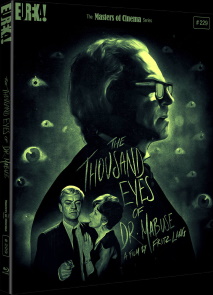 Although he died institutionalized back in 1932, many of his criminal cohorts have long believed that megalomaniacal mastermind Dr. Mabuse is still alive; and he is just who Interpol suspects of a string of murders linked only to the victims' stays at Berlin's Hotel Luxor: the latest being news reporter Peter Barter whose death of an apparent heart attack in his car in the middle of traffic is revealed to be murder only after police lieutenant Kras (Ten Little Indians' Gert Fröbe) was advised to look deeper by psychic Cornelius (Mill of the Stone Women's Wolfgang Preiss) who had phoned Kras about the crime as it was being committed. Although Interpol has installed a spy at the hotel, Kras is ignorant of the connection to the other crimes and is brought there by the suicide attempt of unhappy Marion Menil (The Vampire Lovers' Dawn Addams) who is talked down from a ledge high above the city by American industrialist Henry Travers (The Wages of Fear's Peter van Eyck) who is in the city to purchase a nuclear power plant with the goal of building rockets. As Travers finds himself falling in love with the mysterious Marion who is in hiding from her abusive husband, someone else seems to have taken an interest in either one or both of them since there is more technologically sophisticated surveillance devices in the hotel than the false mirror the hotel detective Berg (Black Sunday's Andrea Cecchi) has shown Travers to spy on Marion. Upon learning that Barter had been harassing Marion before his death, Kras suspects that she may have had something to do with his death along with Cornelius whose predictions are too accurate and Hieronymus B. Mistelzweig (The Bird with the Crystal Plumage's Werner Peters) who purports to consult the stars when selling life insurance to his clients (the latest having been Barter). After Kras' gambit of feeding false information to his three suspects results in an explosive attempt on his life, he agrees to a séance conducted by Cornelius – who has since sensed great danger for Travers in the form of a woman – in which the long forgotten name of Mabuse is invoked.

After producer Artur Brauner bankrolled the epic two-part Technicolor spectacle The Tiger of Eschnapur and The Indian Tomb, director Fritz Lang – recently returned to post-WWII Germany after his increasingly compromised Hollywood career – was obligated to a vehicle signifying the return of his most famous character Dr. Mabuse who first appeared in the silent two-parter Dr. Mabuse, the Gambler followed by the sound film The Testament of Dr. Mabuse. An invention of the post-WWI Germany, underworld criminal Dr. Mabuse used his diabolical intellect to wreak havoc on the stock market and the ruination of rich men in the former film and as a Hitler stand-in (during his rise to Chancellor of Germany) in the latter. The Dr. Mabuse of the 1960 film is as much an insane acolyte as a symbolic presence of totalitarian elements in a defeated Germany that was nevertheless booming economically, with Mabuse operating out of a hotel built during the war and used by the Nazis to spy on wealthy members of society. Here, he is directing all of the narrative threads, both leading Kras with clues and misdirecting him, manipulating a love affair to his own material ends, and ordering deaths carried out by a hitman (The Awful Dr. Orlof's Howard Vernon) who is ice cold but nevertheless seems to also have bought into the "the only time you ever see Dr. Mabuse's face is right before you die" mythos. Adams and van Eyck are a mostly dull center amidst plenty of serial intrigues, while Fröbe, Preiss, Peters, Cecchi, and Vernon are much more interesting in "character" roles with Adams only coming to life in moments she most mirrors Lang's Hollywood noir heroines. Brauner spun the film off into five sequels between 1961 and 1964 – The Return of Dr. Mabuse, The Invisible Dr. Mabuse, The Terror of Dr. Mabuse, Dr. Mabuse vs Scotland Yard, and The Death Ray of Dr. Mabuse – along with a vague retread as part of his contract with Jess Franco in The Vengeance of Dr. Mabuse, but the film was also stylistically influential on the krimi series of Edgar Wallace adaptations for Rialto Film (for which Brauner did a rival series purportedly based on works by Bryan Edgar Wallace). The film was more recently treated to a comic redub/reedit as Die 1000 Glotzböbbel vom Dr. Mabuse.

Video


A West German/French/Italian co-production, The Thousand Eyes of Dr. Mabuse was released theatrically in those countries between 1960 and 1961 (with the French version featuring a slightly different ending as discussed below), in America in 1960 by Associated Producers – a company formed by Robert Lippert to provide B-features for Fox double features – and in 1962 in the UK by Golden Era Distributors. Although the film made the rounds on grey market mail order video labels, All Day Entertainment's David Kalat found it difficult to source materials even from Brauner but eventually managed to release the film on DVD in 2000 as the first volume of The Diabolical Cinema of Dr. Mabuse (followed only by a second volume featuring The Terror of Dr. Mabuse with the American version of the 1932 The Testament of Dr. Mabuse as an extra). A superior transfer followed in the UK in 2009 as part of The Complete Fritz Lang Mabuse Box Set. We have not seen the French Blu-ray but Eureka's 1080p24 MPEG-4 AVC 1.66:1 widescreen Blu-ray looks spectacular compared to the DVD versions from the opening rear projection driving scenes (not just the views through the windshields but of the Berlin streets behind a line of slow-moving cars on a soundstage) to Preiss' blind psychic make-up job, Addam's glamour, matted-in video monitors, and an examination of the surface elegance of the Hotel Luxor. The definition is such that one at first worries that a couple scenes including part of a dining room conversation between Addams and Van Eyck has been patched in by the coarsening and higher contrast only for the camera to pull back to reveal that it is being watched on a video monitor.

Audio


Audio options include a clean German LPCM 2.0 mono track and a fairly clean English LPCM 2.0 track - the film was acted in English so both versions are post-dubbed - with the latter reverting to German for one of Peters' outbursts during the séance scene. Optional English subtitles are available for the German track while a second track is enabled by default for German text when the English track is selected.

Extras


Film historian David Kalat recorded a commentary for the 2000 Image DVD but Eureka ports over the track Kalat recorded for their 2009 edition. He proposes some provocative points about why Mabuse should be so popular in 1960's Germany, Lang feeling obliged to make the film, and the ways in which Lang shatters and reorders elements of the earlier films into new configurations, using editorial discontinuity so that the story elements early on only make sense in their juxtaposition with one another, taking on meaning as the film precedes and as it is rewatched; indeed, Kalat makes the case that the film - although popular in Germany upon release - may be more interesting for viewers in the context of Lang's remaking than as more conventional entertainment. The disc also includes the alternate ending (1:05) found in French prints in which the final scene lingers for seconds more before the fade out, resulting in a different emotional reaction. Also included is a 2002 interview with actor Wolfgang Preiss (15:50) conducted by Uwe Huber in which the actor discusses his early acclaim, being typecast in war films, the new opportunities brought about by Lang casting him in the film, and his dwindling screen time in the subsequent film (discovering upon return from the US that he was prominently billed in The Death Ray of Dr. Mabuse in which he does not appear with Brauner sheepishly revealing that scenes of him from the other films were cut into it).


Packaging


Packaged in limited edition O-card slipcase with the disc is a booklet featuring the 2020 essay "Lang Comes Full Circle" by Philip Kemp in which he discusses Lang's return not only to Germany but also to Mabuse after his Hollywood career, "Everybody's Got Something to Hide Except for Me and My Monkey" by David Cairns from 2009 which touches upon the appearance of a toy chimpanzee in the film, "Fritz Lang on Die 1000 Augen des Dr. Mabuse" a 1961 interview extract with Lang by Jean-Louis Noames in which he touches upon the film as well as his contemporaries including Antonioni, Godard, and Peckinpah, as well as "The Final, Unrealised Projects" by Lotte Eisner from 1976 which features two brief synopses with protagonists who either commit or contemplate suicide.

Overall


Although The Thousand Eyes of Dr. Mabuse was mounted by Fritz Lang as an obligation to his producer, it proved very popular to 1960s audiences but may be more intersting to contemporary viewers in the context of its making than as convetional entertainment.