The Film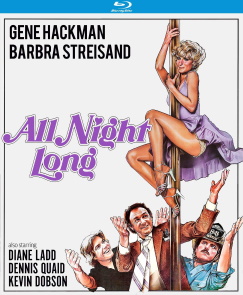 Repeatedly passed over for promotion, Ultra Save regional salesman George Dupler (The French Connection's Gene Hackman) finally snaps and throws a chair through a window. Since they cannot fire him because of his seniority, middle management decides to make him quit on his own by demoting him to night manager at one of their Ultra Save pharmacies in one of Pasadena's most dangerous areas where the store is prone to robberies and generally patronized by weirdos. The day manager (Friday the 13th, Part VII: The New Blood's Terry Kiser) entrusts him with a handgun to defend himself, cashier Emily (Showdown in Little Tokyo's Vernee Watson) has an attitude, and security guard Russell (Twin Peaks' Chris Mulkey) is as psychotic as he is useless. George's wife Helen (Wild at Heart's Diane Ladd) is embarrassed to try to explain his story when they go to a family wedding, but George becomes concerned when he sees his wife's sister-in-law Cheryl (Yentl's Barbra Streisand) in the arms of his eighteen-year-old son Freddie (Dreamscape's Dennis Quaid). He confronts his son about it only to then be confronted by Cheryl at his job. After a close call with an insane customer, the two have dinner leading to something more. Unfortunately, Cheryl's attempt to end things with Freddie includes telling him about her involvement with his father even though they have done little more than have a romantic dinner. With his marriage falling apart – thanks in part to his wife taking up with her overly solicitous lawyer (The Graduate's William Daniels) – his son not talking to him, and the realization that his boss at Ultra Save is dodging him and has no intention to promote him back to his sales job, and threats from Cheryl's boorish husband Bobby (Kojak's Kevin Dobson), romancing Cheryl may actually be the least insane thing he does when it all comes crashing down.

Lopsided in all the wrong ways, All Night Long is a romantic comedy that cannot decide whether it wants to be screwball or at least half-serious. The single Hollywood work of French director Jean-Claude Tramont – whose Focal Point star Annie Girardot makes an entirely gratuitous if still welcome guest appearance as Helen's French teacher dispensing some wisdom to Hackman's protagonist along the lines of "life is short" – All Night Long is a showcase for Hackman but it develops his character entirely at the expense of the rest of the cast; indeed, a sort of deconstruction or tearing away of everything that cements George's identity as a suburban middle-class male is intriguing, but the film never really takes an risks with the protagonist (the pecking away at Bobby's self-image is actually far more interesting and satisfying however brief). Is Freddie an overly-coddled mother's boy – taken in by Cheryl who tells George that Bobby would never let her have children of their own – or an intensely-driven creative type that has not found his art form (he gets a lot of praise for his house painting)? Has Helen always been aware of George's dissatisfaction with his career, and are her own attempts at diversion as a housewife symptomatic of her own unhappiness or is her own affair entirely motivated by George's supposed cheating? Least satisfactory developed of all is Streisand's Cheryl. At first, she seems like another variation on Streisand's What's Up Doc? screwball character around which chaos ensues; as such, she seems entirely miscast and instead comes across in later scenes in which the tables are turned and she is the one nervous about what George might say in front of her husband's family as "a dame who scrambles men's brains" as her husband uncharitably describes her rather than an equally unhappy and mixed up partner in a dysfunctional marriage (even the advertising suggests a zanier character with the tagline "She's got a way with men. And she's getting away with it..."). In spite of a pair of charming and poignant scenes late in the film – in which George visits his home and joins his wife, his son, and her lawyer lover for an impromptu dinner where they all seem to realize that they are all happier and happier for each other with the divorce going through, and another in which Cheryl tries to repair her relationship with Bobby only to finally realize it is broken beyond salvaging – the happy ending really does not feel earned. Less satisfying as a comedy, All Night Long is more interesting as a vehicle for Hackman and a misfire for Streisand.

Video


Released theatrically by Universal Pictures, All Night Long languished on the video shelves as an early MCA cassette not reissued until the late nineties as a sell-through LP mode release from Goodtimes (who briefly expanded from the PD market to licensing titles from the Universal catalogue that Image Entertainment did not want for VHS and DVD). The film finally received a barebones, anamorphic DVD from Universal in 2004, and an HD master dating from that period may indeed be the source for Kino Lorber's 1080p24 MPEG-4 AVC 1.85:1 widescreen Blu-ray. Brightly lit scenes look sharp but not overly detailed while darker scenes like the night exteriors and interiors – including George and Cheryl's intimate dinner – look flatter. An overall eighties softness and glamour diffusion may play a part in it but the Blu-ray looks overall just a step up from DVD.

Audio


The DTS-HD Master Audio 2.0 mono track fares better with clear dialogue, an undemanding effects track, and adequate support for the scoring of Ira Newborn (48 Hrs.) and Richard Hazard (which seems to include an equal amount of input from Dave Grusin and Georges Delerue). Optional English SDH subtitles are included.

Extras


Picture-wise, the Blu-ray may or may not be an upgrade depending on how fond one is of the film but it is definitely worth picking up for the interview with screenwriter W.D. Richter (20:55) who confesses that he would not have been up to the task of penning a vehicle for Hackman and Streisand. He reveals that he was a fan of Tramont's previous film and was interested in writing a more observational comedy based on Tramont's pitch to Fox for a project called "The Night People" which was put in turn-around and wound up at Universal, Richter believes, through the influence of Tramont's wife Sue Mengers, a talent agent representing both Tramont and Hackman. If Streisand seems miscast, it is because the film started shooting with Lisa Eichhorn (Yanks) in the role, and that Hackman realized during shooting that he needed a bigger name next to his for his "comeback" and made things difficult for Eichhorn (who seems like she would have been way too young for the role) but that it was left to Richter to tell her she had been fired. He notes that Streisand tried to play the role as scripted without any of her affectations. He also feels that the film just coasts by ("it's everybody's movie and nobody's movie"). A theatrical trailer (1:41) in also included along with radio spots (1:37), and trailers for seven other Hackman films released by Kino Lorber.

Overall


Less satisfying as a comedy, All Night Long is more interesting as a vehicle for Hackman and a misfire for Streisand.