The Film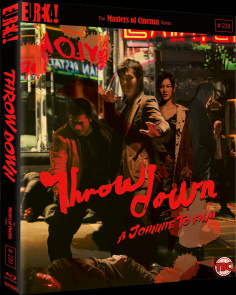 China Film Media Award (Best Supporting Actor): Eddie Cheung (won), Best Director: Johnnie To (nominated), Best Picture (nominated), and Best Supporting Actor: Tony Ka Fai Leung (nominated) - Chinese Film Media Awards, 2005
Golden Bauhinia (Best Supporting Actor): Eddie Cheung (nominated) - Golden Bauhinia Awards, 2005
Golden Horse Award (Best Original Screenplay): Nai-Hoi Yau, Tin-Shing Yip, and Kin-Yee Au (won) and Best Supporting Actor: Eddie Cheung (nominated) - Golden Horse Film Festival, 2004
Hong Kong Film Award (Best Action Choreography): Bun Yuen (nominated) - Hong Kong Film Awards, 2005
HKFCS Award (Best Director): Johnnie To (nominated), Film of Merit (won), and Best Film (nominated) - Hong Kong Film Critics Society Awards, 2005

Szeto Bo (Z Storm's Louis Koo) was once a Judo champion; now he is a karaoke bar manager who spends his nights drinking and gambling himself into oblivion. One night, two people come into his life: Judo champion Tony (The Detective's Aaron Kwok) who wants to challenge the best – and becomes Tony's saxophone accompanist by dislocating the shoulder of his regular, and aspiring actress/singer Mona (Rob-B-Hood's Cherrie Ying) who has just been thrown out of her apartment for passing bad checks and is on the run from a man (Time and Tide's Jack Kao). Bo puts off his agreed upon match with Tony and agreeing to let waitress Mona sing, and they discover that he not only gambles but cheats, attempting to scrape up money to pay loan shark Brother Savage (Blackhat's Eddie Cheung) and to keep the dojo of his mentor Master Cheng (The Grandmaster's Hoi-Pang Lo) going as he continues to lose students. After Bo cheats gangster Lee Kong (Election's Tony Leung), he and his men confront him, starting a fight in Bo's bar that Tony notices Bo stays out of, and subsequently learns that Bo never turned up for a match he was to fight with Lee Kong years before. Tony attacks Bo and easily beats him since the other man does not even attempt to fight back. When Master Cheng dies in the ring during a tournament, Bo is reluctant to take over the dojo even as he must let Cheng's mentally-disabled son Jing (Miracles' Calvin Choi) be taken into care (which he constantly escapes to continue handing out flyers for the dojo on street corners) until he learns that Tony has had his arm broken challenging Kong. When Tony claims that the reason that he challenges others to fight is that he is slowly going blind, Bo reveals the secret of why he quit fighting and decides he would rather take each day as it comes, challenging Brother Savage to a fight to pay off his debt and agreeing to a final showdown with Lee Kong.


Although it received a Hong Kong Film Award nomination for its action choreography, viewers expecting a traditional Johnnie To action thriller will be disappointed with Throw Down whose generic title suggests something along that line but is actually quite a surprisingly light and whimsical drama about the power of redemption through the discipline of Judo. The film is more focused on character than conflict, with Bo's financial woes and the threat of Lee Kong symptomatic of his having given up on life while Tony's challenging others to fights is a sort of aimlessness that he does not comprehend until he must adapt to fighting with one arm. The boundless optimism of Mona, who is downright awful as a singer doing karaoke and willing to take any job to be a star, makes her part of a triangle in which all three are better for having known each other (the same could even be argued for their rivals as in the case of Leung's Lee Kong in the finale). Moments of high drama are exercises in visual and aural cinematic style while the action scenes are quick and dirty in contrast, and there is even room for some charming if too on-the-nose moments as when Mona spots a red balloon caught in a tree tries to get it with the help of Tony only for it to eventually require the combined might and height of Mona, Tony, and Bo to reach it, only for Mona to let it go as Tony and Bo must do with her in the climax when she would rather face the excitement and uncertainty of fleeing to Japan with just the clothes on her back to find fame. To would follow up Throw Down with the lesser-known romantic comedy Yesterday Once More before returning to form with Election and Election 2.

Video


Released theatrically in the United States in 2005 by Tai Seng who also released a two-disc DVD the same year, Throw Down was unofficially available in the U.K. until Eureka's 1080p24 MPEG-4 AVC 2.35:1 widescreen Blu-ray which is derived from a new 4K restoration (an earlier Region A Hong Kong Blu-ray was struck from an older master). The ultra-stylish saturated gel lighting, wardrobe, and décor accents pop while the backlit and top-lit action scenes with their high contrasts sport inky blacks and nice depth.

Audio


While the DVD editions of the film and the Hong Kong Blu-ray have included 5.1 remixes of the Cantonese and English dubs, Eureka's Blu-ray features the original stereo Cantonese and Englsih mixes in LPCM 2.0 stereo. The stereo surround mix gets the job done when it comes to directional effects, atmosphere, and the film's pointed use of music throughout. Optional English subtitles are provided for the Cantonese track.

Extras


The Tai Seng DVD featured an audio commentary by Hong Kong film expert Ric Meyers and Tai Seng's Frank Djeng which has been ported over here. They remark on director To making a Chinese movie about Japanese Judo as a homage to the Akira Kurosawa's Sanshiro Sugata, noting the ways in which To references it from the song heard in the opening credits from the seventies TV series version of the source to the style of the credits, long takes, and his use of the scope frame in composing the fights. Their discussion of the film's themes overlaps with the newer audio commentary by Asian film expert Frank Djeng commissioned for the Eureka disc in which he frames the film's origins in the China's 2003 economic crisis in the aftermath of the SARS pandemic with a Hong Kong in decline, including youth culture turning away from tradition (symbolized by Master Cheng's lack of students at his dojo), as well as the symbolism in the use of lighting during the fight scenes. Also included is a new interview with director Johnnie To (40:03) in which he recalls that the film was initially about how modern people looked at judo as an artifact, and that it was intended to be more of a comedy but took a dramatic turn to reach a wider audience since he felt that Chinese comedies did not export well. He also reveals that he deliberately did not create external conflict for the protagonists or villains for them to fight. Also included is a vintage making-of featurette (10:56) and 8 TV spots with cast & crew interviews (5:31).

Packaging


Packed with the disc in the limited edition O-card slipcover is a booklet featuring the essay "The Long Shadow of Sanshiro Sugata" by David West discussing the source novel of the Kurosawa film and its film and TV incarnations and how its themes of enlightenment and virtue permeate the martial arts film (including The Karate Kid). Also included is "The Art of Violence in Johnnie Toe's Throw Down" by Simon Ward in which he notes how Judo's teaching of "the importance of having a positive impact on those around oneself (the whole rather than the individual) through training" informs the characterization and plotting of the film.

Overall


Although it received a Hong Kong Film Award nomination for its action choreography, viewers expecting a traditional Johnnie To action thriller will be disappointed with Throw Down which is actually quite a surprisingly light and whimsical drama about the power of redemption through the discipline of Judo.