Sweet Charity (Blu-ray) [Blu-ray]
Blu-ray B - United Kingdom - Powerhouse Films
Review written by and copyright: Rick Curzon (27th October 2020).
The Film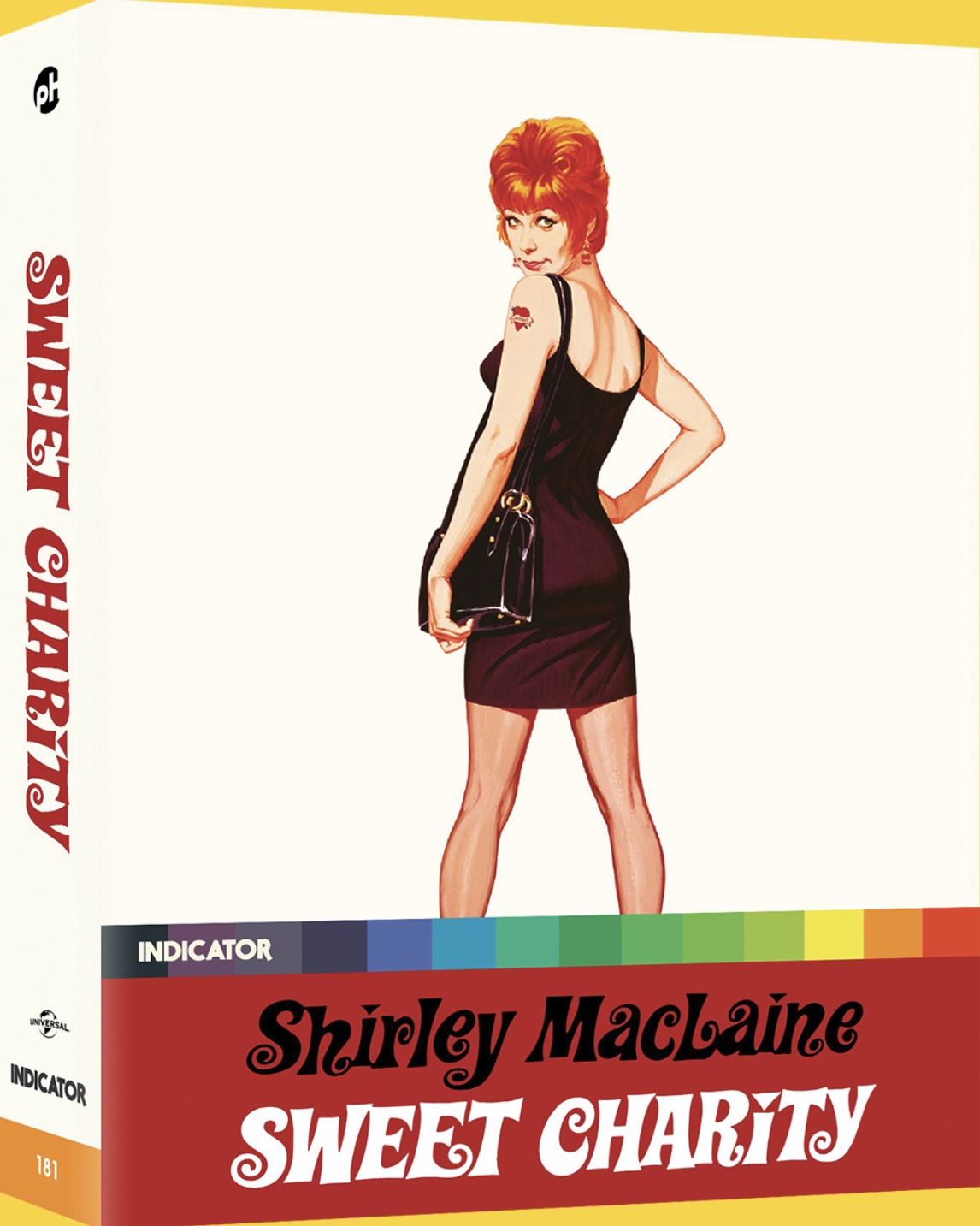 The feature debut of the great Bob Fosse based on the Broadway hit, Sweet Charity is a musical re-imagining of Federico Felliniís Nights of Cabiria (1957), starring the wonderful Shirley MacLaine as a taxi dancer looking for love and escape in hippy-era New York.

Video


Powerhouse Films have tackled Bob Fosse's 1968 opus Sweet Charity as part of their Indicator Series.

Generally speaking musicals aren't my bag as I find the story tends to stop dead in it's tracks every time a musical number appears unless they're through sung. Sweet Charity didn't convince me that my feelings were wrong although it's undeniably a great technical achievement and a stunningly well made film. Gorgeously shot with plenty of great musical numbers that will give you ear-worms for days after ("Hey
Big Spender" ... anyone?).

Sweet Charity is based on the 1966 stage musical by Cy Coleman, Dorothy Fields and Neil Simon and in turn based on the classic film Nights of Cabira (1957) by Federico Fellini. Much as I admired Nights of Cabiria it has the same problem I have with Fellini's equally celebrated The Road ("La Strada") and that is namely the patented lead performance and characterisation by Guilietta Masina; that of the gamine waif who is mistreated by life but does sweet F-all to improve her lot; making the same bad decisions one after the other in trusting user males who always "disappoint" her.

Sweet Charity takes the *edge* off the tale by making the lead, Charity (Shirley MacLaine), a Taxi Dancer and not and out and out prostitute as in Cabira. The film version also had a less depressing ending shot at the behest of the studio which was ultimately not used with the grim ending of Cabiria / the stage version of Charity holding forth in the film when theatrically released. Personally, it's such a downer of a story the happier ending at least gave me some hope that Charity had a ray of sunlight at the end. However, it's fair to say that the creators of the stage production and director of the film Bob Fosse felt strongly that the original grim ending was preferred.

In any case the purchaser of this utterly magnificent and superb Blu-ray package can judge for themselves because both are presented here seamlessly branched. In either version, it's stunningly mounted, very theatrical and simultaneously very cinematic production. Chiefly down to the superb staging and direction and the amazing cinematography of Robert Surtees.

This is a stunning transfer done in 4K by Universal and it has been expertly encoded by Fidelity in Motion under maestro David MacKenzie's direction.

Colours are extremely rich and primary-led with deep reds and appropriate flesh tones. Black levels are deep and rich with exceptional shadow detail, indeed detail across the board is exceptional. Grain management is beautifully handled and very film-like; grain being ever present and rather fine. Contrast is very supportive allowing textures to shine on all focal planes with fabrics and skin detail being remarkable.

Easily one of the finest transfers it's been my pleasure to review, certainly from the sixties, and come year end this ought to be on everyone's list of discs of the year.

My comments apply to all three versions which are seamlessly branched.

1080/24p / MPEG-4 AVC / 2.35:1 / 150:11, 148:15, 144:37

Audio


English DTS-HD Master Audio 5.1
English DTS-HD Master Audio 2.0 Stereo
Subtitles: English HoH

Although 70mm blowup versions of the film were presented in Dolby 6-track on release in 1969 most would have seen the standard release in the native 35mm format and in mono. In any case this is a stunningly enhanced soundtrack. Both tracks are very front centric which is in keeping with the original sound design. The preferred listening option at home is obviously the 5.1 upmix, but first I'll discuss the 2.0 stereo.

The stereo track is just that the two front channels when played atraight off the disc; if you want surrounds then you need to play via ProLogic II or something similar. The surround will be mono surrounds and the activity is purely score-based.

The 5.1 plays naturally across the sound field with plenty of base; the subwoofer kicks in quite satisfyingly at times. The surrounds are purely based on the score and tend to be in the bigger numbers only; it's essentially the same as the 2.0 but with more welly and depth. No distortions and dialogue and lyrics come off beautifully.

Expertly crafted subtitles are present for the hearing impaired and are very welcome.

Extras


Audio commentary with film historians Lee Gambin, Alexandra Heller-Nicholas and Cara Mitchell (2020)

Lively commentary track - would you expect anything less from Gambin, one of the most listenable and lively of the recent commentators it's been my pleasure to listen to. Add to that Heller-Nichols and Mitchell and we have one terrific yaktrak. Filled with detail, fan observations and academic detail. The commentators have been recorded separately but all are so engaging I stopped noticing.

"The John Player Lecture with Shirley MacLaine: Conducted by Sheridan Morley at the National Film Theatre, London on 28 March 1971" plays over selected scenes (80:55)

Amusing screen talk style track; if you've heard any of these John Player Lecture tracks before then you know what to expect. It's a vintage piece and is aged but is still of fine quality albeit mono.

"From Stage to Screen -- A Directorís Dilemma" 1969 featurette (8:59)
"The Art of Exaggeration: Designs for Sweet Charity by Edith Head" 1968 featurette (7:27)

Vintage promo pieces that played in cinemas in the run up to release usually amongst the trailers. Sweet Charity is a 1968 film and copyrighted as such and I suspect the Edith Head piece was first off the production line in late '68, hence the date.

"Interview with Sonja Haney: Audio Interview Conducted by Lee Gambin on 26 May 2020" plays over selected scenes from the film (71:23)

Extensive career interview with "Dance Assistant" Haney; of recently recorded.

"The Now and Then Interview with Sammy Davis Jr.: Conducted by Bernard Braden on 21 June 1968" 1968 interview (21:44)

Typically excellent Braden conducted interview of which quite a few have appeared on various recent BD releases.

Super 8 Version (17:16)

Early, 1970s - 1980s era home video digest. It's fascinating to look at the image quality of this when compared to the restored feature presentation.

Theatrical Trailer (1:36)

Vintage promo piece.

Image Galleries:
- Sweet Charity Image Gallery: Production Stills (63 images)
- Sweet Charity Image Gallery: Publicity Material (39 images)

Chunky, extensive HD galleries.

80-page book with new essays by Pamela Hutchinson and Bill Rosenfield, Neil Simon on Sweet Charity, archival press coverage of the filmís release including an interview with Shirley MacLaine, extracts from the pressbook, Federico Fellini on Sweet Charity, an overview of contemporary critical responses, and film credits

Powerhouse Films' books and booklets are always very comprehensive and add great contextual added value. Not being a fan of the film itself I found this the most engrossing extra. Superb.

Packaging


Similar to The Last Movie and Force 10 from Navarone releases from Powerhouse Films; a hard card slipcase which holds a clear plastic Blu-ray Keepcase and the 80-page book.

Overall


Very likely THE definitive hime video release we're ever likely to see unless someone decides to release this film in 4K. Image and sound are magisterial in one of the finest transfers of a film from it's era that I've ever seen, indeed this is arguably system demo worthy. A stunner.

Extras are equally wonderful and comprehensive with pride of place going to the commentary and the 80-page book.
| | | | | |
| --- | --- | --- | --- | --- |
| The Film: B- | Video: A+ | Audio: A+ | Extras: A+ | Overall: A+ |

---
DVD Compare is a participant in the Amazon Services LLC Associates Program and the Amazon Europe S.a.r.l. Associates Programme, an affiliate advertising program designed to provide a means for sites to earn advertising fees by advertising and linking to amazon.co.uk, amazon.com, amazon.ca, amazon.fr, amazon.de, amazon.it, amazon.es and amazon.se.