The Film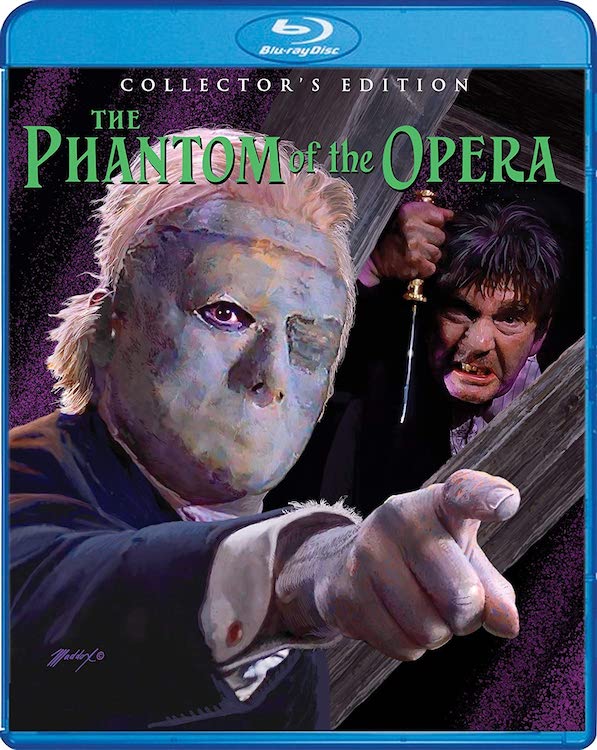 To date, Gaston Leroux's 1910 novel "Le Fantôme de l'Opéra" ("The Phantom of the Opera") has been adapted for film (in some form or another) nearly 30 times, though only a handful of those pictures attempted to be true to the source. The second feature-length adaptation to be filmed in color came from a joint venture between Hammer and Universal, 1962's "The Phantom of the Opera". Originally envisioned as a vehicle for Cary Grant, the title role wound up going to Herbert Lom who is as tragic as he is madly driven in the role of the eponymous Phantom. The aesthetic magic of Hammer's early days brings Victorian-era London to life in sumptuous Eastmancolor with a story that is less horrific and more of a true Gothic tragedy, strongly directed by one of Hammer's A-team, Terence Fisher. And one viewing was all it took for this to become my favorite version committed to celluloid.

The London Opera House is celebrating its opening night with a performance that is nearly sold out save for one unoccupied box, which is purported to be haunted. This annoys Lord Ambrose D'Arcy (Michael Gough), the author of the night's opera, and he expresses his displeasure to the theater manager – but there is something sinister in the air and it manifests when a stagehand suddenly drops from the rafters, hanged, in front of a horrified cast and audience. The lead actress quits, forcing producer Harry Hunter (Edward de Souza) to cast a replacement in the form of Christine (Heather Sears), who is instantly beset upon by the lascivious Ambrose. She rebuffs his advances and finds herself out of a job, as does Harry when he scoffs at Ambrose's decision. But she was warned about this a night earlier, when a mysterious voice in the theater implored her to avoid Ambrose at all costs. Harry, too, hears this voice one night when he is backstage with Christine.

A curious discovery leads Harry to investigate the play for which Christine was hired, uncovering some shocking truths about the validity of Lord Ambrose's authorship. Christine, meanwhile, finds herself in the subterranean lair of the Phantom (Herbert Lom) and his impish sidekick (a fiendish Ian Wilson). It seems the Phantom has a real bone to pick with Ambrose, but his reasons for abducting Christine are altruistic… even if he has the temperament of a man gone mad.

It's rumored that because Grant was initially envisioned for the lead this iteration of the Phantom is less savage, leaving the killing to be done by his lackey, the imp. That doesn't mean Herbert Lom plays him any less imposing, though. Lom is who gives this film so much life, portraying the titular character as a deeply tragic figure that has been betrayed and driven into this unfortunate existence. His methods may be unorthodox and occasionally extreme but this is a man who had nothing save for one dim light at the end of a tunnel… and that light was soundly snatched away by the film's true villain, the snide and nefarious Lord Ambrose.

This is a strong cast outside of Lom, too. Michael Gough, best known for playing Alfred Pennyworth in the "Batman" (1989-1997) series, is a fantastic scoundrel and my only complaint is that his comeuppance isn't nearly severe enough. De Souza plays Harry as a sharp man who uses his wits and sense to solve a mystery but also displays heaps of compassion. Sears is no dummy either and her character is subjected to a number of tense situations which she gracefully navigates. But really, second to Lom I love Wilson as the kill-happy dwarf who acts as protector and servant to the Phantom. He's a weird, warped little guy and his actions are swift and sadistic. That poor rat-catcher…

Scream Factory has included two distinct versions of the film for this release (three, if we're counting aspect ratios), with both the theatrical and television cuts included. What's notable about the latter is it contains a handful of additional scenes shot by Universal without the input of Hammer, featuring a pair of Scotland Yard detectives doing their own investigation into the Phantom. Similar scenes were shot for other Hammer/Universal co-productions like "Kiss of the Vampire" (1963) and "The Evil of Frankenstein" (1964).

Video


Featuring a 2K restoration culled from an interpositive, "Phantom" is presented in two "theatrical" aspect ratios: the original 1.66:1 framing or a slightly-trimmed 1.85:1, which, questionably, is the default here. I intended to opt for the former but the downgraded audio turned me back to the 1.85:1 version. And really, a comparison between the two revealed only slight variances in picture information; certainly not enough to make it any kind of a big deal. This is by and large a gorgeous image, with rich colors and inky blacks. Prints in the U.K. were done by Technicolor and those same levels of saturation and density are evident here. Film grain moves organically. The print is exceptionally clean and free from debris and damage. Scream Factory has been doing stunning work with their Hammer releases and this continues that tradition. The "TV version" is presented in full screen 1.33:1 ratio. All edits are presented in HD 1080p 24/fps using AVC MPEG-4 compression.

Audio


A crisp and clean English DTS-HD Master Audio 1.0 mono track is the lone audio option and it sounds quite good given the film's vintage. No hissing or pops were detected. Composer Edwin Astley's score is classically-tinged and perfectly complementary to the on-screen visuals. Dialogue is well-prioritized and nicely balanced. Subtitles are available in English SDH.

Extras


An audio commentary is included on the 1.85:1 version of the film with film historians Troy Howarth and Nathaniel Thompson.

The film's 1.66:1 version (1080p) is included as an extra, with lossy Dolby Digital 2.0 sound, featuring an optional audio commentary with film historians Steve Haberman and Constantine Nasr.

The "TV version" (SD, 4x3) can also be found here, running for 1 hour, 37 minutes and 59 seconds.

"The Men Who Made Hammer: Anthony Hinds" (1080p) is a featurette that runs for 27 minutes and 44 seconds.

"Phantom Triumphant: Edwin Astley and Hammer's Horror Opera" (1080p) is a featurette that runs for 15 minutes and 47 seconds.

"Herbert Lom: The Soul Behind the Mask" (1080p) is a featurette that runs for 15 minutes and 28 seconds.

"The Making of The Phantom of the Opera" (1080p) is a featurette that runs for 31 minutes and 1 second.

"Behind-the-Scenes of The Phantom of the Opera" (1080p) is a featurette that runs for 3 minutes and 8 seconds.

A theatrical trailer (1080p) runs for 1 minute and 16 seconds.

An image gallery (1080p) runs for 4 minutes and 12 seconds.

Packaging


The single BD-50 disc comes housed in a standard Blu-ray keep case. The cover art is reversible. A slip-cover is included on first pressings.

Overall


Beautifully shot, acted, and written Hammer has nailed what I feel is the best version of Leroux's tale yet, anchored firmly by a strong performance from Herbert Lom. Scream Factory has not only restored the image to its full glory but also included a bevy of excellent bonus features, marking yet another win in their catalog of Hammer releases.
| | | | | |
| --- | --- | --- | --- | --- |
| The Film: B+ | Video: A | Audio: A- | Extras: A+ | Overall: A- |